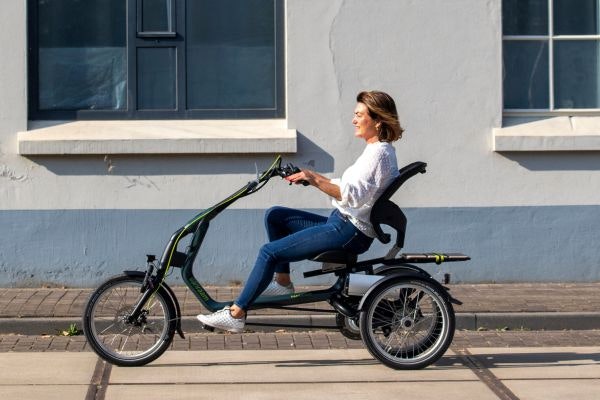 News
Easy Rider tricycle with back seat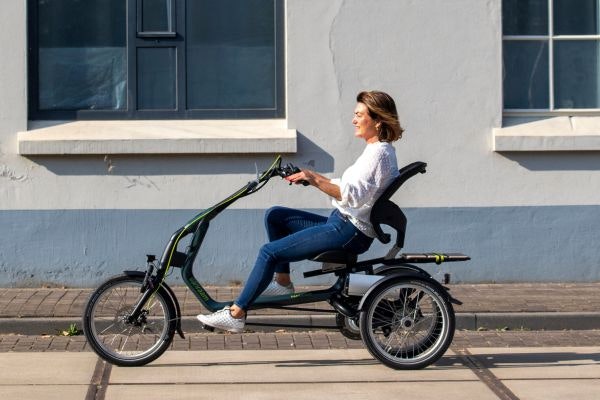 Van Raam is manufacturer of special needs bikes, like duo bikes, wheelchair bikes and tricycles. At Van Raam we have various tricycles for children and adults. For example, the Easy Rider, a very comfortable, stable tricycle with a seat with a back seat and a low seating position. Read more about this unique tricycle with back seat here.
Tricycle with back seat
The Easy Rider adult tricycle from Van Raam has a unique and steady frame. There is a low entry and a stable lower seating position. The comfortable back seat guarantees a comfortable bike ride and is adjustable. The advantage of this seat is that it gives a lot of support to the back, has a comfortable seating position and you can adjust the amount of support, which is very nice when cycling with back problems. Because of the special cycling position, you have less strain on your back, neck, shoulders and wrists. Read more unique riding characteristics in the article: 'Unique riding characteristics of the Easy Rider tricycle'.

The straps at the back of the backrest can be adjusted by using Velcro to provide proper support. In addition, the angle of the back seat can be adjusted independently of the seat. Read more about adjusting the back seat in the article: 'How to adjust the seat on the Easy Rider tricycle?'.
Your centre of gravity is lower on this bike, making you feel safe and secure. The forward pedal movement and the suspended frame give you perfect cycling comfort. It is no coincidence that the Easy Rider tricycle has been voted test winner by the Norwegian government.

When riding the Easy Rider you can enjoy a special cycling experience. This tricycle is ideal for people with balance problems, but who still want to ride a sporty bike.
Video of the Easy Rider tricycle
See more of the Easy Rider trike with back seat in the product video below.
Electric tricycle
The Easy Rider tricycle is also available as an e-bike. An electric tricycle is equipped with an electric motor, also called pedal support. Read more about this in the article 'Mobility with an electric tricycle for adults'.

Van Raam has had its own electric pedal support system, the Silent system, since 2011. The motors, batteries, controller, Smart display and software have been developed by and for Van Raam, especially for the special needs bicycles. Some characteristics of the Silent System are:
3 support modes.

Cycling forwards and backwards with active pedal support.

Starting aid / launch control.

Modern and efficient electronics.

Easy to operate.
Almost noiseless but powerful motors.

High quality and safe batteries.

The possibility to use the E-Bike App. This is a smartphone app with which the bike settings can be changed, an SOS message can be sent and current bike data can be viewed.
Accessories Easy Rider trike with back seat
Besides a motor, there are also other accessories available for the Easy Rider, such as a special handlebar, a stick holder, mirror, special seat or a foot fixation. With these accessories you can customize your special needs bike to your own taste and wishes.

These accessories also help you with cycling and support you with your disability. Van Raam's mission is therefore: Van Raam offers people with a disability sustainable and contemporary mobility. Let's all cycle!

Would you like to put together your own bike according to your wishes and see how much your Easy Rider trike with back seat and accessories costs? Assembling this tricycle yourself is very easy with the online Van Raam bike configurator, with which you can configure your own bike. Read more in the article: 'Assemble the perfect Easy Rider tricycle yourself'.

See all accessories in the article: 'Accessories for the Van Raam Easy Rider tricycle'.
Try out the Easy Rider yourself
Are you curious how to cycle on the Easy Rider trike with back seat? Then come to Van Raam's showroom in Varsseveld (the Netherlands) for a free test ride! During a test ride one of our technical advisors will be happy to give you advice and you can try out the bike on our own test track! You will receive a no-obligation quote with which you can optionally order the bike from a Van Raam dealer. Is Varsseveld too far away or are you unable to come to us? Take a look at our dealer overview and find out which dealer is in your area and ask the dealer about the possibilities.
Bike tour with the tricycle
Gunda Krauss has been riding an Easy Rider tricycle for a long time. After Gunda had two hip surgeries, she could no longer ride a 'standard' two-wheel bike. When she heard of the existence of the Easy Rider tricycle, Gunda thought: 'I'm going to live my dream!' Gunda planned to make a lot of bike rides.

In the Chiemgau region near our dealer Tour-me there are endless possibilities to cycle. For sporty cyclists, young and old, there is the right route for everyone. Elderly and disabled people, who do not feel safe on a bicycle with two wheels, can also ride a tricycle. Gunda has had a more powerful Silent HT motor from Van Raam installed on the tricycle with back seat, because she cycles about 6,000 kilometres a year. Gunda wanted to make it clear that cycling is not only for young, energetic people, but also for seniors and elderly with a disability.

Read more about Gunda in her customer experience.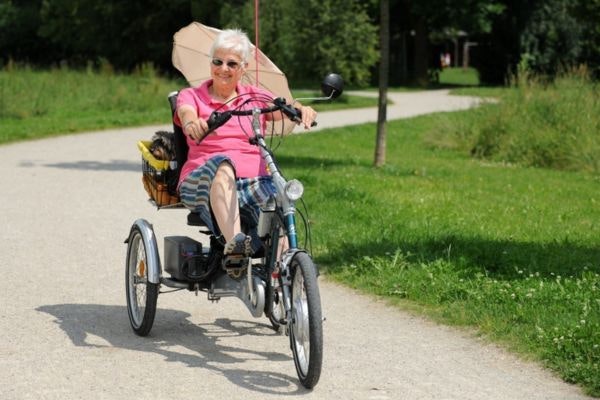 More customer experiences of the Easy Rider tricycle with back seat
;
Do you have any questions?
We are happy to assist you! Please check our contact page or contact us directly using the options below.