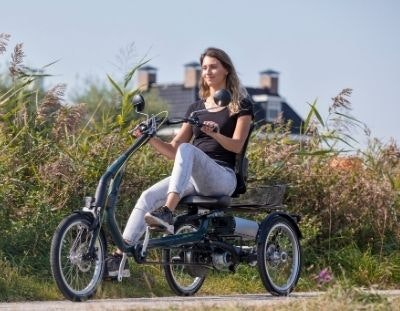 News
Mobility with an electric tricycle for adults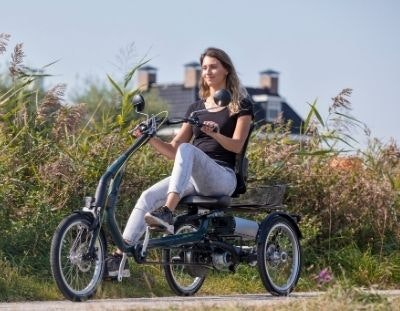 A tricycle with pedal assistance can also help to stay mobile and happy in later life. Read more about why an electric tricycle for adults, which solutions Van Raam offers, the advantages of an electric tricycle, what should be considered before purchasing a tricycle and what makes an electric tricycle unique.
Why an electric tricycle for adults
An electric tricycle is an electric bike with three wheels that is equipped with an electric motor, also known as pedal support.
A traditional tricycle has two parallel wheels at the back of the bicycle, but these can also be mounted at the front. The degree of (pedal) support can be chosen from different levels. This can help a person who can't cycle that far without support. At Van Raam, we think that people who can stay mobile for a longer time are happier. We work every day to give peopletheir mobility (back) and to enable them to cycle again, for example with an electric bicycle for adults or electric tricycles for kids. Read more about this in the article 'An adapted e tricycle from Van Raam'.
Electric Van Raam bikes with the original Van Raam pedal support system can cycle backwards. In this way, the user doesn't have to get off the bike, the bike can easily be taken out of the parking position and because you don't have to walk backwards with the bike, you can't hurt yourself by the wheels either. You can also find out how the lighting works via the Van Raam electrical system in our article 'Lighting via the Van Raam electrical system'. With the backwards cycling function it is possible to just turn around or park the bike easily. This makes the bike more agile and also safer.
Advantages of an electric tricycle
An electric tricycle has several advantages for the cyclist. With the help of the electric motor (or in other words the electric bike) you can withstand greater height differences or stronger headwinds, even though you are physically unable to move well or are less stable. Walking and cycling is healthy and is the least harmful to the environment compared to other means of transport. Especially for the elderly, cycling is often the most important way to go to sports, go shopping and see family and friends in every day life. Why cycling is healthy is explained in our article '10 reasons why cycling is healthy'.

Besides the fact that cycling is healthy, it is also environmentally friendly and cheaper than the car or public transport. What's more, you'll be on the road shorter and faster at your final destination. Cycling up to a distance of 5 kilometres is considered to be the fastest means of transport and in the city even up to 10 kilometres.
 
Good to know: our Silent System, also used by our German partner Utopia Velo, had won the ExtraEnergy test in 2012, 2013, 2014, 2015, 2016, 2017 and in 2018/2019.
Up to 5km you are faster at the destination than by car

Starting aid / launch control

Cycling backwards function
Adjusting settings in the App

Individual adjustment for level of support

Our system is test winner
Solution: an electric tricycle from Van Raam
At Van Raam it is also possible to equip all bicycles with an electric motor with a throttle (almost all bicycles in the product range, except the Husky tricycle and the City Walking Aid). Every electric bike from Van Raam comes standard with the launch control function. This is also possible with an throttle as an option.

An extra special electric tricycle is our Easy Go mobility scooter. This scooter bike is a compact electric bike and is designed for people with a changing physical condition or changing energy level. This tricycle has three cycle options: you cycle on the tricycle without pedal support, you cycle with electric pedal assistance or you ride with 100% electric assistance without having to pedal along. Because the electrical system is standard equipped at the Easy Go, you also have access to our Van Raam E-Bike App. This app is free and can be used as a luxury bike computer for all Van Raam bikes with pedal assistance. Read also more on how many kilometers a Van Raam E bike battery lasts.
Display Van Raam electric bike

Easy Rider Tricycle with Cube battery

Detail Van Raam Cube battery

Detail Van Raam Cube battery
See our tricycles in action
Mobility with an electric tricycle for adults
User experiences of an electric tricycle
Be inspired by the users of the Van Raam tricycles and read their experiences.
;
Do you have any questions?
We are happy to assist you! Please check our contact page or contact us directly using the options below.