Shopping
Visit the Van Raam showroom by appointment
Our showroom in Varsseveld includes all 24 (electric) Van Raam bikes. In addition to tricycles, wheelchair bikes, tandems, double rider bikes, low step-through bikes, walking aids and mobility scooter bikes, many of the most common add-ons and accessories are also available here. In 2019 we opened a new showroom / experience center in the South of Germany.
Video's: Van Raam Showroom with adapted bikes in Varsseveld
Watch the Van Raam Showroom in Varsseveld in the video's below. In the second video it's possible to take a 360 degree tour through the showroom. 
Make an appointment and test multiple Van Raam bikes
You can visit the Van Raam showroom by appointment. During your visit, one of our advisors will give you an explanation of the various Van Raam bikes. Moreover, there is also the possibility to take a test ride on our bicycle test track.

An extensive test ride is very important! After all, tastes differ, and everyone has their own preferences. If you are familiar with riding a two-wheel bicycle, it is important to take into account that a tricycle rides completely different.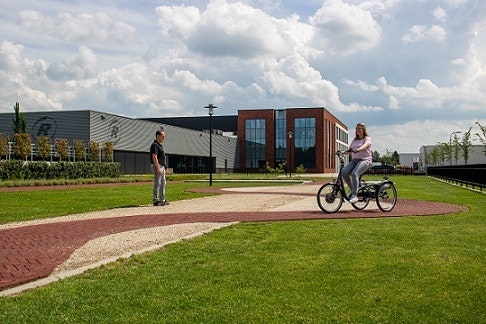 Are you interested in Van Raam bikes and want to make a free test ride on one or multiple bikes? Want to know which add-ons, adjustments and accessories are possible? Feel free to make an appointment by phone (+31 (0)315 257 370) and get personal and tailored advice. You can also leave your information with us and we will contact you by phone to schedule an appointment. It is also possible to test a special needs bike at some Van Raam dealers. Read more about this is the article 'Where can I test a Van Raam bike?'.
Please call us to make an appointment
It is also possible to contact Van Raam directly and schedule an appointment. Please call us at +31 (0)315 - 25 73 70 and one of our employees will assist you in making an appointment.
Benefits of visiting the Van Raam showroom
During a visit in our showroom, you will presented with additional information and explanation about our bikes. Naturally, you may also ask questions and make a test ride. In addition, there is also the possibility of visiting our factory, where you can see how our custom bikes are produced. What to expect from a Van Raam showroom visit:
Extensive explanation by a Van Raam advisor

Useful tips on purchase

Van Raam bicycles test ride

Test different models

A nice cup of coffee/tea

Custom offer
Why not take a quick look at the Van Raam company film and learn more about the production process of our bikes!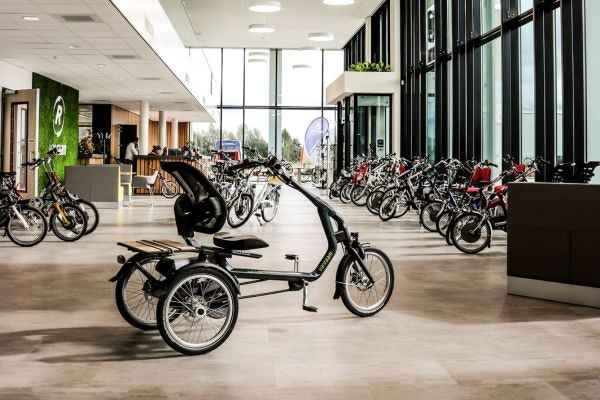 Purchasing a Van Raam bike
Van Raam is a producer of custom bikes. We do not sell directly to individuals. Sales and delivery of all Van Raam bikes takes place through dealers.
Do you have any questions?
We are happy to assist you! Please check our contact page or contact us directly using the options below.