Do you use a walking stick or crutches? With the double stick holder for Van Raam's special needs bikes, you can easily take them with you during a bike ride.
The stick holder offers the possibility to carry two sticks or crutches, with the exception of the Easy Sport, where once stick or crutch can be carried. The stick holder can be ordered separately and is easy to attach to the bike.
Order your Van Raam stick holder at a Van Raam dealer
Would you like to order the double stick holder for your Van Raam bike? You can order this option at a Van Raam dealer in your area. Check the Dealer page to find your nearest dealer.
Read all stick holder customer experiences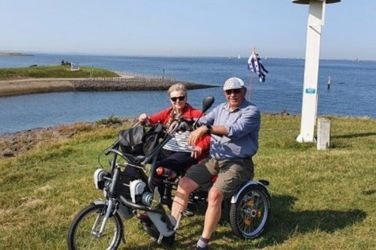 Customer experience Fun2Go duo bike – Rinus de Korte
Rinus de Korte recently visited Van Raam, together with his wife Willy. Since a while they have a Fun2Go duo bike in use, on which they even cycled about 2400 km. Rinus told us about the beautiful bike rides they made and how much fun they have with the duo bike. They love to share these experiences with you!
Read this customer experience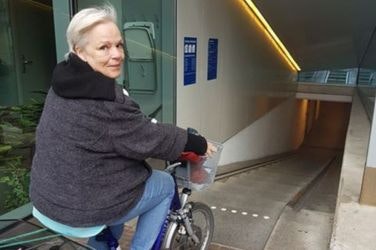 User experience tricycle Midi - Monique van Stuijvenberg
I have been the proud owner of a Midi tricycle from Van Raam for 1,5 years now. One can say that I am in love with this bicycle. This I often say to people when they ask for my bicycle. And no, I am not insane!
Read this customer experience
;
Specifications
| | |
| --- | --- |
| Article number | 330-4021 |
| Dimensions LxWxH (mm) | 650x230x60 |
| Added weight (g) | 1024 |
| Material | Coated Steel |
| Price (All bikes) | € 105 (excl. VAT and shipping) |