Service
10 tips for the maintenance of a (special needs) bike
Every (electric) bicycle needs maintenance. Whether it is a two-wheel bike, tricycle, wheelchair bike, tandem, side-by-side tandem or scooter bike. The dealer where you bought your Van Raam bike can do the maintenance for you, but there are also several things you can do yourself. We are happy to give you some tips to keep your Van Raam bike in top condition.
Maintenance and adjustments you can do yourself
Below you can read the instructions for the maintenance and adjustments of your bike that you can do on a regular base. This will keep your bike in a good condition and you can enjoy your Van Raam bike for a longer period.
Video: Tips for the maintenance
In the video, the old side-by-side tandem bike model (Fun2Go 1) can be seen.
1. Cleaning your bike
The frame of your Van Raam bike can be cleaned with a clamp cloth. For areas that are dirtier you can use a mild detergent. The wheels can be cleaned with a moist brush with plastic hairs (not a wire brush!). The saddle, the grips and the backrest can be cleaned with mild soap and water (do not use a pressure washer of a steam cleaner when cleaning your bike.). Especially in the wintertime, when there is salt and brine spread on the streets, it's important to clean your bike.
2. Cleaning the upholstery of the seat
Some bikes, like the Easy Go scooter bike have upholstery. The upholstery and the backrest of the seat are removable and can be cleaned. You can wash them in the washing machine at 40°C maximum.
3. The right lubricant
The chain should be cleaned and maintained at regular intervals (every three months approximately). Only use special chain grease or Tevlon spray. This is the only way to make sure that the chain will run smoothly, will stay water resistant and will not rust. (Other parts should not be treated with a lubricant!) Watch the video below fot more information.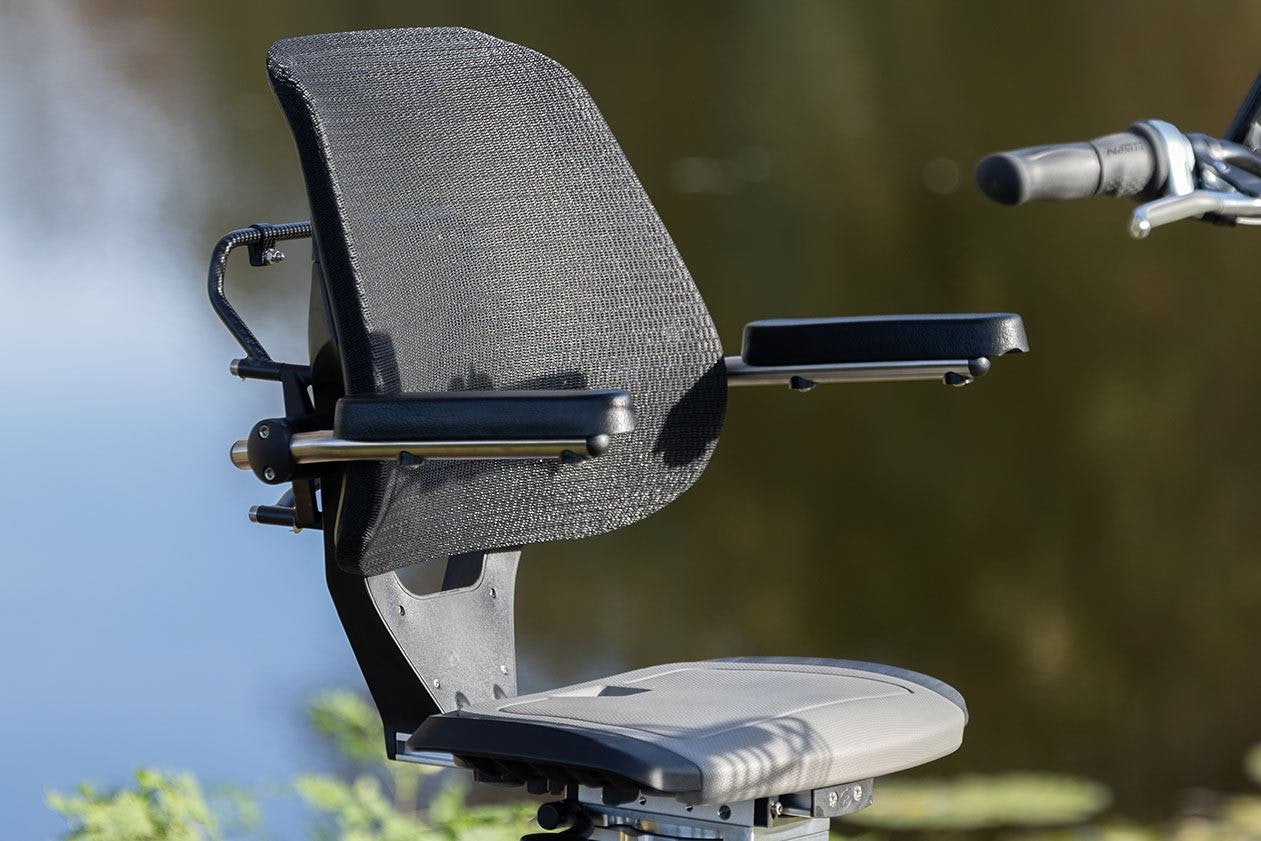 4. A good tire pressure
It is very important that you do not inflate the tires of your bicycle too hard or too soft. Tires that do not have the right pressure wear out earlier and will be flat sooner. For bicycles with pedal assistance, the range is higher when cycling with the correct tire pressure. Too soft tires provide extra rolling resistance and fewer kilometers per battery charge.

What is the correct tire pressure?
On each bicycle tire is the minimum and maximum tire pressure in bar indicated on the side of the tire (usually with black letters / numbers). The tire pressure differs a lot per bike and per tire, so take a good look at the tire and take the average of the minimum and maximum tire pressure. The Van Raam bicycle with the lowest tire pressure is the walking aid City, where 2 bar is a good tire pressure. The Easy Go scooter bike is the Van Raam bike where we advise the highest tire pressure at the rear wheels (5 bar). With many other tricycles, 4 bar is a good tire pressure. It is wise to check the tire pressure at least once every 4 weeks. (Tip: with a tire pressure indicator or bicycle pump with indicator in it you can easily read the tire pressure during inflation).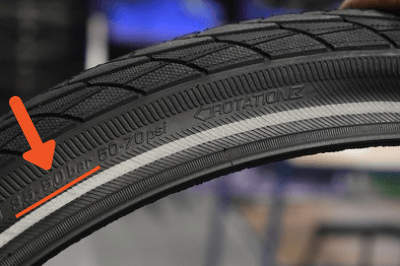 Bicycle tire with a recommended tire pressure between 3.5 and 5.0 bar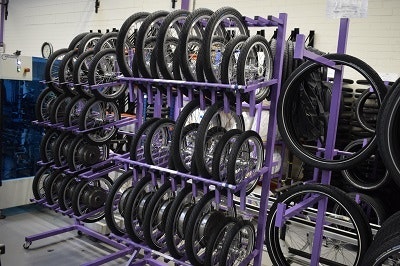 In our factory we have many different types of tires / wheels.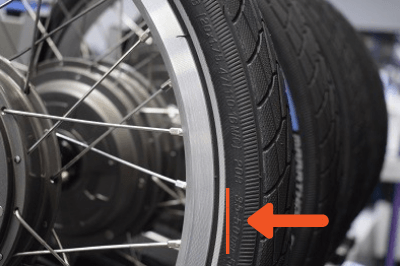 Tire with the displayed tire pressure (minimum 3.5 and maximum 5.0 bar)
5. Check before every ride
Before each ride, check the overall condition of the bike and possibly any loose parts. In addition, it is important to test the functioning of the following components: brakes (including parking brake), lighting, tire pressure and, ifyou have an e-bike, the power of the battery.
Check your bike before every bike ride

Check the seat of the Easy Rider tricycle

Check the overall condition of the bike

Check the battery power via the display

Check the battery power via the battery

Parking brake test with tricycle
6. Maintenance, storage and charging an e-bike (battery tips)
Never storage your bike with an empty battery. We advise you to charge the battery as soon as possible when it's empty. Every battery discharges automatically over time. This process is called self-discharge. A battery that is empty and not charged, will self-discharge and will be deep discharged. The battery can be permanently damaged during this process. (More tips about the storage of your bike and battery, charging your battery and tips for the battery during the cold winter months can be read in the article: Tips for the optimum battery life of Van Raam's electric bicycles.) Read also more on how many kilometers a Van Raam E bike battery lasts.
Tip!
Store your Van Raam bicycle preferably in a dry and cool place (in a space between 5 and 20 degrees) such as a house or dry shed. 
7. Consult your Van Raam dealer about a yearly inspection
It is recommended that the tricycle has a yearly inspection carried out by the dealer. The chance that you unexpectedly end up with bike trouble becomes considerably smaller. In addition, it is also essential that your bicycle will be inspected yearly to claim warranty. You can use the form "Form service, maintenance, modifications and warranty claims" (in the user manuals). After 200 kilometres or after a period of two months the tricycle should be inspected.
8. Roadside assistance
Do you hit some bad road and you want to be sure that in the event of a breakdown a mechanic comes to you to see if your bike can be repaired on the spot so that you can continue cycling? Subscribe to a roadside assistance plan. In the Netherlands this is possible at the ANWB or at FietsNED.
Repairs, maintenance and adjustments by a Van Raam dealer
In addition to minor maintenance that you can do yourself, it is also important that the bicycle is well maintained by a Van Raam dealer / bicycle shop.
9. Service
It is important that a dealer / bicycle shop checks your bike annually for service.
10. Repairs
Repairs, maintenance and adjustments can only be executed with original Van Raam parts. To order the correct part, the dealer / bicycle shop can always contact the service department of Van Raam.
A well-maintained bicycle provides more cycling fun
A well-maintained bike, regardless of whether it is a bicycle with 1, 2 or 3 wheels, provides more cycling fun. Make sure that your bike is well maintained and enjoy cycling!
Do you have any questions?
We are happy to assist you! Please check our contact page or contact us directly using the options below.