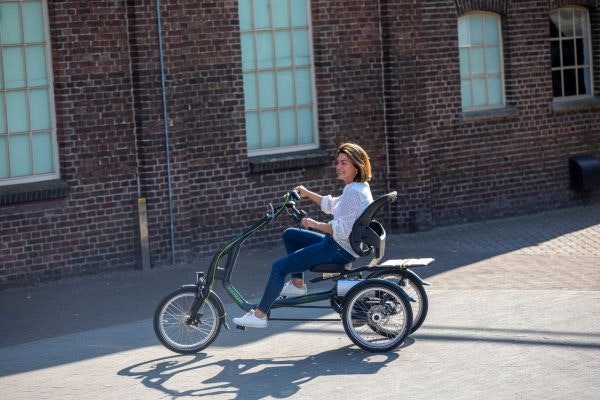 News
Riding backwards with pedal support on a custom bike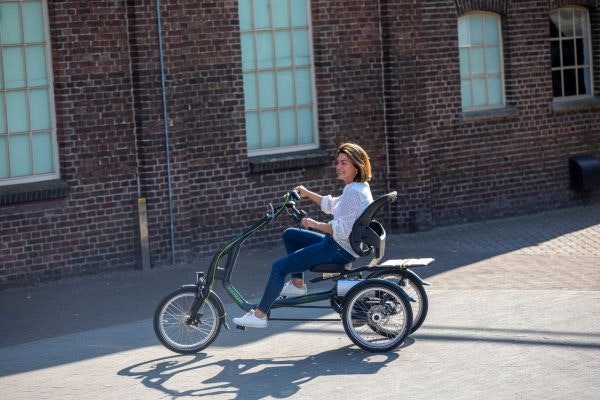 Many bikes from Van Raam have an electric motor, so they are an e-bike. You can cycle backwards with Van Raam custom bikes that have pedal support. Find out in this article how this works and watch our video about it.
How can I ride backwards on my custom bike?
All electric Van Raam bicycles, with three wheels, and equipped with the original Van Raam Silent electric system, can ride backwards. This is possible as soon as the pedal assistance is switched on. If you have a back-pedal brake, there is the option ofa mechanic automatic reverse funtion. This option, and many more, can be found in the price list of the respective bicycle.

It is easy to get into reverse function. If you stop and then start pedaling backwards, the bike will go backwards after a few times of backward pedaling. You then have to brake again once you have arrived at your desired location. Now you can cycle forward again as usual.
Step by step it looks like this:
Step 1: Sit on your customized Van Raam bicycle

Step 2: Switch on your pedal assist via the display

Step 3: Step backwards

Step 4: You drive backwards!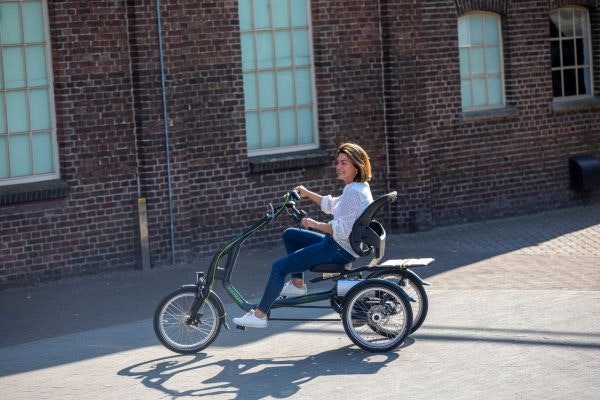 The system is very helpful for example when you have driven past a dent or road. Here you can easily reverse your bike to get to the point where you wanted to turn in. Another way to use the system is when you want to park your bike. You don't have to get off your bike and you can just sit on your bike while you manoeuvre to park it backwards.
Video: Riding backwards with pedal assistance on a custom bike
Watch our video on cycling backwards with the pedal assistance. In addition to reversing, this video also shows the full pedal assistance function.
Parking and riding backwards with a Van Raam electric bicycle is no problem at all.
Van Raam electric pedal support
Since 2011 Van Raam has its own electric pedal support, the Silent System. The motors, batteries, controller, smart display and software have been developed by and for Van Raam. Besides the many advantages of the system, many consumers experience reversing as one of the biggest advantages. Read on for more advantages of the pedal assistance:
An easy handling

Three support stands

A starting aid

Almost noiseless motor

Very powerful motors  

High quality and safe batteries  

Individually adjustable stands adapted to your needs 

You can drive backwards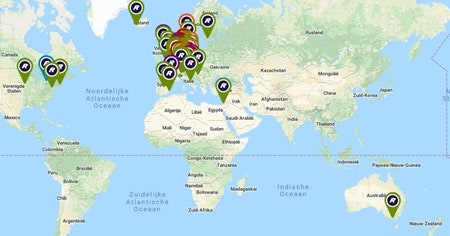 Find a dealer
Try out the Van Raam pedal support, which allows you to ride backwards yourself. Contact a dealer in your area, ask about the possibilities of a test ride.
Keep on browsing
Would you rather look around a little more? Take a look at all the Van Raam bicycles that you can ride backwards.
User experience with pedal support
Read through some user experiences. These people have the Van Raam pedal assistance on their bicycle.
;
Do you have any questions?
We are happy to assist you! Please check our contact page or contact us directly using the options below.