Our bikes
Duo bicycles
Van Raam's Fun2Go duo bike is a special tandem bike with three wheels. This bicycle is also called a side-by-side tandem, because you are seated next to each other instead of behind each other. It is also possible to cycle with 4, or even 6 people, thanks to the FunTrain duo bike trailer of Van Raam.
Bike selector
Do you want pedal assist (E-Bike)?
Fun2Go side-by-side tandem
The Fun2Go duo bike from Van Raam is a special tandem with three wheels. Because you sit next to each other and not behind each other, this bike is also called a side-by-side tandem. Usually the Fun2Go duo bike is equipped with an electric motor so that you can cycle with pedal assistance, this makes cycling even easier.

On the duo bike, there is 1 person who controls and brakes the bike. The passenger sitting next to the driver can pedal along but not steer or brake.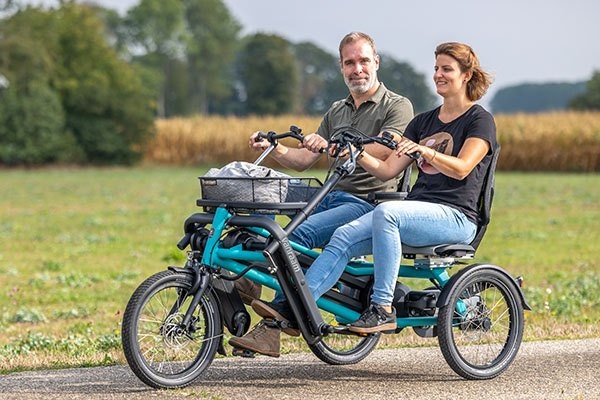 FunTrain duo trailer
The FunTrain is a special trailer that can be linked to a Fun2Go duo bicycle to create a four-person bicycle train. With this bicycle train of the duo bicycle + duo trailer, 1 person brakes and steers and the three passengers only pedal along.

Take a look at all our multi-person bikes, such as tandems and wheelchair bikes.