Tricycles for adults
Easy Rider tricycle
From, excl. VAT and shipping
Description Easy Rider tricycle
The Easy Rider tricycle is a tricycle with a seat for adults. Because of the unique frame, there is a low entry, and the center of gravity lies lower. A big advantage of this third-generation tricycle is that the Easy Rider is very easy to ride on, even if you have never ridden a tricycle before. The Easy Rider has a comfortable seat with adjustable back support, lower back support, and raised edges on the side for better sitting comfort and lateral support. This provides a stable and secure feeling. The seat is easily adjustable with the quick-release lever. Getting off the bike is easy because the bike has a slightly higher seat. The forward pedaling movement and the suspension in the frame ensure perfect riding comfort. The Easy Rider tricycle with a seat is extremely agile and has a small turning circle. The bike also easily fits through a normal door. You can also view the Easy Rider in 3D/ Augmented Reality! View the Easy Rider in your own space.
Design
The modern and aerodynamic design of the Easy Rider tricycle has a sporty look, partly due to its hydroformed frame parts. Almost all of the wiring runs through the frame. Not only does it look better, but it also gives the cables extra protection. In addition, the Easy Rider has a chain hose instead of a chain guard, which not only contributes to a beautiful design but also is practical. By default, the tricycle is equipped with a luggage tray with quick-release straps, which makes it easy for the user to carry groceries. The luggage platform slides along with the seat. This allows you to shorten the tricycle and store it more easily for example in a garage. The luggage platform is made of PLA: a durable, user-friendly plastic that is biodegradable.
Options
The Easy Rider is available in the sizes Medium (default) and Large, making it suitable for both small and large adults. With the many different settings and extra options, such as a shopping basket, stick holder, mirror, mountain gears, studded tires, or a frame color of your choice, the seat tricycle can be completely adjusted to your wishes. All options are listed in our bike configurator or on the pricelist of the Easy Rider tricycle. The Easy Rider is suitable for people up to 140 kg. Persons weighing between 140 and 180 kg can choose a reinforced frame.
Smart e-bike
Do you choose the electric pedal support? Then the Easy Rider will be equipped with a HT motor in the rear swingarm with the power directly on the rear axis. The bike is also delivered as a smart e-bike which means you can view data about your battery and bike in the Van Raam e-bike app. With the possibility of a second battery on the tricycle, you can enjoy the electric pedal support for an extra long time. Is one of the batteries empty? Then you can easily change batteries with the optional switchable battery pack. In addition, the electric version has an external charging port in the backrest of the bike to charge the battery. With this easy to reach charging point the battery can be charged directly without removing the battery from the bike.
Test ride and Van Raam dealers
Would you like to try the Easy Rider tricycle? You can make an appointment at our factory in Varsseveld or ask a Van Raam dealer in your area about the possibilities. However, it is not possible to purchase a bike directly from us, this is done through a dealer or local bicycle shop.
Easy Rider family
Are you looking for a smaller version of the Easy Rider tricycle? Maybe the Easy Rider Compact or the Easy Rider Small is something for you. The Easy Rider Compact is suitable for small adults and large children. The Easy Rider Small is suitable for children from about 4 years or older persons with a small height.
More information
For more information, also see our frequently asked questions (FAQ).
Read more about the previous version of the Easy Rider in the article 'The Easy Rider 2 tricycle'.
Standard Features
Suspension in the frame (standard 750 lbs/inch)

Durable luggage tray with quick-release straps

Parking brake

Steering limiter 

Lock

Lighting

Adjustable stem

Differential

Chain hose instead of chain guard

5 year warranty on frame 
Characteristics
Comfortable and easy cycling

Fits through a normal door

Many different adjustment options for seat

Stable riding performance

Excellent comfort with side support

Cables run through the frame and are therefore well protected

Mechanical disc brakes front and hydraulic disc brakes rear

Read all Easy Rider customer experiences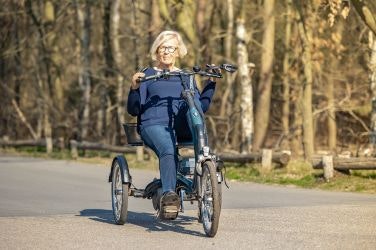 Customer experience Easy Rider tricycle - Suze Korver
February 2014 changed Suze's life forever. A bacterial infection caused sepsis, leaving her in a coma for 3 months and requiring both her lower legs and hands to be amputated. Read Suze Korver's admirable story in this customer experience and watch the video.
Read this customer experience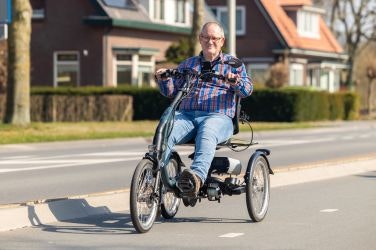 Customer experience Easy Rider tricycle - John Boegman
John Boegman is 67 years old and likes to go out on his bike. Due to a traffic accident in 2020, he can not bend his right leg very far anymore and his two-wheeler was no longer an option. After 1.5 years of using a mobility scooter, he now has an Easy Rider electric tricycle. Read and watch the story of John here.
Read this customer experience
;
The Easy Rider tricycle through the years
Van Raam has a history of over 110 years. Since 1986, the focus at Van Raam has been on the production of special needs bicycles. The bicycles in Van Raam's range are continuously developed and improved. This also applies to the Easy Rider tricycle. In the article Van Raam Easy Rider tricycle over the years you will discover all about the developments of the Easy Rider.
Specifications
Drawing 1

Drawing 2

Drawing 3
| | |
| --- | --- |
| Item code | 385-0000 |
| Average range (default battery) | 50 km |
| Min-max range (default battery) | 29 - 94 km |
| Inside leg length | 65 - 88 cm |
| Boarding height | 35 cm |
| Weight without electrical system | 49 kg |
| Weight with electrical system | 61.2 kg |
| Cycle length | 225 cm |
| Cycle width | 78 cm |
| Wheel size front | 20" |
| Wheel size back | 20" |
| Standard color | (RAL 7026) Granite gray |
| 2nd color (extra charge) | (RAL 7040) Window grey |
| 3rd color (extra charge) | (RAL 2000) Yellow orange matt |
| RAL color of choice | Yes |
| Maximum driver weight | 140 kg |
| Maximum luggage carrier weight | 20 kg |
| Possible separable frame | Yes |
Do you already have a Van Raam bike?
Downloads
Product information
Warranty