For extra safety on the bike, a mirror can be placed on the handlebar. With a mirror, you can look behind you without turning your head or torso. It is possible to have the mirror mounted on the left or right side.
Order your mirror at a Van Raam dealer
Do you want a mirror on your special needs bike? The mirror can be ordered at Van Raam dealers. The mirror can also be ordered afterwards and is easy to mount. Find your closest dealer on the dealer page.
Read all mirror customer experiences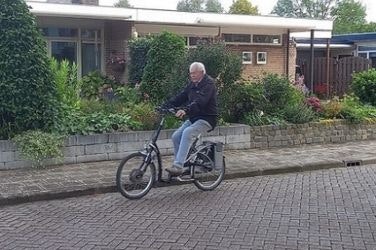 Customer experience Balance low step ebike - Johan Grotenhuijs
Due to an accident and knee surgery, Johan can no longer bend his leg enough to ride a normal bike. He absolutely wanted to keep cycling and stumbled upon the Balance low step through electric bike. Read his story here.
Read this customer experience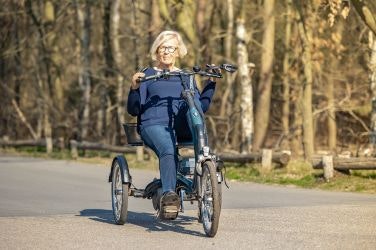 Customer experience Easy Rider tricycle - Suze Korver
February 2014 changed Suze's life forever. A bacterial infection caused sepsis, leaving her in a coma for 3 months and requiring both her lower legs and hands to be amputated. Read Suze Korver's admirable story in this customer experience and watch the video.
Read this customer experience
;
Specifications
| | |
| --- | --- |
| Article number | 103-170056 |
| Dimensions LxWxH (mm) | 320x11x5 |
| Added weight (g) | 230 |
| Material | Steel, Glass |
| Price (Easy Sport, Easy Sport Small) | € 59 (excl. VAT and shipping) |
| Price (Other bikes) | € 27 (excl. VAT and shipping) |