Customer experiences
Customer experience Easy Rider tricycle - Gunda Krauss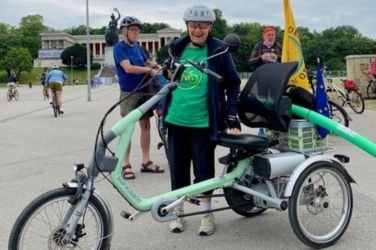 At the beginning of the year, Gunda Krauss was able to try out the new Easy Rider tricycle and give us feedback, which we took into account for the renewed Easy Rider. She herself owns an earlier Easy Rider model. In total, she cycled about 600 kilometers within 4 months with the new Easy Rider. Read more about her experience with the Easy Rider during the test period
First impression of the new Easy Rider tricycle
Gunda tells us that the new Easy Rider "looks really stylish like this. The color (light lime green) takes some getting used to at first but is noticeable on the way. I am very often addressed about this bike. Like on the day the photos were taken, on a bicycle demo - "Ein Jahr Radentscheid in München". The pool noodle is supposed to signal to car drivers the distance to be kept".
In total I drove about 600 km in 4 month - it was fun.
Gunda Krauss
Great driving comfort - that makes it fun
"The tricycle lies well on the road, and the seat is more comfortable than on the previous Easy Rider, the seat height is comfortable. It gives you a better overview of the surroundings. (The seat should not be higher if a person of small stature (I am about 155 cm tall) wants to use the tricycle."

Van Raam offers the Easy Rider in two sizes (Medium as standard and a size Large) so that there is the right bike size for everyone and the seat is easy to adjust with a quick release handle.

"My idea for taking along valuables - see also photo: a lockable, closed container. I also got soaked twice in the meantime. The new Easy Rider is great, and so are the brakes."
The seat is more comfortable than on the previous Easy Rider.
Gunda Krauss
Electric Easy Rider tricycle for adults
"The position of the battery is better because it is now higher than on the previous Easy Rider. The HT engine which is now in the rear axle is great for road holding. Also, the lighting (which works via the electrical system) is very good, the front light illuminates the area well". 
Taking luggage with you 
"I have an aluminum box on my own Easy Rider carrier that is lockable. If the weather is unstable I have rainwear with me. Otherwise I have to take these and the helmet with me at my destination. I recommend a lockable box."
In any case, I am thrilled and would like to ride the new Easy Rider very soon.
Gunda Krauss
My conclusion of the new Easy Rider
"With a heavy heart I took my goodbyes from the new Easy Rider. Since then I have been riding my Easy Rider again. I can clearly see the difference and yes, the brakes are much better on the new Easy Rider!

Please, please finish the bike soon! Contact me when the new Easy Rider is manufactured and will be sold. I have to hand mine in very soon and would like to order the new one from Tour-me, Reinhard Schuster. I will definitely only be able to ride the upcoming Easy Rider in my life.

I also want to say thank you once again for placing your trust in me to test the successor of my beloved Easy Rider. I can hardly wait when the production starts. I would like to get the first new Easy Rider right away! In any case, I am thrilled and would like to ride the new Easy Rider as soon as it is produced. By the way, I rode to the storage lakes on dirt roads (total distance was about 30 km)."

Update April 2021: 
Gunda sent us the third photo. Here you see her after she bought the Easy Rider 3 tricycle.
 
Gunda Krauss - München 
Type: Easy Rider tricycle for adults