Mobility scooter bike
Easy Go scooter bike
From, excl. VAT and shipping
Description Easy Go mobility scooter bike
The compact electric scooter bike is designed for people with stability problems or a variable energy level. There are three options available on this tricycle: you can ride the trike by just pedalling, you can ride it by pedalling with electric pedal support or you can use 100% electric power assist. Because the electric pedal support is standard, you get access to our Van Raam E-Bike App. Read everything about electric pedal support (Pedelec) for this bike.
With the electric pedal support, the bike will be delivered as a smart e-bike. It allows you to view a lot of information about your battery and smart e-bike from a distance. For example, you can use the app to view your cycling routes and change your cycling settings. Read more about the Van Raam smart e-bike on our Van Raam app page.
When you fold the footrest down, you do not pedal anymore and use the cycle as a mobility scooter. This can have variable speed levels. You can easily decide which type of support you want during the bike ride. This bicycle is quite compact and maneuverable and hence, also suitable to use for shopping.
The adjustable double suspension gives you a stable and comfortable driving experience. There is no driving licence or any other driving ability certificate required to ride the Easy Go. However, insurance is required.
For all the options available for this bike, see our configurator or the pricelist of the Easy Go.
For more information see also FAQ.
If you want to try this bike or any other bike of us, you can make an appointment with us. We do not sell directly to individuals, sales and delivery is done by our dealers.
Standard equipment
Silent HT Motor (pedal support)

Carrier

Differential

Plastic chain protection

Environmentally friendly paint

Parking brake

Lock

Frame suspension

Lighting

Foldable footplate

Five year warantee on frame

Access to E-Bike app
Benefits
Bicycle, electrical bicycle and scooter bike

Compact, stable and agile

You are still cycling

Possible to move without cycling

Easily to switch between three different types of driving

Can go forwards and backwards

Short turning radius

Fits through a normal door

More compact than a mobility scooter

Anti-tipping wheels
Read all Easy Go customer experiences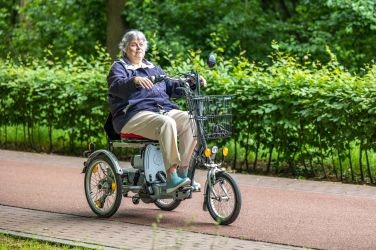 Customer experience Easy Go mobility scooter bike - Helga Bruggink
Thanks to the Easy Go mobility scooter bike, Helga is able to get back out and enjoy cycling despite her heart and kidney failure and non-congenital brain injury. Read more about Helga Bruggink and her Easy Go in this customer experience.
Read this customer experience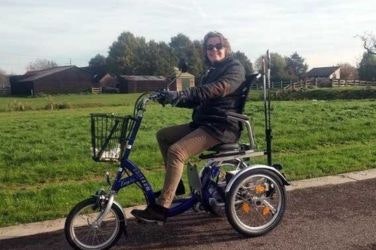 Customer experience scooter bike Easy Go - Astrid van der Plank
I am Astrid van der Plank (44) and I own the Easy Go scooter bike since July 2018. I use a scooter bike because I have Spinocerebellar Ataxia type 28 (SCA28). SCA28 is a rare chronic neurological disease that, among other things, causes balance and coordination problems. When I could no longer cycle on a bike with two wheels, because I fell continuously, I started looking at alternatives. I tried several Van Raam bikes, but nowadays I am happy to use my scooter bike Easy Go.
Read this customer experience
;
Specifications
| | |
| --- | --- |
| Item code | 371-0000 |
| Average range (default battery) | 51 km |
| Min-max range (default battery) | 33 - 69 km |
| Inside leg length | 78 - 90 cm |
| Boarding height | 29 cm |
| Weight with electrical system | 64 kg |
| Cycle length | 166 cm |
| Cycle width | 71.5 cm |
| Wheel size front | 16" |
| Wheel size back | 20" |
| Standard color | (RAL 7026) Granite gray |
| 2nd color (extra charge) | (RAL 7031) Blue-grey matt |
| 3rd color (extra charge) | (RAL 5011) Steel blue matt |
| RAL color of choice | Yes |
| Maximum driver weight | 140 kg |
| Maximum luggage carrier weight | 20 kg |
| Possible separable frame | No |
Do you already have a Van Raam bike?