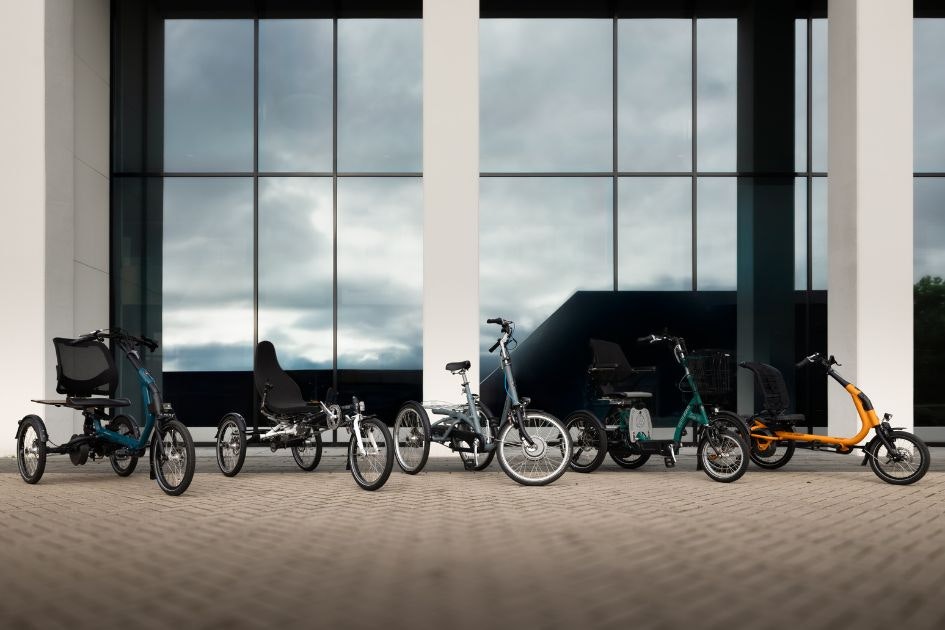 News
Cycling on a steady bike made by Van Raam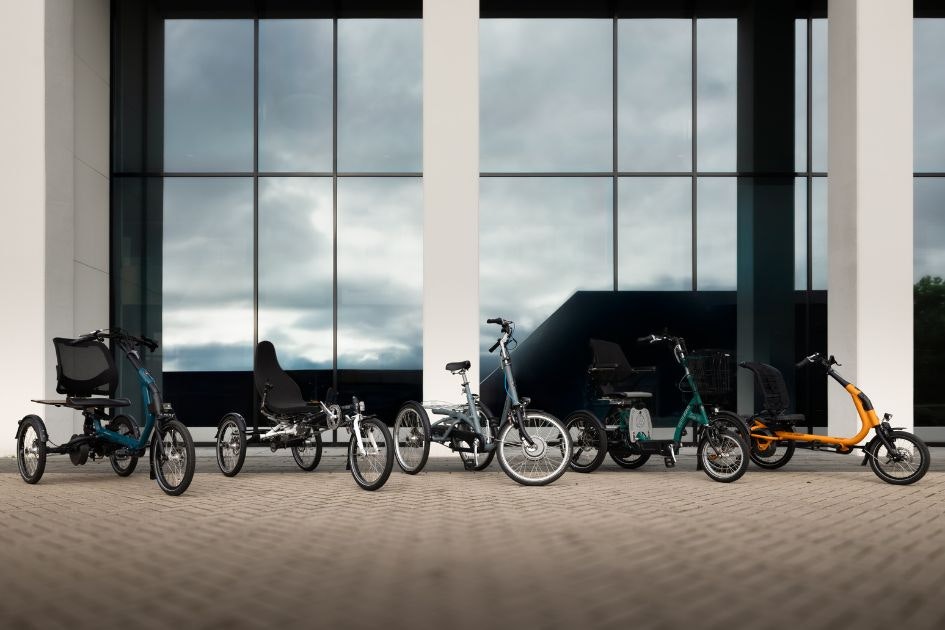 A steady bike is a good alternative to a regular bike with two wheels. Sometimes you can't ride a regular bike because it's too unsteady for you. A steady cycle provides a safe and pleasant way of cycling. Van Raam has several steady bicycles in its range, including single-person tricycles or low entry bicycles. But also multi-person bikes, such as wheelchair bikes and duo bikes. The Van Raam bicycles are suitable for men and women. Read more about stable bicycles and Van Raam's special needs bicycles here.
Cycling with stability
A steady bike is a sturdy, reliable bike on which a person can keep his or her balance well. This balance can be achieved, for example, by having three wheels, a low entry or a different sitting position. You often come across these characteristics with special needs bikes. Three wheels make sure that you don't fall over, because you don't have to keep your balance yourself. With a low entry bike you can easily get on and off and with the Van Raam low entry bike you can always get on the ground with both feet. A steady sitting position is often a low sitting position. Because your centre of gravity is low, you feel safe and secure.
Stability and safety with a special needs bikes
A safe bicycle is very important, because with a bicycle you are a participant in traffic. For many people, participating in traffic with a special needs bicycle for the first time is an exciting moment. Despite the fact that other road users seem to take a lot of account of special needs bicycles in traffic, it is of course also important that you feel safe on an adapted bicycle. Make sure you practice enough with your special needs bike and choose the option to take a test ride before purchase. This way, you'll feel secure on your steady special needs bike.

If you are thinking about buying a tricycle, these articles can help you 'Cycling on a tricycle for adults' and 'Tricycle for adults'.
Steady bicycles from Van Raam for one person
Van Raam is manufacturer of special needs bikes and has over 35 years of experience in making these special bikes. These custom bikes have several unique riding characteristics, including stability. Van Raam's steady bikes are suitable for men and women. Van Raam has the following sturdy bicycles for one person in its range:
Tricycles: The tricycle provides stability and thus creates a feeling of safety while cycling.

Low entry bikes: Alow entry makes it easy to get on and off the bike. In addition, this bike model has a uniquely developed frame so you can ride comfortably and also get on the ground with two feet without getting off.

Walking aid: The walking aid is suitable for people who have difficulty walking or have problems standing for long periods of time. Your body weight is carried by the saddle of the walking aid, this relieves your hips, knees and ankles.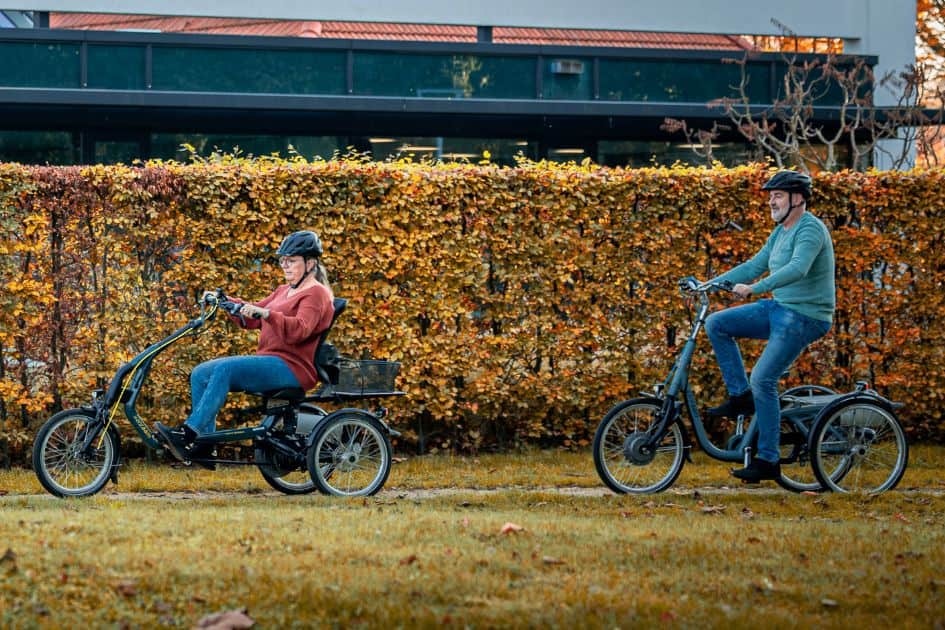 Tricycles
Tricycles for adults: Midi, Maxi, Maxi Comfort, Easy Rider, Easy Rider Compact, Easy Sport, Easy Go, Viktoria and Viktor.

Tricycles for kids: Husky, Mini, Midi, Easy Rider Small, Easy Sport Small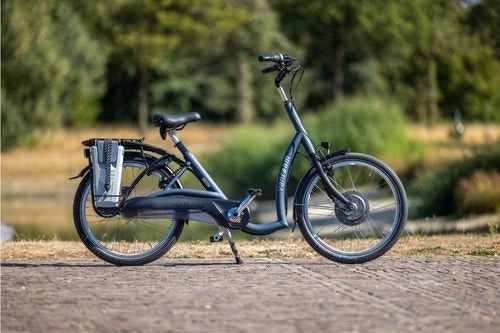 Steady multi-person bikes from Van Raam
Van Raam's special needs multi-person bikes are suitable for enjoying cycling together.Van Raam's multi-person bicycles are often designed to cycle together with someone who is no longer able to do this independently, for example due to a disability. Most of Van Raam's multi-person bikes have three wheels and are therefore very steady. These stable multi-person bikes are available at Van Raam:
Steady (electric) bike with accessories
A Van Raam bicycle can be expanded with all kinds of options and accessories. With the online configurator it is possible to put together your own bike with options in a few easy steps. In the online configurator you will find all possible options and accessories. You can also find all options and accessories per bike on the price list on the product page of a bike of your choice.

The Van Raam steady bikes are also available as an electric bike with pedal support. The pedal support can help you if you don't have enough power yourself or if you want to cycle longer distances. Van Raam has developed its own pedal support system for and by Van Raam. The Silent System is a unique and award winning system and is characterized by its simple operation, the possibility to cycle backwards and the possibility to program the support individually. The Van Raam pedal support can be used in combination with the Van Raam E-Bike App.
Steady bicycle for the elderly
A steady bike is especially important for older men and women. Older people fall faster and often have less stability. The victims of cycling accidents in traffic are often elderly as well. Of all people over 50 killed in traffic in 2018, 44 percent were involved as cyclists in a traffic accident. The bicycle therefore represented the greatest risk to road users aged 50 and older (source: CBS). Older cyclists on an electric bicycle are particularly at risk.

Many people fall when getting on and off the bicycle. Particularly when suddenly having to brake or unexpectedly having to get off the bicycle. The high starting speed of the motor and the unexpected switching on and off of the electric support also leads to accidents.

Van Raam has the ideal safe and steady bike for the elderly. The low entry bike Balance has a unique frame construction. With the Balance bike you can always get with both feet on the ground without getting off the saddle and still have an optimally stretched leg. Wrists, shoulders and neck are hardly burdened while cycling on the Balance. Because the centre of gravity is somewhat lower than on a regular two-wheeler bike, you are more steady and cycling is easy and comfortable.

Read more about this steady bike for seniors in the article: 'Safe (electric) bike for elderly'.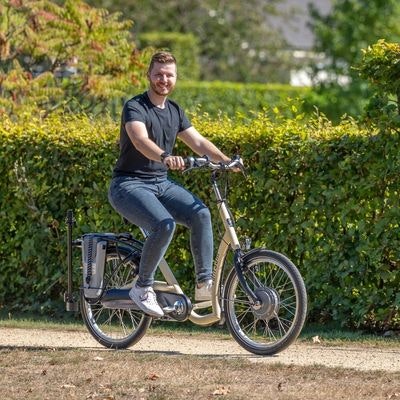 Customer experiences with a steady bike
Read here some customer experiences of people with a steady Van Raam bike.
;
Do you have any questions?
We are happy to assist you! Please check our contact page or contact us directly using the options below.