Customer experiences
User experience tricycle for adults Maxi - Dominique van Steijn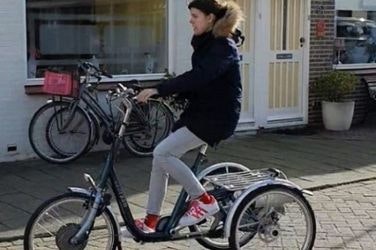 I am now 18 years old and I am still very happy with my tricycle! Without my tricycle I would never have been able to cycle!
Short introduction
'My name is Dominique van Steijn (18) and I am the proud owner of a Van Raam Maxi tricycle with pedal assistance. I have a form of autism which leads to reduced balance. That's also the reason I own a tricycle, I don't feel confident on a normal bike. As a small child, they tried everything to teach me how to ride a bicycle, but without result. Then, I came up with the idea for a tricycle for myself.
Proud owner of a Maxi tricycle
I've had several Van Raam bikes. My very first tricycle was from another brand I didn't like. After that, I got a Midi from Van Raam via Welzorg, the dealer the WMO (offers help and support to citizens in the Netherlands) of our municipality works with, then a Maxi without pedal assistance and recently I got a new Maxi, but now with pedal assistance. The contact with Welzorg went well. I didn't have to wait long for my bike, and I can always call them for help or other things. When the bike was delivered, everything was well and clearly explained, including the maintenance of the bike and the battery. Finally, I went for a bike ride in the presence of the Welzorg advisor. The very first trip with pedal support went very well and the advisor could test if the bike met my wishes. On my previous Maxi I had pink light tubes through the spokes of my wheels, which I also want on my new bike. 
Without my tricycle, I can't go anywhere by bike. Thanks to the pedal support, cycling is no longer unpleasant or difficult for me.
Dominique van Steijn
Short introduction
I'm super happy with my tricycle! Without my tricycle, I can't go anywhere by bike. I always struggled a lot with cycling against the wind, but because of the pedal support cycling is no longer unpleasant or difficult for me. Now I always arrive at my destination without sore legs.

The most positive think about cycling is that I can get back the 'cycling freedom' I missed as a child and I am faster than when I walk. Like many other people, I only cycle when the weather is nice and mainly on asphalted roads or roads from a kind of brick. This goes well, but sometimes, especially on the 'brick roads', I encounter bumps. But cycling is easy to do. I notice that it gets more and more tricycle-friendly in traffic. The bollards are placed further apart so I can get through with my tricycle, but cars cannot, as it should be. Also, more and more cars are letting me get ahead of them when I am waiting to cycle onto a roundabout for example.
 
As a tip, I would like to give all WMO departments in the Netherlands the idea of making it easier to choose the color of the frame. And I think it would be nice if Van Raam organises a meeting day for the owners of a special needs bike. Then we can show our bikes to each other and to you!
 
Dominique van Steijn - Den Helder (the Netherlands)
Model: Maxi