Tandem bikes
Twinny Plus tandem
From, excl. VAT and shipping
Description Twinny Plus tandem
The Twinny Plus looks the same as the Twinny but with two rear wheels. The Twinny Plus three wheel tandem bike is ideal for enjoying a bike ride together. Getting on and off the Twinny Plus three wheel tandem bike can easily be done by the low step trough. Equipped with two rear wheels instead of one, the Twinny Plus trike provides more stability. Because of these two wheels it becomes more easy to get on and off of the bike when its standing still. There is more space between the front and the steering wheel of the person co-driving in the rear, so you do not sit too close together.
You can use the optional switchable freewheel to determine whether and how the passenger pedals. With the freewheel hub, the driver can decide they way of cycling of the co-driver. With the steering on the front-side, the freewheel hub has two positions:
This is a function with a continuous movement of the pedal and the co-driver must pedal along.

The pedals of the co-driver move independently of the pedals of the main driver. The pedals run freely and the co-driver cannot cycle.
Smart e-bike
There are many options available with this bike, e.g. a divisible variety. With electrical power assistance, cycling on this modern designed tandem bike is even easier. Read everything about electric pedal support (Pedelec) for this bike.
If you choose an optional electric pedal assist, it will be delivered as a smart e-bike. It allows you to view a lot of information about your battery and smart e-bike from a distance. For example, you can use the app to view your cycling routes and change your cycling settings. Read more about the Van Raam smart e-bike on our Van Raam app page.
Van Raam tandems
Looking for a different kind of tandem? The Twinny is a tandem for two adults with two wheels. In addition, Van Raam also has two tandems on which a parent can cycle together with a child. These are the two-wheel tandem Kivo and three-wheel tandem Kivo Plus. The Fun2Go duo bike is a three-wheel tandem on which the persons sit next to each other.
More information
For all the options available for this bike, see our configurator or pricelist of the Twinny plus.
For more information see also FAQ.
If you want to try this bike or any other bike of us, you can make an appointment with us. We do not sell directly to individuals, sales and delivery is done by our dealers.
Standard equipment
Aluminum rims

Differential

Environmentally friendly paint

Parking brake

Safety lock

Quick release saddle

Lighting

Five year guarantee on frame
Benefits
Easy to get on and off

Extra stable due to the two wheels

Standard 8 gears

Frameheight is adjustable

Divisible frame

Easy to transport a person

Both persons have a low step through
Read all Twinny Plus customer experiences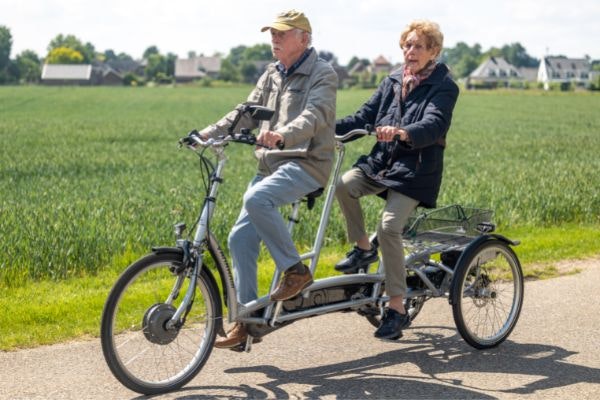 Customer experience 3 wheel tandem bike Twinny Plus - Family Groot
Mrs. Groot is 83 years old, her hobbies are reading, walking and cycling. Since a few years she has become visually impaired, together with her husband she now cycles on the 3 wheel tandem bike Twinny Plus from Van Raam. Read their experience with the Twinny Plus here.
Read this customer experience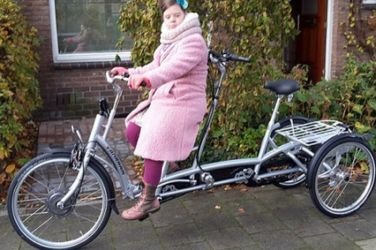 User experience tricycle tandem Twinny Plus - Tessel and Mieke Klinkenberg
Hi, my name is Mieke Klinkenberg and I am the mother of Tessel Klinkenberg (22), she is my youngest daughter. Because of her downsyndrome Tessel can't cycle independently. She has never learned this and never really wanted to learn. Since childhood we have been cycling on a tandem and Tessel loves that very much!
Read this customer experience
;
The Twinny Plus through the years
Van Raam has a history of over 110 years. Since 1986, the focus at Van Raam has been on the production of special needs bicycles. The bicycles in Van Raam's range are continuously developed and improved. This also applies to the Twinny Plus tandem. View photos of the Twinny Plus here and see how it has changed over the years.
Specifications
Drawing 1

Drawing 2

Drawing 3
| | |
| --- | --- |
| Item code | 379-0000 |
| Average range (default battery) | 54 km |
| Min-max range (default battery) | 41 - 80 km |
| Inside leg length | 77 - 89 km |
| Standard frame height | 52 cm |
| Boarding height | 37.5 cm F, 45 cm R |
| Weight without electrical system | 44 kg |
| Weight with electrical system | 56.2 kg |
| Cycle length | 261 cm |
| Cycle width | 75 cm |
| Wheel size front | 26" |
| Wheel size back | 26" |
| Standard color | (RAL 7038) Agate grey |
| 2nd color (extra charge) | (RAL 9005) Jet black matt |
| 3rd color (extra charge) | (RAL 5008) Grey blue |
| RAL color of choice | Yes |
| Maximum driver weight | 120 kg |
| Maximum passenger weight | 120 kg |
| Maximum luggage carrier weight | 20 kg |
| Possible separable frame | Yes |
Do you already have a Van Raam bike?
Downloads
Product information
Warrenty