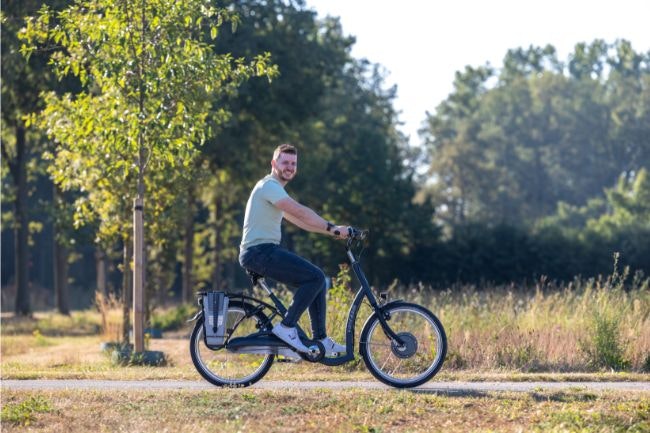 News
Cycling with a unique Van Raam bike with two wheels
Bikes

\ Cycling independently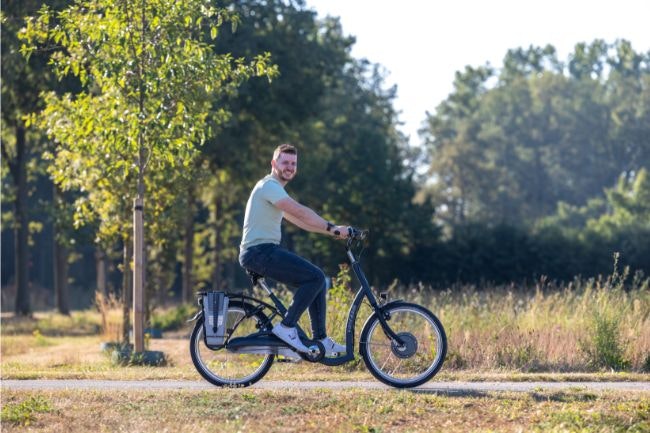 Van Raam is specialised in special needs bicycles. These can be tricycles, but also tandems, wheelchair bikes, a scooter bike or a double rider cycle. Many of these bikes have three or more wheels, but Van Raam also has bikes with two wheels. Read more about cycling on Van Raam's unique two-wheeled bicycles here and see the advantages and user experiences.
Difference between Van Raam two-wheeled bikes and tricycles
If you no longer manage to cycle on a standard two-wheel bike, you will look for an alternative. This alternative can be an adaptive bicycle. It's up to you what kind of adaptive bike is suitable for you. If you have trouble keeping your balance, a tricycle might be a bike that suits you. On a tricycle, you cycle very differently than on a two-wheeler, so this requires some practice. On a bike with two wheels, it is important that you are able to keep your balance yourself. A modified (electric) bike with two wheels may be an option if cycling on a regular (electric) bike is no longer possible. A special needs bike with two wheels is unique because of, for example, a low entry, a specially developed frame or the possibility to adjust the bike to your wishes.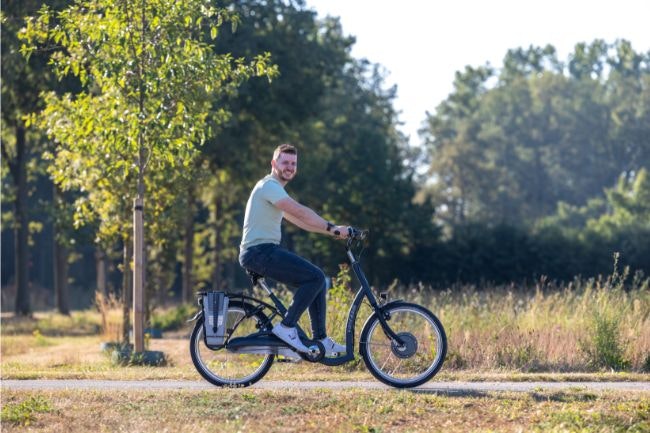 Van Raam's tandems are used to enjoy cycling together. Because of the low step-in and the various options, the tandems are often used with people who can no longer cycle independently. Van Raam has tandems with two wheels, but also with three wheels. On a tandem with three wheels it is easier to keep your balance, in fact, you always remain stable in an upright position. However, a three-wheel tandem is very different from a two-wheel tandem. If you are still able to keep your balance together, then a two-wheel tandem is the solution.

On the walking aid City you do not make a standard cycling movement, but a walking movement. The walking aid is a two-wheeled tandem that is suitable for people who have difficulty walking or have problems standing for long periods of time. A wheelchair is not yet necessary and a walker is not preferred. Because this bike has two small wheels instead of three, it is very manoeuvrable and compact.
Types of bikes with two wheels
The different two-wheelers of Van Raam are:
Low entry bike Balance
The Balance is a low entry bike that is also available with pedal support.This bike can be used if you have difficulty getting on a bike. Because of the low entry the leg hardly needs to be lifted anymore. The unique frame ensures that you can always put both feet flat on the ground, without stepping off. This allows you to keep your balance at, for example, the traffic lights. Watch a video of the Balance in the article 'Video: Balance low step through e-bike'.

The advantages of the Balance:
Low entry / low step through

Always with two feet on the ground without getting off

Unique ergonomically designed seating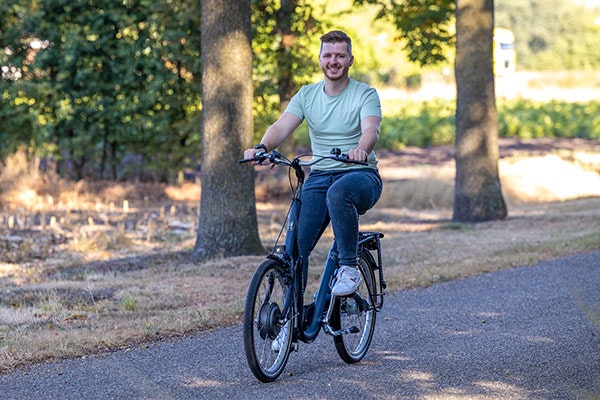 Tandems Twinny and Kivo
The Twinny tandem is a two-wheeled tandem suitable for adults. Because of the optional accessories, such as foot fixation, a backrest or a mirror, the tandem can be tailored to your personal preferences.

The Kivo tandem is a child parent tandem. On this tandem, a child can sit at the front of the tandem and a parent or attendant at the back of the tandem, the attendant controls the tandem. The child has a good view of the surroundings and the adult has a good view of the child. This tandem can also be expanded with all kinds of options. Watch a video of the tandems in the article 'Video tandems for children and adults'.

The advantages of the two-wheeled tandems are:
Customizable with various options and accessories such as pedal support

With the Twinny there is a choice between a divisible frame and front or rear steering

The Kivo has a standard freewheel switch which allows the main driver to adjust the co-driver's way of cycling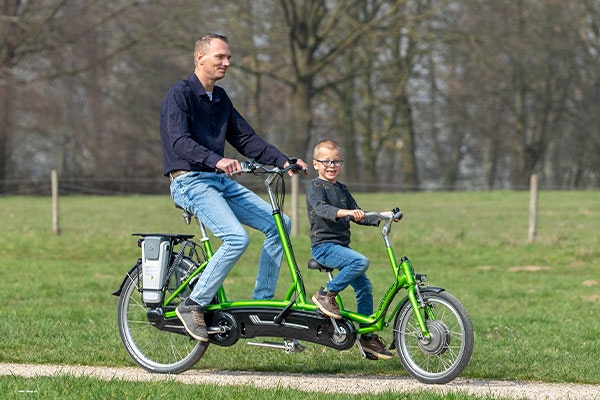 Walking aid City
The walking aid City is a walker support that is used as an aid for adults who have difficulty standing or walking for a long time. With this bike your body weight is carried by the saddle, which relieves joints and makes walking very smooth. Watch a video and more about the City in the article 'Instruction video City walking aid for adults'.

The advantages of the walking aid:
Relieves joints making walking less difficult

Easily foldable easy to take with you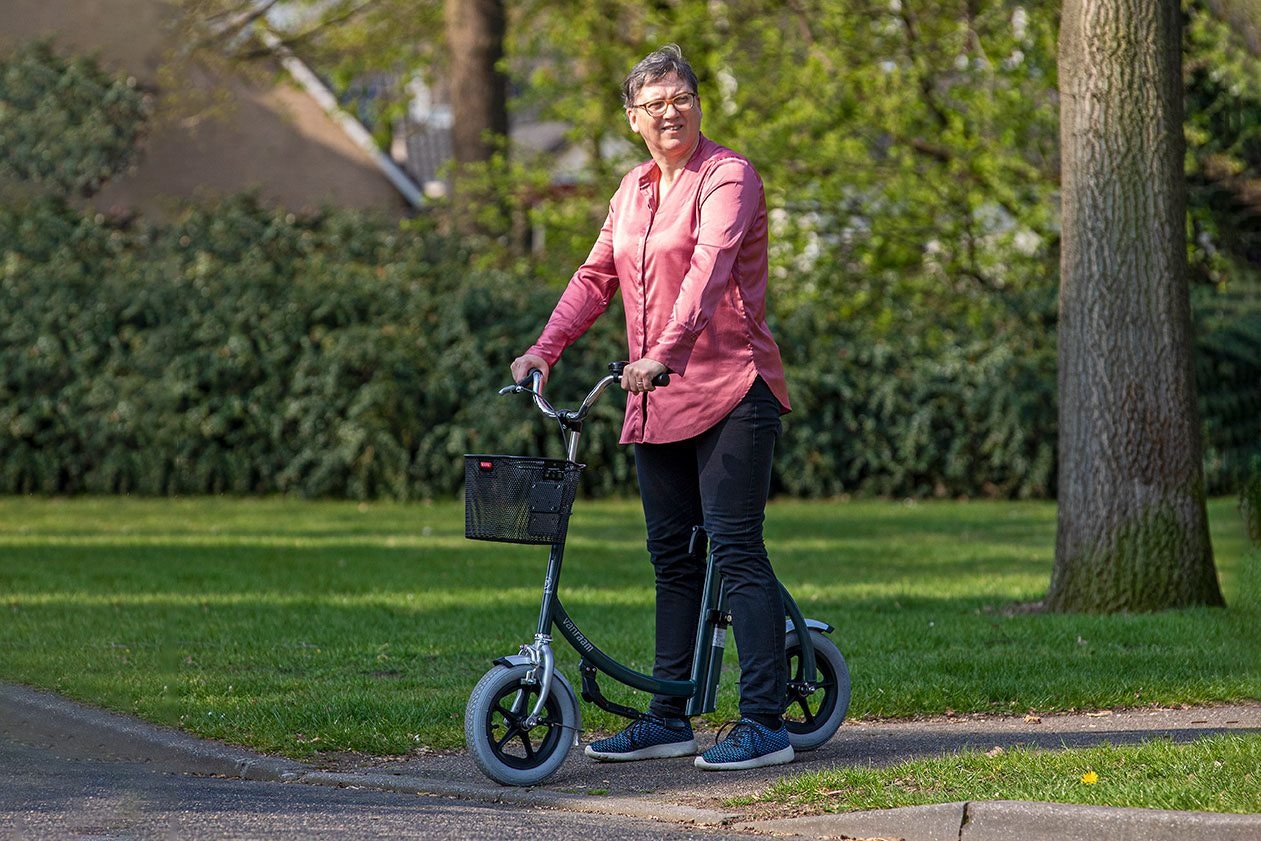 User experiences
Read the experiences of users of Van Raam two-wheelers here.
;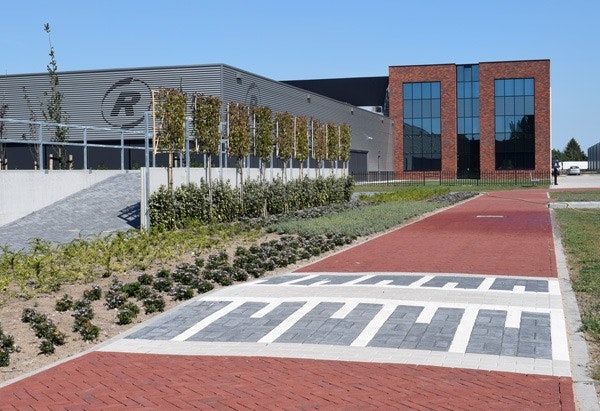 Trying out a bike with two wheels
In our showroom in Varsseveld it is possible to try out these two wheelers without any obligation. A technical advisor will help you choose the bike that suits you best. On our test track it is possible to make a test ride. Afterwards, you will receive an offer, which you can take with you to a Van Raam dealer without any obligation Not in the area? Contact a dealer in your area to discuss the possibilities.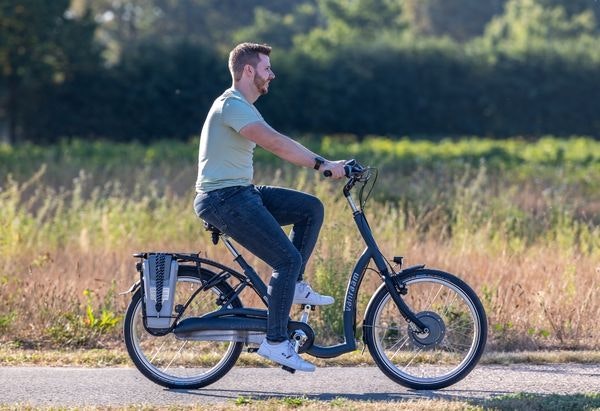 Put together your own two-wheeler
With the online configurator it is possible to put together your own bike. Configuring your bike is done in a few easy steps. You choose a bike of your choice and you can expand it with all kinds of options, such as pedal support or a nice colour. Or you can expand your bike with accessories such as a mirror, stick holder or foot fixations After the configuration you get the complete configuration in your mail.
Do you have any questions?
We are happy to assist you! Please check our contact page or contact us directly using the options below.