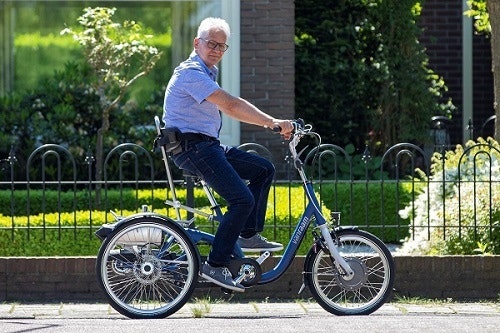 News
Bike for people with limited mobility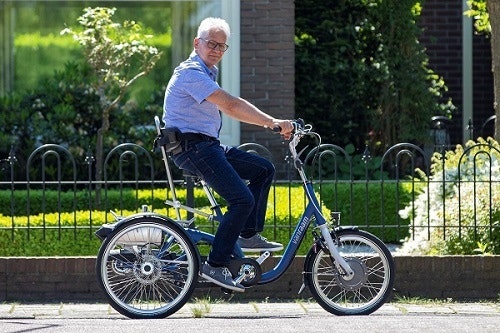 Van Raam is manufacturer of unique special needs bikes and has several bikes in its range that are bikes for people with limited mobility who can no longer cycle on a regular bike. Read more about these special bikes here, read user experiences and view photos.
E-Bike for people with limited mobility
The specializations of Van Raam are tricycles, mobility scooters, tandems, duo bikes, wheelchair bikes, transport bikes, walking aid and low entry bikes. At Van Raam we produce every special needs bike unique, this can be done with specific options, such as a foot fixation, eccentric crank, stick holder, walker holder, mirror or a special saddle or handlebar. A Van Raam bicycle can also be powder coated in almost any possible RAL colour.

Most bicycles at Van Raam are also available electrically. Van Raam has its own pedal support system, called the Silent System. This system was developed for and by Van Raam and has several special features, for example: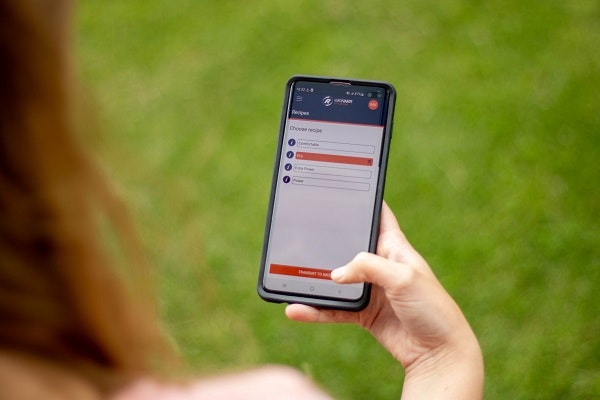 Starting aid / launch control

Reverse cycling

Almost noiseless motor

Modern, efficient and safe

Simple use

Possibility of free E-Bike app​
Cycling independently with limited mobility
As a person with limited mobility, cycling can become more and more of a challenge. If you would still like to cycle independently, the options below might be interesting for you. Read more about Van Raam bikes for invalid in the article 'Van Raam tricycle for invalid'.
Cycling together with a person with limited mobility
With Van Raam's bicycles it is also possible to cycle together as a person with limited mobility. At Van Raam this is possible with wheelchair bikes, tandems, side-by-side tandems or transport bikes. On these bikes it is possible to cycle as a disabled person with the tandems and duo bikes. If a person with reduced mobility is unable or unwilling to cycle, wheelchair and transport bicycles are a good solution.
Tandems
Van Raam's tandems are multi-person bicycles and are used to enjoy cycling together. Because of the low entry or lack of entry and the different options the tandems are often used with people who can no longer cycle independently. There are regular tandems available where you sit one after the other. The Twinny is a tandem with two wheels for two adults and the Twinny Plus is the same version only with three wheels, because of these extra two rear wheels you have more stability. The Kivo is a child + parent tandem and the Kivo Plus is the same tandem bike, only with two wheels at the back. The Fun2Go is a tricycle tandem where you sit next to each other, this variant is also called a side-by-side tandem.

With the Van Raam tandems, there is always one person that will control the bike. The tandems can also be ordered with electric pedal support.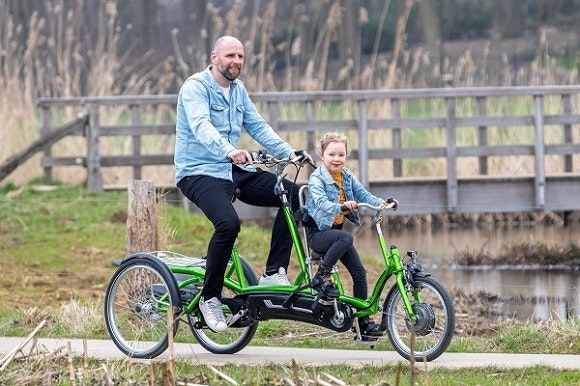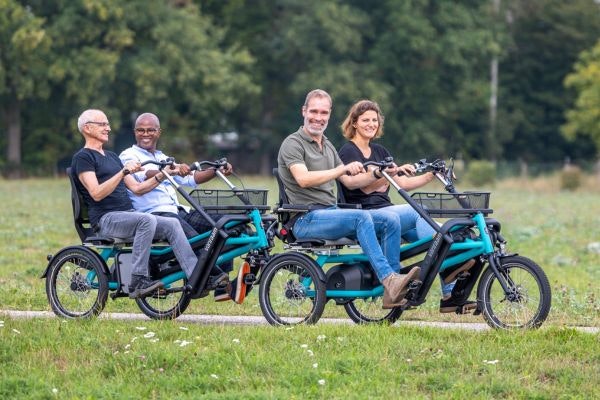 Side-by-side tandems
Van Raam's Fun2Go side-by-side tandem is a tandem bike where you sit next to each other instead of behind each other. The driver can keep a close eye on the co-driver and it's easy to chat while cycling. The Fun2Go has three wheels and because there is no entry, you can easily take place on the bike. This bike is steered and braked by one person, the co-driver can only pedal. The bike can be adjusted as desired with many options, such as pedal assistance, a swivel seat, a footplate for the co-driver, an eccentric crank or foot trays.

The FunTrain is a side-by-side tandem trailer. By attaching the FunTrain behind a Fun2Go, one driver can cycle with three co-drivers.
Wheelchair bikes
Wheelchair bikes are used to transport a person in a wheelchair by bicycle. Van Raam has two types of wheelchair bicycles, the VeloPlus and the OPair. The VeloPlus is a wheelchair transport bike, in which a person can remain seated in his/her own wheelchair and the wheelchair can be ridden on a tilting plate on the bicycle. The optional winch system can be used for this purpose. The OPair is a wheelchair bike with an adjustable seat in which a wheelchair user can be transported.

With various options, the bike can be completely adjusted, it is even possible to mount your own seat/seat shell on the bike. With the optional, divisible frame, the front part of the bike can be used as a wheelchair. With the optional electric motor you also have support while cycling.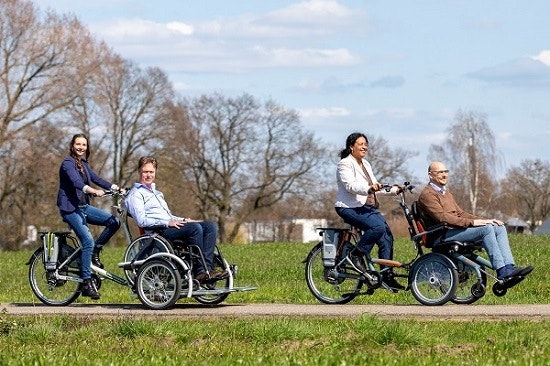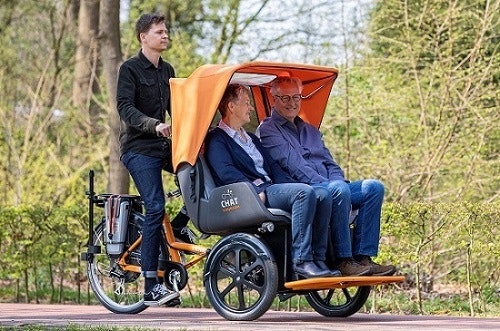 Transport bikes
Van Raam's transport bikes are suitable for children or adults who can no longer or do not want to participate in traffic independently. People choose a transport bike to cycle together with people who are no longer able to do so themselves. With the Chat rickshaw bike a guide can cycle with one or two persons. These people sit in a specially designed seat and can enjoy a comfortable bike ride. With the transport bikes OPair and VeloPlus wheelchair users can cycle, read more about these twobikes in the paragraph above.
Experiences of cyclists with limited mobility
At Van Raam we value the experiences of our customers. On customer experiences page you can find all the experiences of customers. Despite the fact that they can't cycle on a regular bike with two wheels anymore, it's nice to hear that these people can still be mobile and independent with their special needs Van Raam bike.

On our website you can also share your own experience with a Van Raam bike.
;
Do you have any questions?
We are happy to assist you! Please check our contact page or contact us directly using the options below.