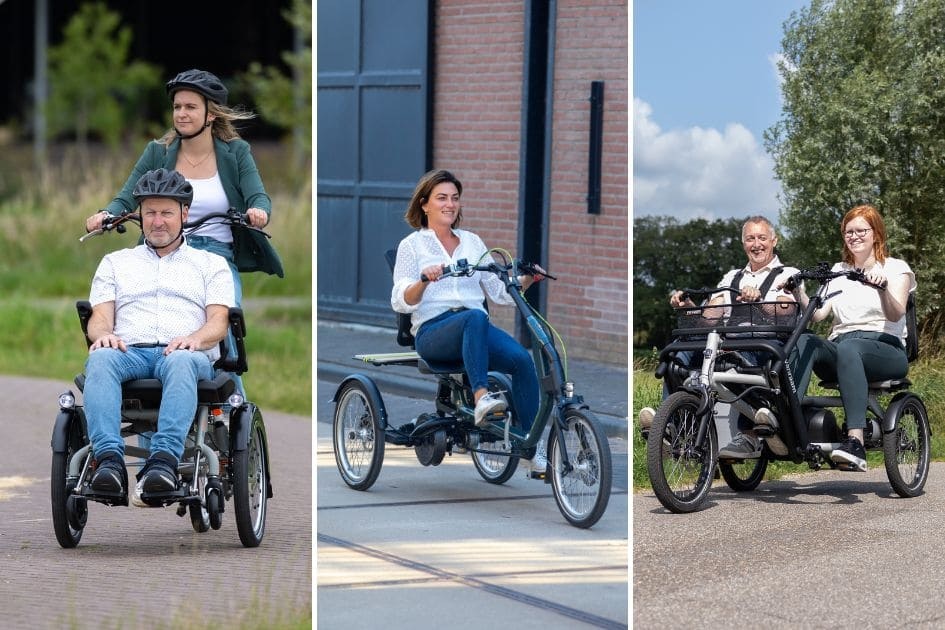 News
Bike for an invalid by Van Raam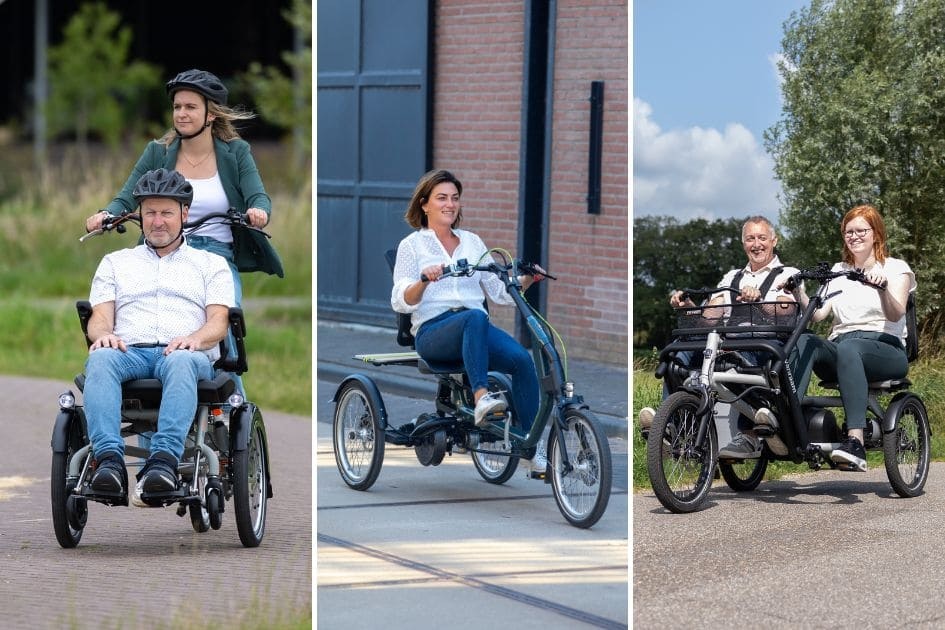 An invalid bike can be the solution if you can no longer ride a regular bike with two wheels bike easily. A bicycle for an invalid can be a tricycle, but also a wheelchair bike, duo bike, tandem and low entry bike. Van Raam is a manufacturer of special needs bikes with more than 30 years of experience in these special bikes. Are you curious about these invalid bikes? Read and watch them in this article.
Special needs bike for invalid person
A special needs bike is a different type of bike than the traditional bike with two wheels. Sometimes cycling on a traditional two-wheeler doesn't seem to work anymore. In the search for another means of transport, an adapted bicycle can be a solution.

A special needs bike can help an invalid person to cycle (again). A tricycle is such a good and safe alternative. A tricycle, for example, provides stability and thus creates a feeling of safety while cycling. A multi-person bike is suitable if you can no longer cycle independently and would like to cycle together with someone else.

Special needs bikes often have the possibility to be extended with various options and accessories, so that the bike fits an invalid person. After all, each disability is different and everyone has different needs, so a special needs bike is available in many different versions.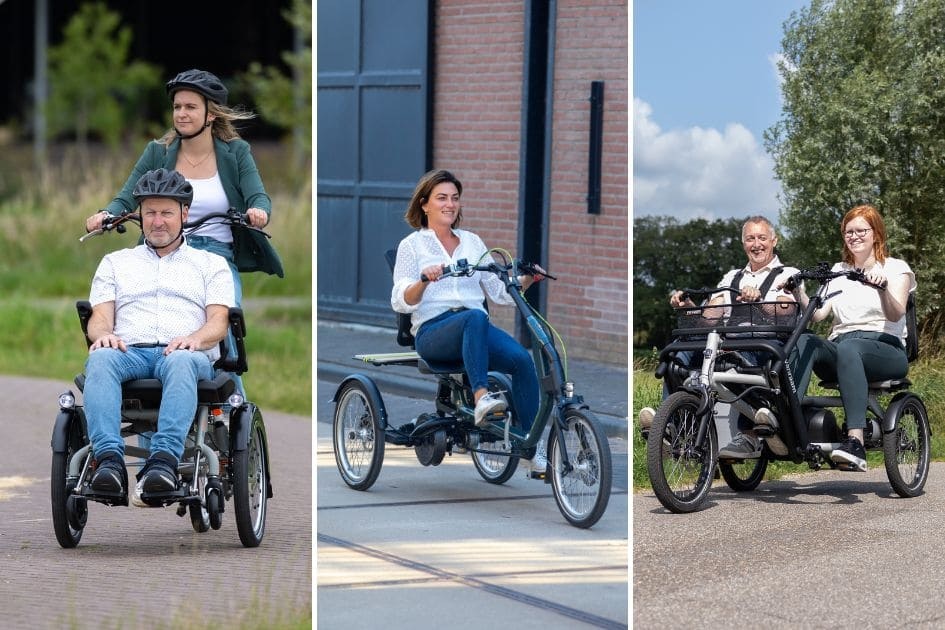 E-bike for invalid
Cycling fully on one's own power can often be a challenge for an invalid person. You can choose to go for an electric bike. An invalid bicycle at Van Raam is often also possible as an e-bike and can be extended with pedal support. Van Raam has developed its own pedal support system, which is called the Silent System.

This system is characterized by:
Easy to operate

3 support modes

A starting aid and the possibility to cycle backwards

The possibility to cycle with the Van Raam E-Bike App​

Fairly noiseless, but very powerful motor

High quality and safe battery
Tricycle for invalid person
A tricycle can be the right invalid bicycle for people who cannot or no longer want to ride a regular two-wheeler or for people who are afraid of falling while cycling. A tricycle can be a solution for an invalid person, because the tricycle (almost) always remains upright. The tricycle is therefore very suitable for people who have difficulty keeping their balance.

When getting on or off the bike and during a stop you don't have to hold and keep a tricycle in balance or get off the bike.So at a traffic light you can stay on the tricycle and keep both feet on the pedals.
These are the different types of tricycles at Van Raam:
Traditional tricycle

Low entry tricycle

Tricycle with two wheels at the front and one wheel at the rear

Comfortable tricycle

Scooter bike
You can read more about the tricycles for invalid people in the article: 'Van Raam tricycle for invalid'.
Van Raam special needs bikes
View all the categories of special invalid bicycles at Van Raam below.
Configure your own special needs bike
With Van Raam's online configurator it is possible to put together a special needs bike yourself. In a few easy steps you choose a bike and all the options and accessories you would like to have with your custom bike. All chosen options are immediately visible in the overview on the page, you can also see the price of the chosen composition. After the last step, enter your e-mail address and you can view the complete configuration. You will also receive the complete configuration by e-mail.
Trying out an invalid bike yourself
Would you like to try a invalid special needs bike? This is possible by making a test ride at Van Raam. All Van Raam models can be found in the spacious and light showroom in Varsseveld. During an appointment (which you can schedule online in advance) a technical advisor will help you choose a special needs bike. It is also possible to try out a special bike outside on the bicycle test track. Afterwards, you will receive a no-obligation quote with which you can order thebike at a Van Raam dealer. At some dealers it is also possible to make a test ride. Please contact a dealer in your area for more information.
Experiences of invalid persons with a Van Raam bicycle
The reviews below are from invalid persons with a Van Raam bicycle. View more experiences on our user experience page.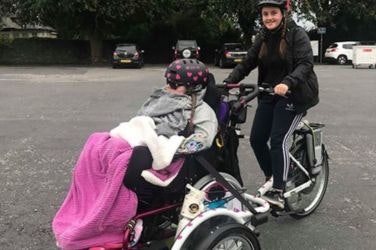 User experience wheelchair transport bike VeloPlus - Claire Huntingdon
We had our delivery recently and we have a cool sister too who has learnt to take her sister for a ride! Here is Erin taking her big sister Lois for a ride!
Read this customer experience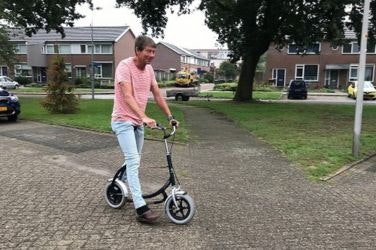 User experience walking aid City - Ronald Hummelink
My name is Ronald Hummelink and since a few months I use Van Raam's City walking aid almost daily. A tumor has caused fractures in my ankle and walking became very painful for me. I made a request through my health insurance and I got the walking aid reimbursed. This walking support from Van Raam is really ideal for me, because now I can move forward without pain and effort!
Read this customer experience
;
Do you have any questions?
We are happy to assist you! Please check our contact page or contact us directly using the options below.