Customer experiences
User experience tricycle Easy Rider - Koos and Lina Nieuwenhuizen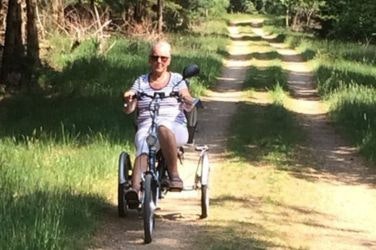 At the end of June, my wife and I saw by coincidence a flag from Van Raam in Waalwijk, the Netherlands. It turned out that Van Raam was there with a stand during the Medipoint Eropuit Days. Peter Cijs, representative of Van Raam, was also present at this stand, with whom we had a chat. My wife has been cycling on the adapted tricycle Easy Rider for a year now, so we were already familiar with the brand. When Peter Cijs asked if we wanted to contribute to a user experience, I agreed, but I have indicated that I am critical.
The reason for our search
Before I continue to talk about the Easy Rider from my wife Lina, I will briefly say something about our background. My wife (78) and I (80) had our own textile business for years. In our free time we have always travelled a lot, camped and above all cycled a lot (sometimes as much as 75 to 125 km a day). Unfortunately, there came an end to these many bike rides when my wife was diagnosed with Ataxia type 6. This is a hereditary and progressive disease that causes, among other things, a disturbed balance, more difficulty to talk and  affect the fine motor skills.
My wife has a part of her freedom back and that is the most important thing!
Koos Nieuwenhuizen
Orientation and purchase
Because we are cycling enthusiasts and we would like to cycle together, we started looking for a solution. We ended up at the Leijpark rehabilitation clinic in Tilburg. We have tried several types of tricycles in this orientation phase. My wife also sat on a traditional tricycle, the Maxi. This bike was less suitable for her. The cycling went well, but getting on and off was a problem with her 'limitation'. Eventually we ended up with the lowered tricycle Easy Rider.

At the time, we also visited the Van Raam showroom in Varsseveld, to view several models and versions and to try the bike again. We have received a very hospitable welcome and had expert assistance. Cycling with the Easy Rider went well, so we decided to see how we could buy this bike most "advantageously". Since Van Raam does not sell directly to end users, we searched for a dealer and ended up with MSC Mierlo. This dealer sells both used and new special needs bikes. Eventually, we purchased a second-hand model of the Easy Rider here. Our experiences with this dealer are unfortunately less positive, although we are satisfied with the pedal support. When the bike has malfunctions we go to our bicycle mechanic Ryan Post in Kaatsheuvel, we are very pleased about him.

Getting used to it
Although my wife is very happy with her special needs tricycle, she had to get used to it in the beginning. Fortunately she is a real go-getter and within three weeks she had cycling on the special needs trike under control. What she has to take into account is that she cannot drive off a rising sidewalk too diagonally. In addition, it is less pleasant for her to ride on a road full of bumps or cobblestones, because then she has the feeling that she is really 'swinging back and forth'. Nevertheless, she has a part of her freedom back and that is the most important thing!
Junction cycling route
At the weekend we like to cycle together. For example, we enjoy cycling via the junction cycling route planner. On these routes we sometimes come across narrow, unpaved cycle paths where no oncoming traffic can pass. Fortunately, other bike users are very social and keep the width of the bike into account. For example, everyone goes to the side and sometimes, they even ask if they can help us with something. All very friendly. For the future, it would be nice to indicate these routes via a colour/symbol that the route is also suitable for tricycles. 
On holiday
If we go on holiday, the bike also just goes along with us. My son then drives behind us in a company van with the tricycle in it. Maybe we will purchase an adapted trailer in the future, but I will have to look fully into that.  At the campsite, the bicycle is standing next to the caravan, because some bicycle parking facilities are not always suitable for a special needs bike. It is possible that we will make a bicycle cover ourselves, so that the bike will be protected against the rain.
 
During the week, my wife cycles a bit every day, for example to do shopping in the store. Previously she always had to ask someone if someone wanted to bring her. That she partly regains her independence makes up for a lot.     

Koos and Lina Nieuwenhuizen - Sprang-Capelle
Type: Easy Rider