Customer experiences
Customer experience scooter bike Easy Go - Astrid van der Plank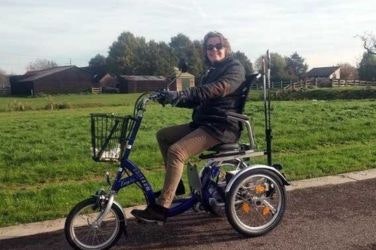 I am Astrid van der Plank (44) and I own the Easy Go scooter bike since July 2018. I use a scooter bike because I have Spinocerebellar Ataxia type 28 (SCA28). SCA28 is a rare chronic neurological disease that, among other things, causes balance and coordination problems. When I could no longer cycle on a bike with two wheels, because I fell continuously, I started looking at alternatives. I tried several Van Raam bikes, but nowadays I am happy to use my scooter bike Easy Go.
Specifications
Larger battery, Colour on request, SmartGuard Tyre, Stick holder, Mirror, Armrest (foldable), Comfort seat XL
Configure your bike
Buying an adaptive bicycle
There are different ways to purchase an adaptive bike in the Netherlands. For example, you can do this via the municipality or you can purchase the bicycle privately. The place where I live in, De Meern, falls under the municipality of Utrecht. I finally decided to purchase my Easy Go mobility scooter myself. If I had a bike via the patient fundholding (with all necessary options) it would be more expensive. Because I was going to pay for the bike myself, I spoiled myself.
I first had contact with Van Raam and, even though I went to buy the bike secondhand, I got good technical advice.
Astrid van der Plank
Options adaptive bicycle
Because I bought the bike myself, I opted for some extra 'luxury' options. For example, I do not have a standard Easy Go color, but I have a nice shiny royal blue scooter bike. In addition, I have a larger battery and SmartGuard tires on my bike. I also need the following options to use my bike optimally: stick holder, armrests, mirror on the left side and a comfort chair.
Introduction to Van Raam
During my first rehabilitation program, I became acquainted with the recumbent trike from Hase Bikes. I was curious if I was able to purchase something similar myself. Research work revealed that a Van Raam bicycle was the best option. I heard that a lot of bicycle shops can maintain a Van Raam bike, that sounded appealing. I did more research and became interested in the Easy Sport recumbent trike. I decided to buy a second-hand. However, I first had contact with Van Raam and, even though I went to buy the bike secondhand, I got good technical advice. On my second-hand Easy Sport tricycle, I did not have any pedal assistance and I noticed that I became tired more quickly after a while. I noticed that I really had to push myself to get over hills and slopes. Because cycling became increasingly heavy, I decided to stop cycling. Besides the Easy Sport I also tried the City walking aid, but it was not a match because of my balance problems.
Van Raam advisor came to visit
On the Van Raam website we saw the possibility to schedule a free consult with a Van Raam technical advisor. We were just about to go to Varsseveld, when we heard of the possibility to have a technical advisor at home. We made an appointment with technical field service consultant Stefan and he came to my house with some adaptive bikes. My occupational therapist was also present at this meeting, this way we were able to see which options were suitable for me. It was very nice that Stefan came to me and he also took the time to go through all the options. After the consult I knew exactly what I needed for my Easy Go scooter bike. Stefan made an offer of the Easy Go and the chosen options and I could order my scooter bike. Because Van Raam does not directly sell bicycles to end users, I went to a supplier of medical aids.
Ordering the scooter bike
I then passed on the offer with all options to Meyra Nieuwegein. Meyra is a supplier of medical aids, including adaptive bicycles. Meyra often works together with municipalities. Due to insufficient communication of Meyra, it took more than 9 weeks before my bike was delivered. Van Raam needed 7 weeks to deliver the bike to Meyra. In mid-July 2018 it was time for me to receive my scooter bike. In order to be able to use the scooter bike properly, it had to be adjusted correctly first. However, before I could ask this, Meyra's supplier had already left. Eventually they came back and Meyra adjusted the scooter bike for me. The contact with Meyra is currently very difficult. I think the reason for this is that Meyra is used to work with municipalities instead of helping private individuals. Because I have purchased my bicycle privately, I am not attached to a certain supplier / bicycle shop. If I find another suitable bicycle shop, I can easily switch dealer.
I really like my Easy Go scooter bike! It is wonderful not to call a taxi.
Astrid van der Plank
Benefits of the Easy Go scooter bike
I really like my Easy Go scooter bike! It is wonderful not to call a taxi or Social Support Act transport. The great thing about the scooter bike is that you can cycle, or you can use the mobility scooter option. If you are tired of cycling, you can always come home with the scooter option. Parking is easy, because the Easy Go is compact. In addition, the 'riding-in-revers-function' is very nice also. Even though the scooter bike has the mobilty scooter function, I think I still cycle 75% of the time.
Points of interest for the scooter bike
The placement of the bicycle lock is not convenient for someone with balance problems. It's a pity that the seat is not waterproof. If you leave the bike outside and it rains, I can advise you to put something over your seat to avoid wet trousers. The Easy Go scooter bike has the possibility to pull out a footstep. You can place your feet on the step when you use the mobility scooter mode. When cycling, my heel sometimes touches the back of this step. This can also be related to the position of my feet on the pedals.
Daily use of the scooter bike Easy Go
On average, I cycle about 60 kilometers with my Easy Go scooter bike per week. I do not have to charge the battery very often, usually once a week. I use my scooter bike everywhere. For example, I use the Easy Go for recreational use, but also for commuter traffic. When I go to a store where the shopping aisles are wide, I can even take my scooter bike into the store. This is often not a problem. I hope I will be able to take my scooter bike with me on a holiday in the future.
Occupational therapists
I regularly notice that adapted bicycles and mobility scooters are seen as 'senior aids' in my area. I am sad about that because adaptive bikes are so much more than that. I regularly get compliments about my scooter bike. Many of these compliments come from people who have never seen a scooter bike before and are amazed by the many possibilities. In the rehabilitation center, several occupational therapists came to me to look at the scooter bike. Many had not heard about this type of bike before. That is a shame since everyone is very enthusiastic about the bike. I think that if there is more knowledge and familiarity with this scooter bike, the Easy Go can become even more successful!
 
Astrid van der Plank - De Meern (Les Pays-Bas)
Easy Go