When you cannot change gears by hand to a higher or lower gear, for example when you have less strength in your hands, it is possible to place a gear lever on the gear handle. A gear lever is a tool to make the operation of a bicycle gear lighter. You only need to use little force.
Order your gear lever at a Van Raam dealer
The gear lever can be ordered at Van Raam dealers. Find your nearest dealer on the dealer page.
3D-printed gear lever
Van Raam recently replaced the old gear lever for a 3D-printed gear lever, designed by Van Raam itself. Want to know more? Read the article 3D print bike gear lever for special needs bikes Van Raam to find out more about the gear lever for Van Raam's special needs bikes.
Read all gear lever customer experiences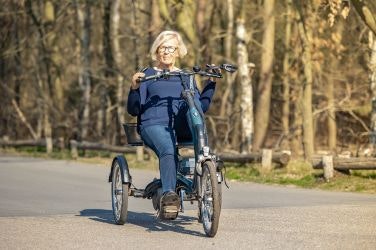 Customer experience Easy Rider tricycle - Suze Korver
February 2014 changed Suze's life forever. A bacterial infection caused sepsis, leaving her in a coma for 3 months and requiring both her lower legs and hands to be amputated. Read Suze Korver's admirable story in this customer experience and watch the video.
Read this customer experience
;
Specifications
| | |
| --- | --- |
| Article number | 23D-190076 |
| Dimensions (LxWxH) (mm) | 107x65x17 |
| Added weight (g) | 20.7 |
| Material | PA 12 (3D print) |
| Price | € 59 (excl. VAT and shipping) |