Customer experiences
Customer experience Fun2Go duo bike – Rinus de Korte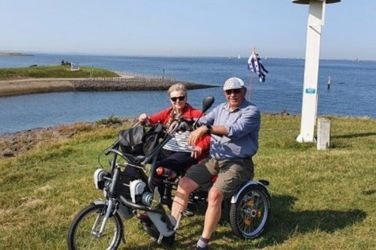 Rinus de Korte recently visited Van Raam, together with his wife Willy. Since a while they have a Fun2Go duo bike in use, on which they even cycled about 2400 km. Rinus told us about the beautiful bike rides they made and how much fun they have with the duo bike. They love to share these experiences with you!
Specifications
Stick holder, Armrest (foldable), Pedal assist, Double battery switch
Configure your bike
Let's introduce
My name is Rinus de Korte (78) and I am an entrepreneur in Rhine and Inland shipping, in which I had a joint company with my 3 brothers for many years. Together with my wife Willy (78) I live in a penthouse with a beautiful view on the town of Tholen, the Schelde-Rijnkanaal and the polder in Brabant.
Private counseling at Van Raam
In recent years we've had several e-bikes, but Willy has a lot of problems with osteoarthritis and getting on and off the bike gave big problems with falling, with all the consequences. I looked at Van Raam's website and then decided to go for a personal consultation, which I also recommend to everyone. Nico, and technical advisor at Van Raam, gave us excellent advice! We felt completely at ease and enough time was planned to keep us well informed. After trying a number of bikes Nico advised us to buy the Fun2Go duo bike and that turned out to be a good advice! We had to wait 3 or 4 weeks on the bike and the delivery was good.
My wife even calls the duo bike her 'Duo Convertible!'
Rinus de Korte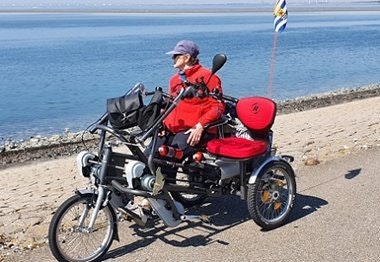 Really fantastic
We own the Fun2Go since March 2019 and we really like the bike! We also have some extra options: a stick holder, two large batteries and an armrest for the co-driver. I also ordered special thicker tires with a coarser profile on the backside when I bought the bike, because we cycle on all kinds of paths, including gravel and dirt tracks. If the path is narrow, we just go through the grass with the rear wheel. Now we don't have any problems anywhere.

The duo bike has a lot of positive things: if you want, you can pedal independently and you can also change gears as a co-driver. Getting on and off the bike is easy, if you stop you don't have to step off and you don't fall over. We can have a nice and relaxed look at the surroundings with each other and catch up with acquaintances we meet along the way. My wife and I can also 'cuddle' when riding the bike. She even calls the duo bike her 'Duo Convertible!'

We once had a small glitch with the bike, but this could also be solved quickly with a software update during our visit to the factory in Varsseveld. We are not experiencing any further restrictions or adverse effects when using the bike. It completely meets our expectations!
Using the bike
We use the bike mainly for relaxation. We have cycled about 2300 to 2400 km in 18 months. We go everywhere, including to Drenthe and the Veluwe. We take the bike with us on our trailer (photo). As for the battery, we have the Li Ion 36V 24 Ah, the largest battery available. We even bought an extra battery because we can't charge the battery when we are on the road. We usually make bike rides of around 50 km in one day, but we even made one of around 80 km!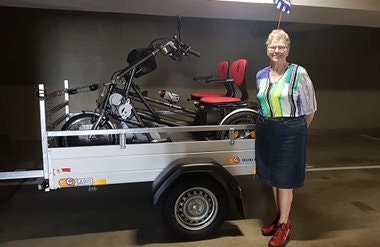 Reactions from bystanders
We often get nice reactions from bystanders along the way. Sometimes when people see us coming, they stick their thumbs up and people say "Nice bike!" I also let interested people test ride our bike. For example when we are sitting at a terrace or acquaintances in our social network. Unfortunately, the purchase price is the only objection for them. But apart from that, the duo bike is really fantastic!

Rinus de Korte – Tholen (the Netherlands)
Model: Fun2Go duo bike