Van Raam has different types of baskets. A bicycle basket provides ease in transporting your belongings.
Order your Van Raam bicycle basket at a Van Raam dealer
Would you like to order a basket for your special needs bicycle? You can order this option at a Van Raam dealer. Check the dealer page to find a Van Raam dealer in your area.
Read all baskets customer experiences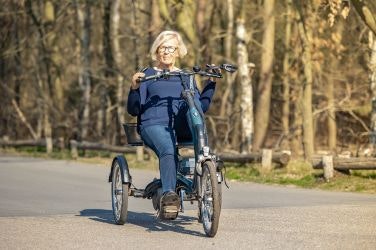 Customer experience Easy Rider tricycle - Suze Korver
February 2014 changed Suze's life forever. A bacterial infection caused sepsis, leaving her in a coma for 3 months and requiring both her lower legs and hands to be amputated. Read Suze Korver's admirable story in this customer experience and watch the video.
Read this customer experience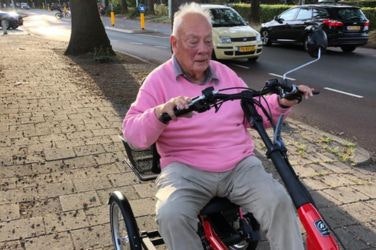 Customer experience Easy Rider tricycle – L. R. Verdooren
Mister Verdooren has osteoarthritis on his right knee which often caused him to fall over when getting off his previous e-bike. Now he has the Easy Rider electric tricycle and he enjoys it a lot. Read his story here.
Read this customer experience
;
Specifications
| | |
| --- | --- |
| Basket small (Mini) | |
| Dimensions LxWxH (mm) | 320x240x140 |
| Material | Coated Steel |
| Price | € 36 (excl. VAT and shipping) |
| | |
| --- | --- |
| Basket large (other bikes) | |
| Dimensions LxWxH (mm) | 490x290x170 |
| Material | Coated Steel |
| Price | € 36 (excl. VAT and shipping) |
| | |
| --- | --- |
| Basket small at handlebar (City) | |
| Dimensions LxWxH (mm) | 250x170x320 |
| Material | Coated Steel |
| Price | € 48 (excl. VAT and shipping) |