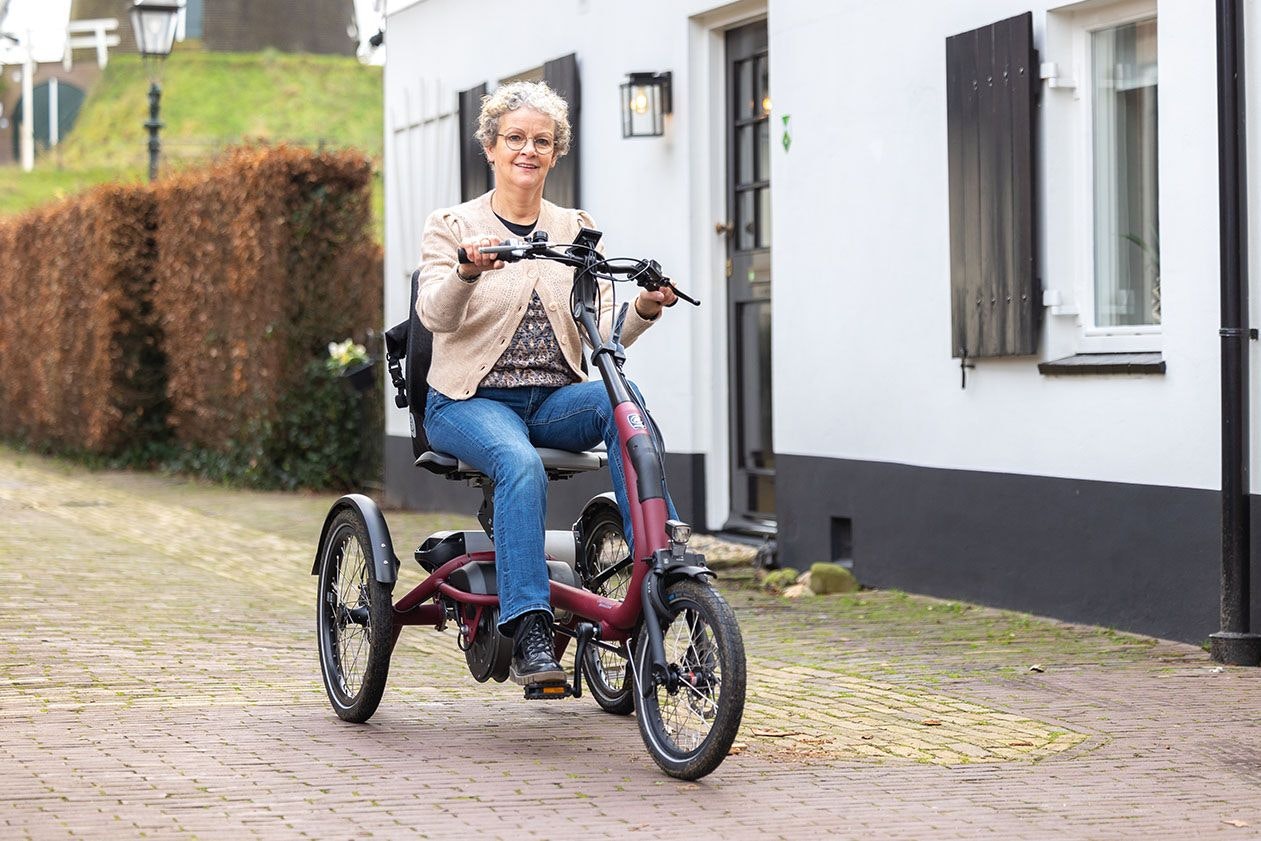 News
Women's tricycles from Van Raam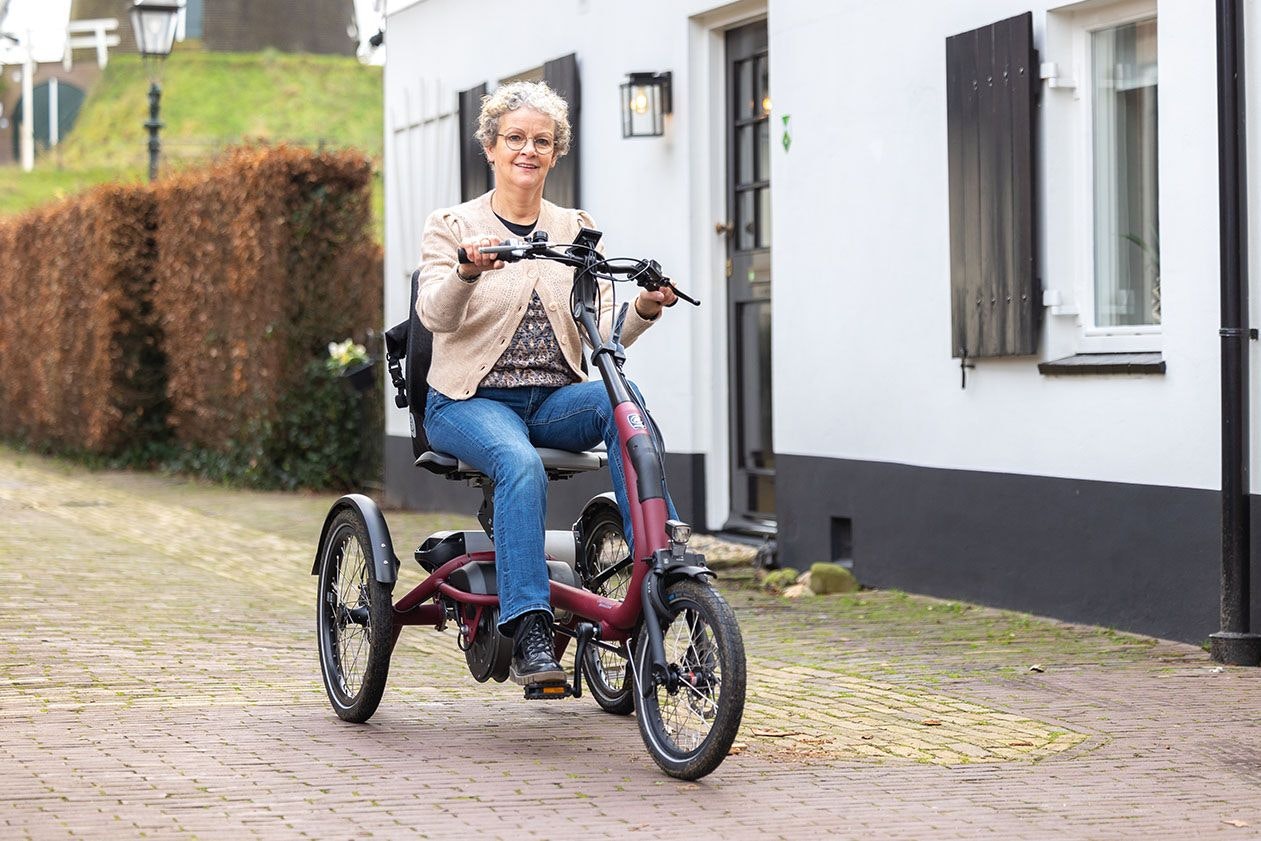 Van Raam is a manufacturer of adapted bikes for the disabled and people who can no longer ride a traditional, standard two-wheel bike. Take a bike tour, go shopping or cycle to work. All this and more can become (again) reality with the help of all types of bicycles that Van Raam has in its assortment. In this article we would like to introduce you to our various women's tricycles. Because just like every woman is different, every bicycle is different, because it can be adapted to your needs and wishes, so you can cycle again.​
A women's tricycle individually for you
A women's tricycle gives women the possibility to move independently even if this was not possible for a long time. We offer different types of tricycles in our assortment, because we know that every person, every woman is different and has different needs and settings, we make our bikes individually and according to your needs. In order to get an easier riding experience and to be able to cover long distances without any problems, all adult tricycles can be equipped with the unique Van Raam pedal support the Silent System as an option. With the Van Raam tricycles you have a feeling of safety because all three wheels touch the ground at all times. All Van Raam tricycles are characterized by their easy handling, and depending on how you assemble your bike, special handlebars and special seats and also other accessories can increase the comfort of your ladies tricycle.
What is the difference between a women's tricycle and a men's tricycle?
Structurally, there is no difference in construction between a women's tricycle and a men's tricycle. The tricycles for adults are adapted to the rider's height and to the wishes and needs, why an adapted bicycle is necessary. You can find out which bike is best suited for you by taking a free test ride with a technical advisor. 
Different women 3 wheel bikes
Get to know different women tricycle bikes in the following.
Comfortable women tricycle
The popular women's tricycle Easy Rider has a wide seat, which is wide and comfortable, furthermore, the individually adjustable seat can be adjusted in height and inclination according to your needs. This seating position, which you then have, offers you a safe riding experience because you always have a good view of your surroundings, but also because the handlebars are in front of you, this feels more natural when riding a bike. The special seat supports the back and has a large seat area. This riding position causes much less stress on the back, neck, shoulders and wrists. The low seating position means that your centre of gravity is lower and the bike will soon feel very familiar. For further comfort, the ladies tricycle has a suspension frame. Read more about the special riding characteristics in our article 'Unique riding characteristics of the Easy Rider tricycle'. Do you want to know more about the Easy Rider? Read the 'The Easy Rider adaptive tricycle from Van Raam' article.

This tricycle is also available in a smaller version, the Easy Rider Small, and in a sporty version with the handlebars down, the Easy Sport. You can read more about the Easy Sport in our article 'Sport tricycle for adults'.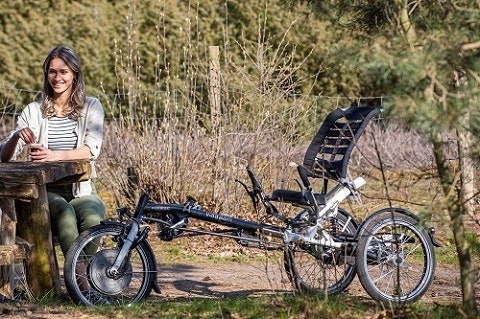 Easy Sport recumbent trike
Agile

The modern design

Both sporty and relaxed driving
Easy Sport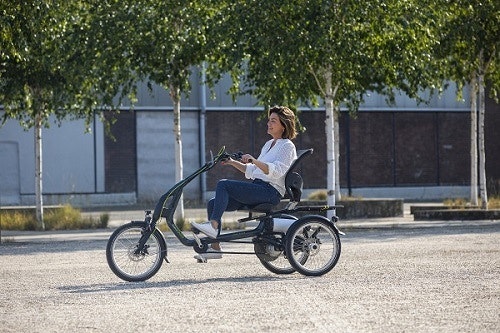 Women Tricycle Easy Rider
Comfortable seats with backrest

Recumbent bike with extra comfort

Comfortable and stable
Easy Rider
Traditional women tricycle bike
The traditional tricycle bike for women has two wheels in the back and one wheel in the front. The saddle is located above the bottom bracket so you pedal down like you do on a two-wheeler. You can steer the bike easily with one front wheel. Van Raam has different sizes for this type of Van Raam tricycles.

The Midi is suitable for young or small women. It is a light and agile bicycle. The Maxi on the other hand is a tricycle that is slightly larger than the Midi. Both the Midi and the Maxi women tricycles have a traditional bicycle saddle. As extra options, this saddle can be equipped with a back support for extra support when cycling.
Environmentally friendly powder coating
Maxi Comfort women tricycle
The Maxi Comfort is a tricycle for adults with an extra low and spacious entryand a special seating position: instead of sitting above the bottom bracket, you sit slightly behind the bottom bracket, so that you sit lower, but always with your feet slightly on the ground and make a good pedalling movement. This position gives you an ergonomic sitting position that puts less strain on your back, shoulders, neck and wrists.
Ergonomic seating position
More power due to slight forward pedalling movement

Directly with both feet on the ground

Comes through a normal room
Easy Go women scooter bike
The Easy Go electric women's bike is a unique product, it is a bicycle, an electric bicycle and a mobility scooter. During the ride you can choose whether you want to cycle completely independently or pedal with the Van Raam pedal support. As a third option you can also choose to ride the bike completely electrically with a throttle that you can operate with your thumb. This is possible with different degrees of assistance and different speeds.
Compact and stable and agile

Easy switching between the riding modes
Standard with electric motor
Viktoria women tricycle
If you have trouble estimating the width on a tricycle , there is a tricycle with two tires in front and one wheel in the back. This means that you can always tell if the bike can go through or along anything. This type of bicycle is also called a T-bike or trike. As with the traditional tricycle, the saddle of this type of bicycle is also located above the bottom bracket. You pedal almost straight down and sit relatively high on the bike. The Viktoria is also available in a larger version, the Viktor. 
Environmentally friendly powder coating 
E - tricycles for women
In addition to the standard Easy Go ladies tricycle, it is also possible to equip all the tricycles you have just seen with the award-winning Van Raam pedal assist and create a ladies electric tricycle. The system is easy to use via the display, the starting aid gives you 10 seconds of extra assistance to start from a standing position. A special and unique feature of the Van Raam System is that you can ride backwards with the pedal assist turned on.
The free Van Raam e-bike app gives you the possibility to program the assist individually and the Appals luxury bike computer where you can send SOS messages and view bike data such as speed, battery capacity and distance. Read more about the electrical system and the app on the pedal support page.
Experiences from women with their Van Raam tricycles
;
Advice and test ride
At Van Raam in Varsseveld you can try out not only our tricycles, but all bicycles in the Van Raam product range. Together with a technical advisor, we will determine which bike suits you best. This is done, among other things, with a test ride on our bicycle test track. Afterwards you will receive a free, non-binding offer. A Van Raam bicycle can be ordered from a Van Raam dealer near you. Plan your own test ride.
Van Raam bicycle factory adapted bicycles
Every Van Raam bicycle is manufactured in the bicycle factory in Varsseveld. Innovative technology is used for this production, such as the 3D printer. Would you like to know more about how a customised bicycle is produced? Have a look at the page 'How we make bicycles'.
Do you have any questions?
We are happy to assist you! Please check our contact page or contact us directly using the options below.