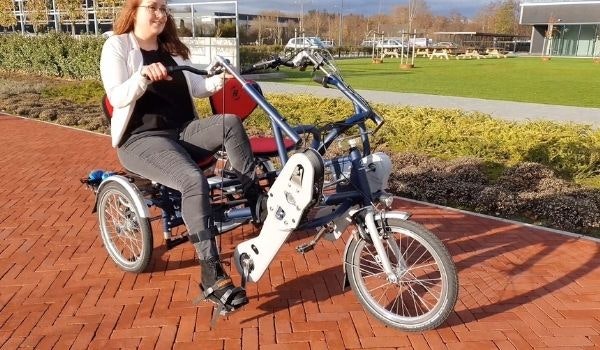 News
Video most sold options for a Van Raam bike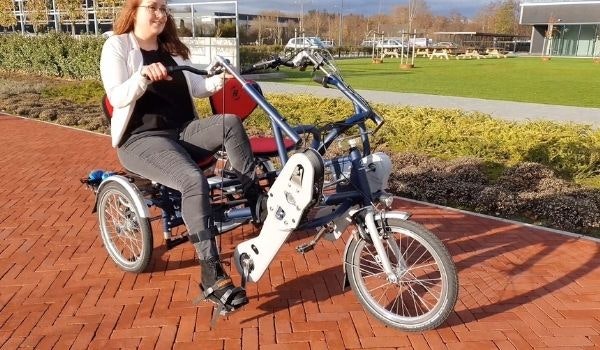 A Van Raam bike can be fully customized and adapted with various options and accessories. Take a look at our video with the most sold options for Van Raam bikes.
Video: Van Raam most sold options
See hereafter in which order which options have been shown in our video:

Take your walker, or crutches in a stick holder (atminute 1:00) with you on your Van Raam bike.

Van Raam has different belts (at minute 1:20) that can be used on different bikes. These include the 4 and 5 point belts.

If you have a knee or hip restriction or a leg length difference, an eccentric crank (at minute 1:43) and/or the shortened crank (at minute 1:46) can help you perform the optimal pedaling motion.
Check out all these options for a Van Raam bike on the options page.
Create your own bike
With Van Raam's online configurator you can easily assemble your adapted bike. In simple steps you choose your bike and the desired options and accessories. After the last step, enter your email address and you can view the complete configuration. You will also receive it completely by email. You can take the configuration to a test ride or to a Van Raam dealer. Read more about the configuration in the article: 'Put together your Van Raam bike with the bike configurator'.
Test options during a free test ride
Would you like to try out one or more options? This is possible during a free test ride at Van Raam. During the appointment (which you can make in advance) at Van Raam in the showroom, you will be assisted by a technical advisor. Afterwards you will receive a free offer with which you can order the bicycle from a Van Raam dealer. At some dealers it is also possible to take a test ride. Please contact a dealer near you. 
Do you have any questions?
We are happy to assist you! Please check our contact page or contact us directly using the options below.