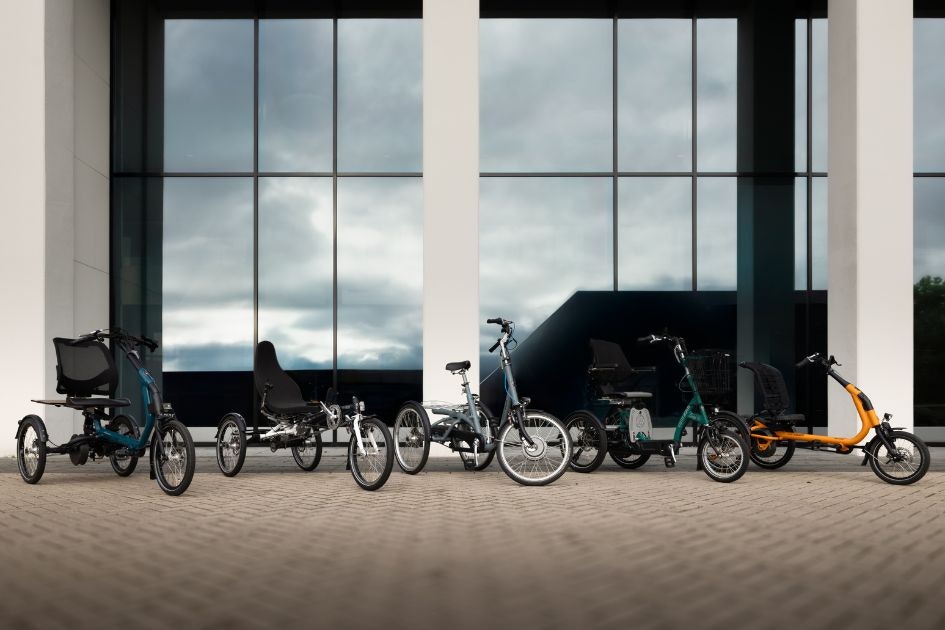 News
Top 10 most sold options Van Raam tricycles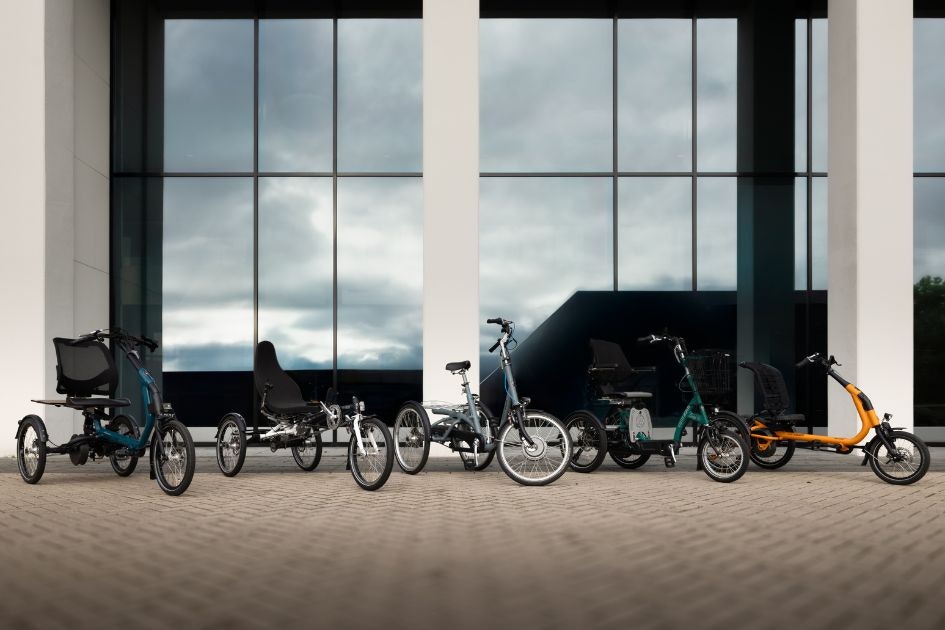 Van Raam makes various types of special needs bikes, including tricycles. These tricycles can be customized with different options and accessories. Are you looking for a special tricycle and are you curious what the top 10 most sold options are for a Van Raam tricycle? You can read it in this article.
Options for your Van Raam tricycle
The Van Raam tricycles have perfect riding comfort, are very stable and have a trendy colour. As standard the tricycles are equipped with a parking brake, lock and lighting. All kinds of extra options can be added to make the bike entirely to your wishes. Be inspired by the top 10 below and configure your own tricycle via our online configurator.

Would you first like to know more about the Van Raam tricycles? Take a look at the tricycles here.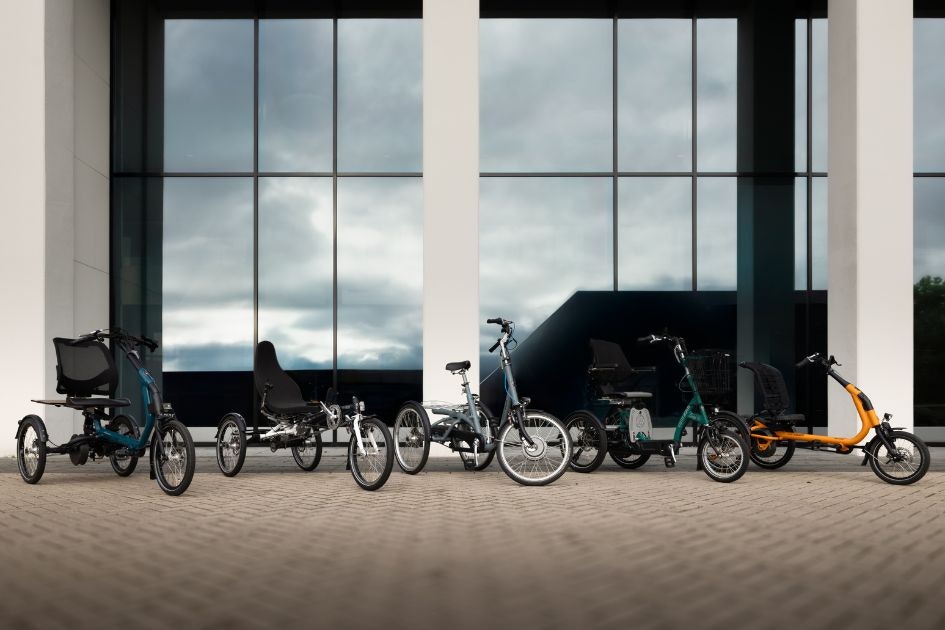 This is the top 10 most sold options for tricycles:
1. Pedal support
Van Raam has its own pedal support system, the Silent System. It is possible to order pedal support as an option on all tricycles (with the exception of the Husky children's tricycle). The Silent System has been specially developed for Van Raam special needs bikes and is characterised by its simple operation, a practically silent, but powerful motor and the possibility to cycle with the Van Raam E-Bike App. The battery is a smart battery, which has the advantage that you can view a lot of information about your bike and its battery(ies) remotely via the app on your phone. Read more about pedal support on the pedal support page.
2. Foot fixation
Foot fixation is an option that you see a lot on Van Raam tricycles. A foot fixaton gives you more stability and security while cycling and ensure that your foot stays on the pedal. With a simple ratchet strap it is very easy to secure your foot in the tray, but also to loosen it. Van Raam has 2 sizes of foot fixation in its assortment, Fix 20 (suitable for shoe sizes 22 to 36) and Fix 25 (suitable for shoe sizes 37 to 48). Read more about the foot fixation in the article: 'Footrests for adapted bikes by Van Raam'.
3. Mirror
On most Van Raam tricycles you can choose for a mirror. With a mirror you can easily look behind you, without turning your head or upper body. It is possible to have the mirror mounted on the left or right side.
Tip: your tricycle in a colour of your choice
Did you already know that it is also possible to order a bicycle in a RAL colour (that's available) of your choice? In this way it is possible to personalise your tricycle. You can have a tricycle bike powder coated in your favourite colour, but it is also possible to have a bike powder coated in the colours of your company, club or association. Read more in the article: 'A Van Raam bicycle in a colour of your choice'.
4. Detachable frame
The detachable frame can be a useful addition to a Van Raam tricycle. The advantage is that the bike will be more compact and making it easier to transport. With a detachable frame, the front part of the bicycle can be disconnected from the rest. This makes it easier to take the bike with you when you go on holiday, for example, or when you go cycling in another area for a day. The tricycles Midi, Maxi, Easy Rider Smalland Easy Rider can be ordered with a detachable frame. Read more about a detachable frame in the articles: 'A detachable frame at Van Raam bikes and How do I divide the Van Raam Easy Rider tricycle Video?'.
5. Extra battery pack
Van Raam's tricycles with optional pedal support all have a Cube Li-ion battery. The extremely high quality batteries are produced in the Netherlands and last many charging cycles. The Li-ion batteries have a 2-year warranty with a maximum of 500 charging cycles. You can choose a battery with 11 Ah or a battery with 24 Ah. An extra battery pack can also be ordered for both of these batteries. Read more about the Van Raam batteries in the article: 'How many kilometers does a Van Raam E bike battery last?'
6. Basket
Van Raam has one type of basket that fits on the carrier of almost every Van Raam tricycle (Mini, Midi, Maxi, Maxi Comfort, Easy Rider Small, Easy Rider and Easy Sport). This basket is very convenient to carry your bag or some groceries.

The basket is standard on the mobility scooter tricycle Easy Go.
7. Stokhouder
On all tricycles for adults and the Easy Rider Smallit is possible to take your walking stick or crutch with you with the optional stick holder. The stick holder offers the possibility to take 2 stick / crutches with you. With the Easy Sport tricycle you have the possibility to take 1 stick or crutch with you.
Tip: SmartGuard tyres
Most Van Raam tricycles can be ordered with SmartGuard tyres. With these tyres (when used correctly it's almost impossible to get a flat tyre with these tyres (when used correctly) and the chance of getting a flat tyre on the road is very small.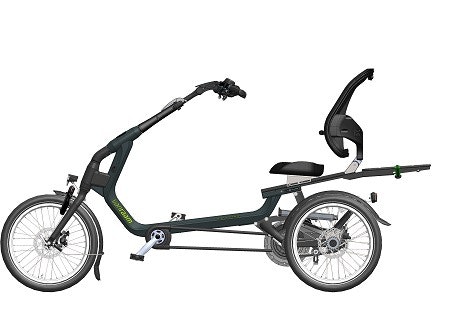 9. Hip belt/belt
It is also possible to extend Van Raam tricycles with belts. With the optional hip belt you are just a little bit more secure and safe on your bike. Wrap the belt around the body and snap it into the clamp. You can remove the seat belt again by pressing the red button.A belt is also available with the optional backrest support.
10. Direction indicator
A direction indicator on your tricycle makes it easy to indicate which direction you want to cycle. This option is very useful if, for example, you have difficulty raising your hand or if you want to be more visible in the dark. The indicators will be placed in the front and back of the bike and work with a button on the handlebars.
Configure your own tricycle with options and accessories
Are you curious which options and accessories are all possible for your tricycle after reading the top 10 ? With our online configurator you can configure your tricycle of your choice in a few easy steps. All selected options are immediately visible in the overview of the configurator. You can also easily remove them from the overview on the page. You can also see immediately what the chosen configuration would cost. Go to the configurator via the page 'Configure your own bike'.
Test a tricycle
During a test ride at Van Raam it is possible to test tricycles. In the showroom at Van Raam in Varsseveld (only by appointment) you will be helped by a technical advisor to choose a tricycle. It is also possible to test a tricycle outside on the test track. Afterwards, you will receive a no-obligation quote, with which you can order the special needs bike from a Van Raam dealer. Not in a position to visit Van Raam? At some dealers it is also possible to make a test ride, contact a dealer in your area for more information.
Do you have any questions?
We are happy to assist you! Please check our contact page or contact us directly using the options below.