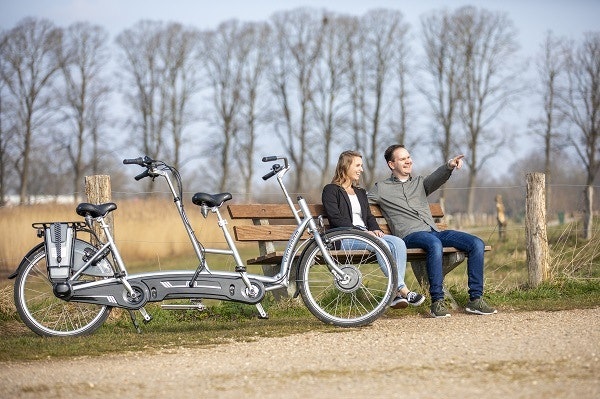 The bicycle is a popular means of transport. Besides the normal two-wheel bike, you see more and more special or adapted bikes in the streets. For example, more and more use is being made of a two person bike, such as the Fun2Go duo bike, also called the side-by-side tandem, and the wheelchair transport bike VeloPlus. A duo bike (two person bicycle) is the ideal bike for elderly people who can no longer cycle independently, blind people, people with balance problems, people with disabilities and people who are wheelchair dependent. However, there are more bicycles for two people available. Discover in this article the eight 2 person bicycles in the Van Raam range.
Two people bike
Van Raam has many different special needs bikes in its assortment. Some of the bikes are for one person, but there are also several 2 people bikes. As the name indicates, it is possible to cycle on a two person bike with two persons.

Van Raam has eight different types of a two person bicycle in its range. These are the following bikes:
VeloPlus wheelchair transport bike

Rickshaw transport bike Chat
Kivo Plus parent-child tricycle tandem

Twinny Plus tricycle tandem
Do you want to know the features of a 2 person bike? See the characteristics of all the bicycles for two people below:
Put together your own bike
All Van Raam bicycles can be equipped with many different options and accessories. As a result, the bike is completely adapted to your wishes and needs. On the product pages of the bike in question, you will find the price lists with all options and accessories. It is also possible to put together your own bicycle for two people with the online configurator. Here, you can also see exactly which options are available for the chosen bike. As soon as you have put together your bike yourself, you will receive a quote by e-mail that you can take with you to your Van Raam dealer. However, we always recommend making a test ride first before buying a special needs bike, so you will be sure that the bike fits your needs perfectly. A test ride can be made at Van Raam (the Netherlands) or ask your dealer about the possibilities.

Click on the button below to go to the configurator.
Two person electric bike
It is possible to order almost all bicycles as an electric bike with the unique Van Raam pedal assistance. With a 2 person electric bike, cycling is even easier and you don't need to use much power. The three pedal assistance modes are individually adjustable so that you always have the right support. Extra special about the electrical system is that you have the possibility to cycle backwards. The article 'Riding backwards with pedal support on a custom bike' explains everything about this function.

Would you like to read more about the pedal assistance? Click on the button and go to the webpage about the pedal support.
Delivery of a 2 person bike
Regularly, a two person (electric) bikes are delivered to happy customers. Below you can see thedelivery of a Fun2Go 1 duo bike and read some experiences from our customers.
Side-by-side tandem for the Zilvermeeuw
Activity center the Zilvermeeuw (provider of daytime activities, labor and labor training to people aged 18 and over with a physical handicap, chronic illness and/or non-born brain injury) has been awarded an electric side-by-side tandem by the Raisin Hope Foundation (RHF). The THF supports victims of traumatic brain injuries and their loved ones.

The side-by-side tandem at the Zilvermeeuw is the first special needs bike which was entirely powder coated in the RHF green color by Van Raam. With the duo bike, the RHF foundation wants to stimulate its target group to move because this has a demonstrably very positive effect on rehabilitation and staying vital. Cycling is a perfect activity for this purpose and because cycling on a conventional two-wheel bicycle is not possible for everyone with brain damage, the duo bike is the ideal means of transport.
Experiences of our customers
We have many customers who all have their own story. Many of them have shared their story with us. Find out what they find special about the Van Raam bicycles and what the bicycle and how the bike has helped them by looking at our customer experiences.
;
Do you have any questions?
We are happy to assist you! Please check our contact page or contact us directly using the options below.