Customer experiences
Customer experience OPair wheelchair bicycle - Family Brandt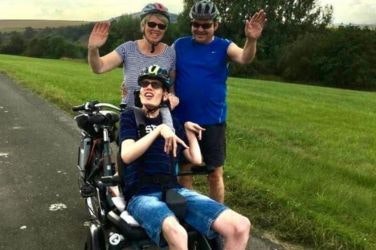 Unfortunately Niklas cannot ride a bike on his own, but with the OPair wheelchair bike he can once again go on bike tours with the whole family. Read more about this experience and watch the pictures around videos of the family.
Specifications
(RAL 7031) Matt blue-grey
Pedal assist, 5-point belt, Extra battery pack Slim, Divisible frame, Foot fixation
Configure your bike
Short introduction
Family Brandt: "We are family Brandt with our 21-year-old son Niklas and live in the beautiful Hanseatic city of Warburg, a region in the middle of Germany with many cycle paths, but also many mountains, hills and steeper paths.

Our son Niklas was born as a premature baby. Due to his premature birth Niklas has a multiple handicap and is in a wheelchair. In 2017 he had a major spinal fusion operation." 
 
On the road with the OPair wheelchair bicycle
"The wheel is an incredible asset to us. It takes us to places that were previously inaccessible to us in a wheelchair on foot and it's a total enrichment for us as a family!

We would like to thank you for the fast and competent service!" 
Since we have the OPair, we can experience the world again in a much bigger way.
Family Brandt
Orientation and purchase of OPair wheelchair bikes
"We bought the OPair wheelchair bike in 2019. The bike has footrests and a five-point belt. At first we bought the bike with a rechargeable battery. But then we realized that a second battery would be useful in our mountainous region and ordered a second one. With it we achieve a greater range.
We became aware of the Van Raam company through the Internet. For the test drive we went directly to Van Raam in Varsseveld."
Reason for the purchase of an adapted bicycle
"The reason for buying this bike was, after many years of immobility, to be mobile as a family again. The OPair is a tremendous enrichment for us. It allows us to get to places that were previously inaccessible to us in a wheelchair on foot or that we never even tried to explore." 
Finally being mobile again
"We really enjoy the rides. Because of all the restrictions due to Corona, we were able to stay mobile at least with our bikes during this time and to go on bike tours.

In the past we had an adapted tricycle for Niklas to ride. But Niklas could only ride it with the help of another one. A common excursion was not possible at all. At some point he became too heavy and too big for the bike." 
Optional detachable frame on OPair
"We bought the wheelchair bike with the detachable frame. The rear wheel can be uncoupled and the front part of the wheel serves as a wheelchair. This way you can go to the ice-cream parlor without having to carry the rest of the bike with you and it makes it easier to transport by car."
The bike is a tremendous enrichment for us.
Family Brandt
Van Raam E-Bike App
""We actually use the bike app all the time. We knew that there was an app for the OPair, but we didn't know that the app could be used to adjust various ride settings from comfort to extra power. The dashboard is very informative." 
OPair experience
"Since March 2020, we have now cycled 900 km. When the weather is fine, we are all actually always on the road on the weekend. Niklas has a lot of fun with it. He often waves to all car drivers and cyclists who come towards us. The faster, the better! Many people have already asked us about this bike, because they have never seen such a bike before.

At the beginning you have to practice riding the OPair in any case. The curves must be practiced in any case. If the ground is uneven or the cycle path is rutted out, you will be pulled to the side and you will have difficulties to keep the bike on track.

We would love to hear some suggestions for cycling tours, especially for you in Holland. It would be great to make them available to customers."

Family Brandt – Hansestadt Warburg
Type: OPair wheelchair bike