Customer experiences
User experience Fun2Go double rider cycle - Collin Capozzi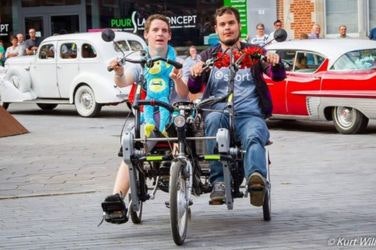 Collin Capozzi (22) from Puurs, Belgium, has an autism spectrum disorder (ASD), but this doesn't stop him from cycling. In fact: Collin enjoys his bike rides enormously, it's his exhaust valve. Mother Paola tells more about Collin's experiences.
The ideal bike for Collin
A cycling trip with a heavily autistic boy is not easy. Mother Paola: "We used to cycle on a specially adapted tandem, but even this was not the desired solution for cycling with Collin. With the Fun2Go double rider cycle from Van Raam cycling goes very well." The users sit next to each other: one person steers and with the optional disengagement hub you can determine whether the co-rider cycles along and how (at the same time as the main rider, independently or not at all).

Paola and Collin have been using the Fun2Go side-by-side tandem since April 2016, where they raised enough money through a benefit to buy a Fun2Go double rider cycle.
Safe bike rides with a smile
With the Fun2Go side-by-side tandem Collin can make safe bike rides. There are also 2 rear-view mirrors on the bike and a horn for Collin. Paola: "Collin enjoys every ride. That smile on his face, that's what we do it for!"

Paola Aerts and Collin Capozzi - Puurs (Belgium)
Type: Fun2Go