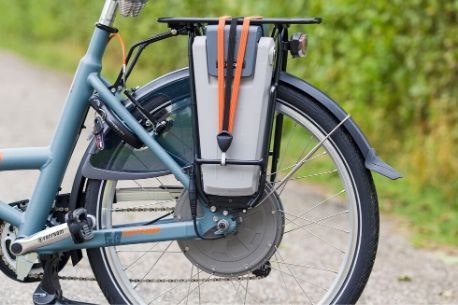 News
How many kilometers does a Van Raam E bike battery last?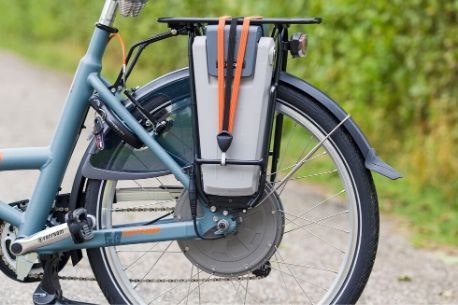 Most of Van Raam's adapted bikes can be equipped with the unique pedal support. Find out the most important information about pedal support and what the range of a Van Raam battery can be, how many kilometers an e bike battery from Van Raam holds.
What influences the range of a Van Raam E-Bike?
The range of the batteries, so how many kilometres the battery of an electric bike will last, depends on several factors. Check out this Video.
Van Raam E bike batteries
Van Raam has three different types of e-bike batteries that all use lithium-ion and are also all made in the Netherlands. Why does Van Raam has three different types of batteries? This is because all types of bikes are different and therefore also need different batteries. So how many kilometers an e bike battery lasts depends on the batterie model.

The two-wheeled tandems Kivo and Twinny, the low-entry bike Balance as well as the wheelchair bikes, the rickshaw bike Chat and the T-bikes Viktor and Viktoria have a slim lithium-ion battery.
The Van Raam tricycles are all equipped with a Cube lithium-ion battery. The heavy-ion battery can also be selected, the difference between the cube batteries is that the heavy-ion battery has a higher capacity. Learn more about the technical data on the page of the pedal support.
Also read the article ''Frequently asked questions about Van Raam batteries'' for more information about our batteries.  
How many kilometers does a Van Raam E bike battery last?
The range of the batteries, i.e. how many kilometers an e-bike battery holds, depends on many different factors. Therefore, only a royal assessment of the range can be given.The average range of a standard battery is between 50 - 70 km. The most important factors that determine how many kilometers a battery lasts are the capacity of the battery and the bike type.

See the average range for each bike with a standard battery in the chart below, this data was collected by field measurements from app users. On the product page of a bike, you can also find the minimum and maximum range at the technical specifications.
| Bike type | Average range |
| --- | --- |
| Balance low step through bike | 82 km |
| Chat transport bike | 37 km |
| Easy Go scooter bike | 51 km |
| Easy Rider tricycle | 50 km |
| Easy Rider Small tricycle | 61 km |
| Easy Sport tricycle | 59 km |
| Fun2Go side-by-side tandem | 39 km |
| Kivo tandem | 74 km |
| Kivo Plus tandem | 45 km |
| Maxi tricycle | 60 km |
| Maxi Comfort tricycle | 67 km |
| Midi tricycle | 61 km |
| Mini tricycle | 80 km |
| OPair wheelchair bike | 57 km |
| Twinny tandem | 68 km |
| Twinny Plus tandem | 54 km |
| VeloPlus wheelchair bike | 59 km |
| Viktor tricycle | 61 km |
| Viktoria tricycle | 61 km |
Furthermore, the power you use yourself when pedaling and the selected level of support also has an affect on the range of your battery. We have explained some factors further below.

On the basis of the LED lights on the display you can see an indication whether the battery is fully charged (all lights are on), it is already about half empty (half of the lights are on) or almost empty.
Total weight, including rider
The weight of the bike and the person play a role. If you now ride with two people or one person, the battery is used differently. If you drive alone instead, the battery is less loaded and you can drive longer.
Condition of the tires
For example, if you have not properly inflated your tires, cycling will be much more difficult. So make sure that you have inflated the tires correctly! Then you also have a smaller chance of getting a flat tire and the tires last longer, which is also better for the environment. The recommended tire pressure is usually on the side of the outer tires.
Road surface condition
It matters a lot whether you have to cycle on flat roads or cycle up and down in the mountains.
Weather factors
Rain, wind and temperature, everything affects how much electricity your e-bike uses. You are lucky with a tailwind and it rolls easily, but with headwind it takes more energy to get ahead, of course. In cold temperatures, the energy flows through the system less easily.
Sustainable bike gearshifting
Unfortunately, one does not always have an influence on the situation, as in the points described above. However, if you want to get as far as possible with your electric bike with a full battery, it is important to switch your bike gearsin a sustainable and logical manner. So at a traffic light, switch back to first gear so that you can just start driving again.
Let us give you advice
To find out more about your batteries and how long a battery lasts, you can also visit a Van Raam dealer near you. In Varsseveld and Treuchtlingen you will find our showrooms, in which you are cordially invited to a test ride and counseling. Just make an appointment in advance and try out different Van Raam bicycles with an electric motor. Our consultants can answer all your questions.
Van Raam pedal support
The Van Raam e-bike batteries are connected to the unique Van Raam pedal support. This has been around since 2011 and was developed by and for Van Raam itself, specifically for the rehabilitation market. In addition to the simple operation and three electric pedal support stands, you also have the starting aid for an easier start if you need extra support. A unique feature is that you can not only ride forward but also ridebackwards. Furthermore, the unique pedal support has been chosen as the test winner in the ExtraEnegry test every year since 2012. Learn more about the pedal support on the pedal support page.
Lighting via the electrical system
Van Raam bikes that have the Van Raam electrical system also receive their standard lighting through it. Find out in the article "Lighting via the Van Raam electrical system" how the centrally switched lighting works and whether you have light on your bike with an empty battery.
Do you have any questions?
We are happy to assist you! Please check our contact page or contact us directly using the options below.