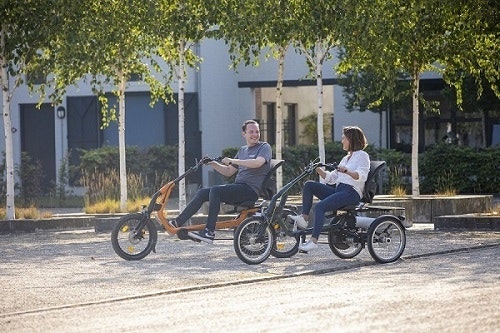 News
Electric tricycle adults increasingly popular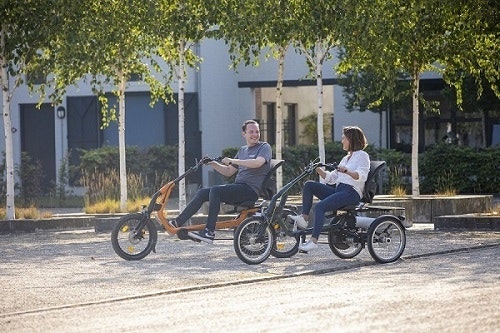 For the third consecutive year at Van Raam, we see the percentage of adult electrical tricycles with pedal support increase with several tens of percent. More and more people with a disability realize that an electric tricycle increases their mobility and improves their condition.
Bikes for disabled people
Until a few years ago, an adult tricycle was seen as a bicycle for disabled people. Years ago, Van Raam gave their special needs bicycles a very modern look and still uses the latest techniques. With a tricycle as the Easy Rider, a lot of attention is given to cycling comfort. Using a totally different cycling position than a "traditional tricycle for adults," this bicycle is much easier to drive, it has an easy, low entry and exit and very good back support. With the modern look and beautiful design, many cyclists are proud of this bike. The Easy Rider can be upgraded with various options and accessories. Read and see in the article 'Accessories for the Van Raam Easy Rider tricycle' which accessories these are.
Electric pedal support tricycle
The electric pedal support increases the reach of the cyclist enormously.With wind or a hilly area the driver can easily cover large distances. Cyclist are no more dependant on taxi transport and the cyclist also gets healty exercise in the open air.
 
We hear regularly that people with disabilities go by taxi transport or mobility scooter to the physiotherapy and sit there on a stationary bike. Why not visit a friend or take a trip with a (electric) tricycle instead? Because you always have to cycle yourself, there is always movement. When needed, the cyclist can choose between various degrees of electric pedal support and cycle more easily. More and more cyclists realize that their independence and mobility increases, and therefore choose the environmentally friendly electric tricycle. 

Free test ride by Van Raam
Are you thinking about purchasing a Van Raam adapted bicycle? Schedule a free test ride! Our technical advisors are happy to advise you on which bike suits you best. Click on the button below to schedule an appointment.

Are you unable to visit our showroom in Varsseveld? Check our dealer page to see which dealers are in your area.
Do you have any questions?
We are happy to assist you! Please check our contact page or contact us directly using the options below.