Customer experiences
User experience tricycle Easy Rider - Leo Kostwinder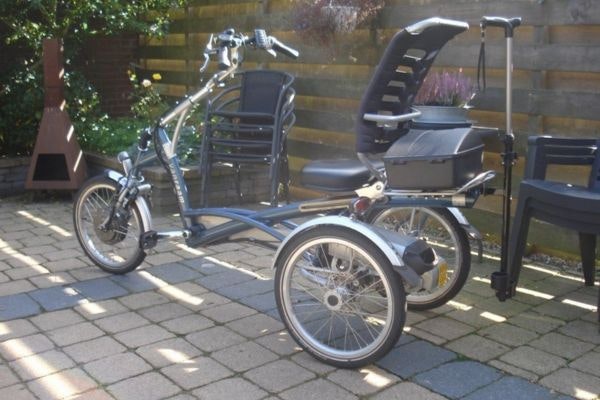 My name is Leo Kostwinder (64) and I live in Zwolle, the Netherlands. I have been a diabetes patient for over 30 years and in early 2016 I was diagnosed with progressive polyneuropathy *. Since then I am no longer allowed to drive or cycle. This news was difficult at the time, because as a hobby I regularly cycled tours with my racing bike. In addition, I went fishing occasionally. Because of my condition, I stopped working in April 2018.
Introduction to Van Raam
In 2016 I was told that I was no longer allowed to cycle on a regular bike with two wheels, I started searching the internet for custom bikes. During my search, I ended up on the Van Raam website. I was then able to find a lot of information on the website about the possibilities of adapted bicycles.
Ordering a special needs bike
I have ordered my Easy Rider 2 with electrical pedal support from Welzorg, this was under the supervision of an occupational therapist and an employee of the WMO (Social Support Act) of the municipality of Zwolle. I was able to try out the Easy Rider tricycle in the Welzorg showroom. After the bike was ordered by Welzorg, I had to wait a few weeks before my own Easy Rider tricycle was delivered.
I'm perfectly capable of riding with my Easy Rider tricycle. What appeals to me most about the tricycle is the bike comfort.
Delivery was also done by Welzorg. Until that time, I had already tested an Easy Rider for a few days, so cycling with this tricycle was no longer completely unknown to me.

The contact with Welzorg is going reasonably well. Excellent mechanics work there, but when I had a flat tire, I had to wait 1.5 weeks for someone to come. That is not nice if you use the bike daily.
Special options
To ensure that I can use the Easy Rider as good as possible, a few special options have been added to my bike. For example, my bicycle has a Reinforced version with shock absorbers, suitable for a weight of 110 to 150 kilos. Furthermore, my tricycle has an extra large seat and there is a stick holder on the back of my bicycle that is suitable for two sticks.
 
I have mounted a waterproof scooter box on the back of my Easy Rider myself. This way I can transport my things dry, but I can also lock the box when I'm not around my bike.
Cycling with an Easy Rider tricycle
I'm perfectly capable of riding with my Easy Rider tricycle. What appeals to me most about the tricycle is the bike comfort. In the beginning my gears had to be adjusted and my brakes also had to be adjusted once. But I can still make nice bike rides with my wife, so that's good.
 
I have now cycled 5940.6 kilometers. I use my tricycle daily and for recreational bike rides. I usually cycle on asphalted roads and cycle paths. In addition, my wife and I like to cycle routes via the 'knooppunten' network. I can cycle about 80 kilometers with pedal assistance before I have to recharge my battery. I mainly cycle in position 1.
Van Raam E-Bike App
On the Van Raam website I saw that Van Raam also has an Van Raam E-Bike App. I downloaded this app this year (2018), because I first had a mobile phone from my work. The app works great for me. It is cumbersome that you always must upload the data when you go cycling. A cycle computer would have been more convenient. My wife has that on her e-bike. I use the app most during day trips. I have to learn more about the rest of the app. I have downloaded the manual.
Explanation
 * : Polyneuropathy is damage or disease affecting peripheral nerves in roughly the same areas on both sides of the body, featuring weakness, numbness, and burning pain. It usually begins in the hands and feet and may progress to the arms and legs and sometimes to other parts of the body where it may affect the autonomic nervous system. It may be acute or chronic. A number of different disorders may cause polyneuropathy, including diabetes.