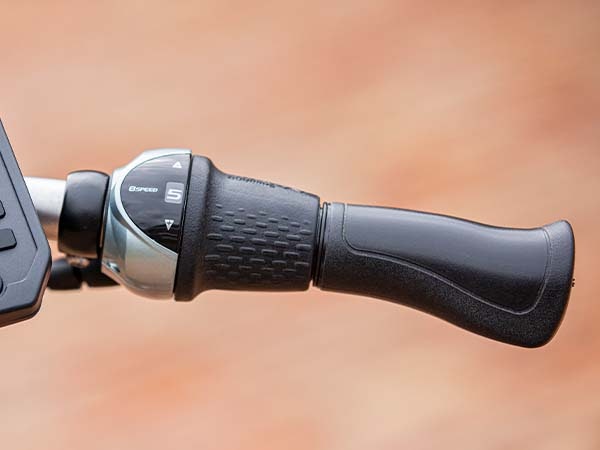 News
Gears on adapted Van Raam bicycles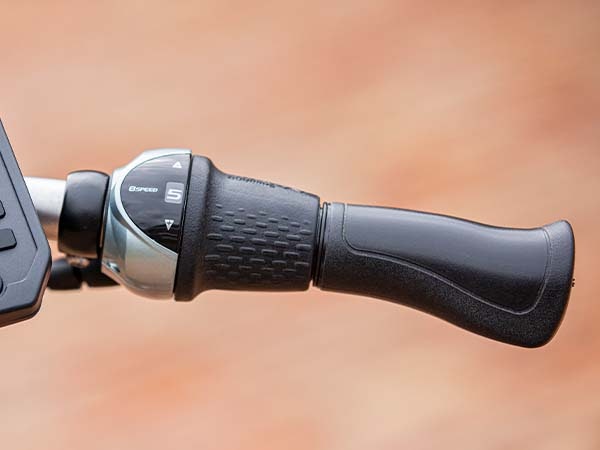 Almost every Van Raam bicycle has (optional) gears. Find out all about gears on an adapted van Raam bicycle in this article.
Advantages of gears on a bicycle
Nowadays, you can choose gears for almost any bicycle. This also applies to the adapted bicycles of Van Raam. Gears allow you to determine how heavy or light you pedal. They also have several other advantages:
You can cycle faster or slower without having to make extra pedal rotations. This makes it easy for you to determine what pace is comfortable for you to cycle at.

Cycling requires less power and energy with gears. You can set the gears to a lighter setting when you are riding into a strong headwind or up a hill so that you do not have to pedal as hard.

This also applies the other way round; if you have a tailwind or you are cycling down a hill. You can set the gears to a heavier setting to make your cycling more comfortable.

With a heavily loaded bike or with a somewhat heavier bike such as tandems and wheelchair bikes and transport bikes gears are very handy for a comfortable ride.
Which gear should I use?
Which gear you should use depends on the weight of your bike, how heavily it is loaded and on environmental factors such as the wind and whether you are riding uphill. The gear that is easiest to cycle in, and therefore has the least resistance, is the right one.
Gears on an adapted bicycle by Van Raam
Nearly every Van Raam bicycle is equipped with gears. Several Van Raam bicycles come with gears as a standard. Bicycles that don't have them by default, are available with gears as an option. Only the Husky tricycle for children and the City walking aid cannot be ordered with gears.

The gears on the Van Raam adapted bicycles are easy to operate. You can set the gear by turning the relevant handle. When you start cycling it is useful to make sure that you have the gears in a light range so that you can cycle away easily.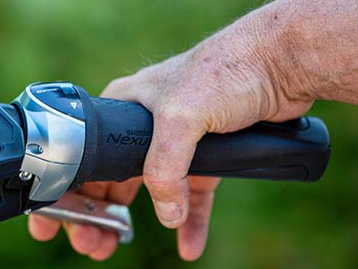 Gear types on Van Raam bicycles
Van Raam uses two types of gears: the Nexus 8-gear hub from Shimano and the Enviolo City's continuously variable gear hub.

With the Enviolo gear hub, keep in mind that as soon as you turn the gear handle towards you, you get a heavier gear (you pedal slightly harder), and you have a lighter gear when you turn the handle away from you (you pedal slightly lighter). With the Enviolo gear hub, you can only change gears when you are in motion, whereas with the Nexus gear hub you can also change gears when you are at a standstill.
Gears allow you to decide how heavy or how light you cycle.
Overview Van Raam bicycles with gears
In the overview below, you can see which bicycles are supplied with gears as standard and which are optional. Bicycles with gears as standard are, in almost all cases, bicycles for more than one person where an accompanying person is the main driver.
Standard 8-speed hub
Balance low step through bike

Twinny Plus tricycle tandem

Kivo Plus adult/child tricycle tandem
8 – speed hub optional
Easy Rider Small tricycle

Viktoria and Viktor tricycles

FunTrain duo bike trailer
Enviolo continuously variable gear hub optional
Switching between gears with a gear lever
If changing gears is difficult for your, because you have little strength in you hands for example, it is possible to choose the optional gear level. This 3D-printed option makes changing gears easier. You push it forwards or backwards with, for example, a finger to put the bike in the right gear. You can read more about this in the article '3D print bike gear lever for special needs bikes Van Raam'.
With a gear lever, changing gears can be easier if you have little strength in your hands, for example.
Tip!
Gears on the bike are also possible in combination with other options, such as pedal assistance or a special handlebar. Would you like to see more options? You can see them on the options page on the website.
Put together your own bike with gears
With the online configurator on the website, you can put together your own bike with gears. In a few simple steps, you can customize the bike according to your wishesand see the chosen options with prices.
Do you have any questions?
We are happy to assist you! Please check our contact page or contact us directly using the options below.