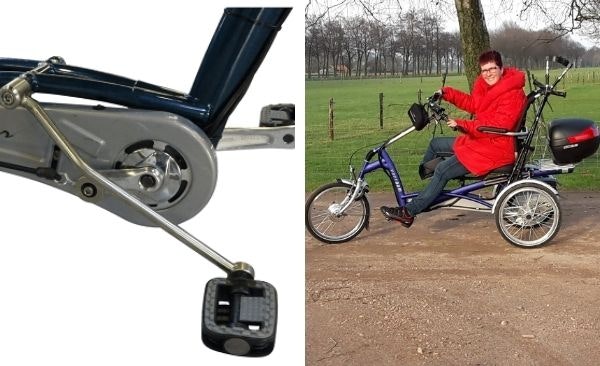 News
Cycling with one leg on bicycle from Van Raam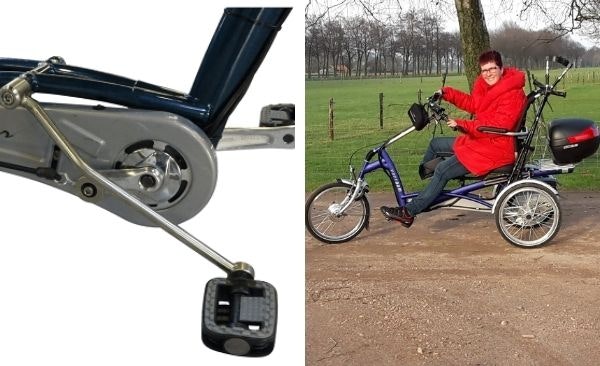 Do you have one leg and want to ride a bicycle or are you looking for someone who has one leg and wants to ride a bicycle? Cycling with one leg is possible on a Van Raam adapted bicycle. Van Raam is a manufacturer of adapted bicycles and with options and settings that are tailored to them, it is possible for you to cycle and ride alone or together (again). Read more here.
Customer experience Easy Rider tricycle - Willy Wienholts
Willy Wienholts has a poor trunk balance, poor balance and due to a sports injury her lower leg was amputated. After not riding a bike for years, she is now riding her adapted Easy Rider tricycle with great pleasur. Read Willy Wienholts experience here. 
Independent cycling with one leg on bicycle
Do you still have strength in your leg and would like to ride a bicycle independently with one leg? This is possible! At Van Raam we have a stationary pedal crank. This is only applicable when you can only use one leg for pedalling. Then this is a solution for continuing to ride a bicycle.

In order to be able to attach this to the bicycle, an adjustment is made to the frame. On the side where you can no longer pedal, a stationary crank is placed. A spring construction is attached to the bottom bracket, which allows you to continue pedaling with the other healthy leg without using the non-functional leg. Such a stationary crank can be attached to any of the Van Raam bikes

Cycling with a prosthesis is possible, but not for everyone. The ability to cycle again depends on your age, your balance and the degree of amputation. If you want to learn to cycle again during your rehabilitation, the occupational therapist can work with the physiotherapist to see how you can achieve this goal. (beeraf.nl)
Cycling together with one leg on bicycle
Sometimes it happens that you cannot ride a bike on your own anymore because the other leg is not strong enough. Or even both legs are not strong enough. Van Raam also offers a range of products that allow you to ride a bicycle together.
Pedal support for cycling with one leg
To make it easier for you to cycle with one leg, Van Raam bikes are also available as e-bikes. The electric pedal support system,Silent System, is specially designed for adapted bikes. Van Raam's electric pedal assistance system allows you to ride both forward and backwards on a tricycle. All bikes with the electric motor have 3 support positions and a jump start. The support can be individually programmed to fit your leg exactly. Read more about pedal support on the pedal support page. View this and all other options including costs in our online bike configurator.
Cycling with a prosthesis
Do you have a prosthesis and wonder if you can ride a bike? Cycling with a prosthesis is possible! Learn more about cycling with a prosthetic leg and arm in this article. Watch our video of our colleague Raymond cycling with his prosthetic leg. Read on and get to know our special bicycles.
Try out an adapted bike yourself
If you only have one leg, a custom made bicycle is the solution. When cycling with one leg, it can be difficult to determine which bike suits you best. To find out, Van Raam offers you the opportunity to take a test ride on a special bike. At the Van Raam showroom in Varsseveld you can get help from a technical advisor by appointment. Not able to visit Van Raam? At some dealers it is also possible to take a test ride, please contact a dealer near you.
Do you have any questions?
We are happy to assist you! Please check our contact page or contact us directly using the options below.