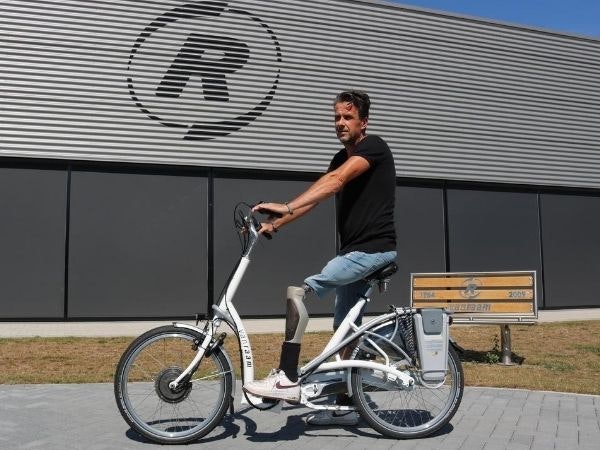 News
Cycling with a prosthesis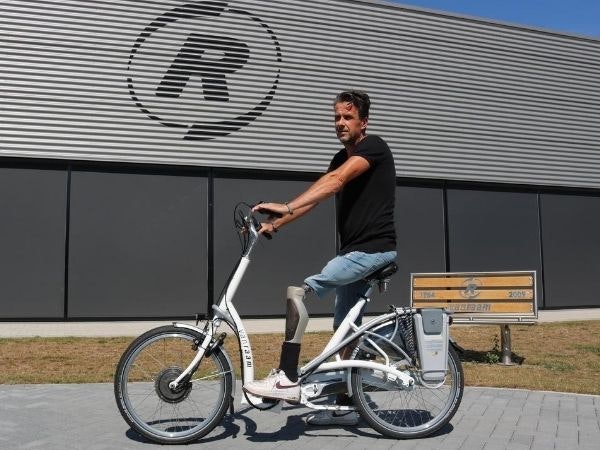 Do you have a prosthesis and wonder if you can ride a bike? Cycling with a prosthesis is possible! Learn more about cycling with a prosthetic leg and arm in this article. Watch our video of our colleague Raymond cycling with his prosthetic leg. Read on and get to know our special bicycles.
Cycling with a prosthetic leg
Cycling with a prosthesis is possible, but this depends on the type of amputation and prosthesis. It also depends on your age and your balance. A young, fit patient will almost always be able to cycle again. Older patients, whose condition and balance is often somewhat worse, are advised against cycling for safety reasons.

Raymond, a colleague of ours from the service department knows it himself, he has a prosthetic leg and rides a bicycle. A bicycle with a low entry helps him enormously when getting on and off the bike.

If you want to cycle with a prosthesis, we recommend that you make certain demands on the bicycle:
A low entrance so that you have enough space to get on and off the bike easily

Hand brakes and no coaster brake

Foot fixations for tricycles

A saddle at the height to the ground so that your feet can reach the ground
In addition, Van Raam can make additional adjustments to make cycling easier for you. For example, it is possible to adjust the length of the pedals to the ground. It is also recommended to ride with shoes with a small heel: this prevents the foot from slipping off the pedal.
Cycling with a prosthetic leg on a low-entry bike
Low entry bikes by Van Raam
People with slight balance problems, People who have difficulty getting on and off the bike or wear a prosthesis, the Balance and Maxi Comfort deep access bikes are the ideal solution. Read more about the individual depth access Bikes.lt.
Bicycle with low entry: the Balance
The Balance low entry bike is a bike by Van Raam with low access. In addition, this bike also has a specially designed frame that allows you to ride comfortably and reach the ground with both feet without getting off. The Balance is available with different frame heights and like all other Van Raam bicycles, the Balance Depth Step can be equipped with many options.
Tricycle with low entrance: Maxi Comfort
The Maxi Comfort is a modern tricycle with a low entrance for adults. It is a variant of the traditional Maxi tricycle. Thanks to the low entry and the sitting position behind the bottom bracket, you step forward slightly and your center of gravity is lower. This makes for a more comfortable ride. Just like the Balance, this bike offers a comfortable and easy entry, an ergonomic seating position and different frame heights.
Cycling with prosthetic arm
In the case of an arm prosthesis, the handlebars can be adjusted for left or right-handed operation, if desired. Read more about this in the article "A special handlebar for your special needs bike". If you are unable to move your arms there is also the possibility of shoulder steering. In any case we advise you to take a test ride at Van Raam to find the best option and the most ideal bicycle for you.
Van Raam's low access bikes are also available as e-bikes. The electric pedal support system, Silent System, is specially designed for adapted bikes. Van Raam's electric pedal assistance system allows you to ride both forward and backward on a tricycle. All bicycles with an electric motor have 3 support positions and a starting aid. The support can be individually programmed to fit your prosthesis exactly. Read more about pedal support on the pedal support page.
Options for cycling with prosthesis
Every van Raam bicycle is available with many options to fully customize your bicycle according to your needs, for example with footrests, leg fixation, eccentric crank, fixed crank, shortened crank. In addition to the standard options, Van Raam also offers customization. Take a look at the options classified for your bicycle in the price list (to be found in the Prices / Documentation section) of the bicycle. Or use the configurator to put together your Van Raam special bike.
Customer experience Easy Rider tricycle - Willy Wienholts
Willy Wienholts has a poor trunk balance, poor balance and due to a sports injury her lower leg was amputated. After not riding a bike for years, she is now riding her adapted Easy Rider tricycle with great pleasur. 
Cycling with one leg on bicycle from Van Raam
Do you have one leg and want to ride a bicycle or are you looking for someone who has one leg and wants to ride a bicycle? Cycling with one leg is possible on a Van Raam adapted bicycle. Van Raam is a manufacturer of adapted bicycles and with options and settings that are tailored to them, it is possible for you to lift and ride alone or together (again). Read more here.
Cycling with one arm/hand
Van Raam has various bicycles withoptions which make cycling with one arm or hand easier. Read in the article "Cycling with one arm/hand" which bicycles and options are suitable for riding a bicycle independently or together.
More adapted bikes
Are you curious whether a bicycle with a low step is suitable for you to ride a bicycle with a prosthesis? Take a look at our product range and come for a free test ride in the Van Raam showroom in Varsseveld! During a test ride a technical advisor will be happy to give you advice and you can try out the bike on the test track! Is the showroom too far away or do you not have the possibility to visit the showroom in Varsseveld? Then check which Van Raam dealer is closest to you and ask the dealer about the possibilities.
Do you have any questions?
We are happy to assist you! Please check our contact page or contact us directly using the options below.