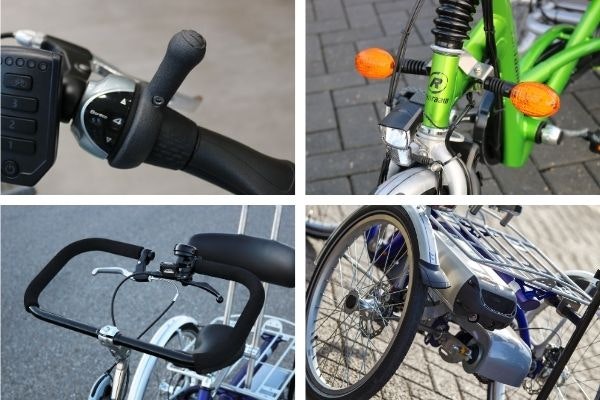 News
Cycling with one arm/hand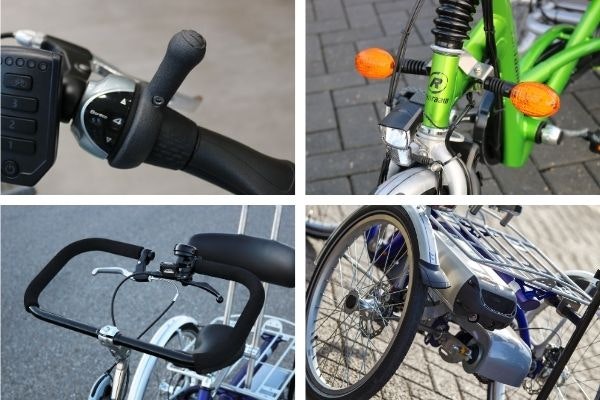 For people with one hand or arm it is often hard to keep cycling. Van Raam has various bicycles with options which make cycling with one arm or hand easier. Read in the article below which bicycles and options are suitable for riding a bicycle independently or together.
Special needs bike for cycling with one hand or arm
Van Raam offers several options you can choose to configure your bike. You can read more about the options whichmake you more comfortable riding a bike with one hand or arm.
Controls on one side of the handlebar
When you cycle with one arm or hand it's a must to have the controls mounted on the left or right side of your handlebar. With preferred controlling on the left or right side, the controls of the hydraulic brake, gears and bell go to that side. The front brake is mounted on the other side, because it is mandatory to have two brakes. With the full control on the left or right side, a back-pedal brake has to be ordered.
Uninterrupted handlebar
The uninterrupted handlebaris a option you can choose. The uninterrupted handlebar is designed for people who have difficulty holding a standard handlebar, People who have trouble braking with a regular handbrake can also choose for a uninterrupted handleba with a push brake system. Read more about special handlebars in the article: ''A special handlebar for your special needs bike''.
Direction indicator
The direction indicator can be mounted on almost every Van raam bicycle.The indicators will be placed in the front and back of the bike and work with a button on the handlebars. You may choose yourself the place on the handlebar where the button should be placed.
Gear level
A bike gear level, or shifter, isa tool to lighten the handling of a bike gear. The shifter is meant to make it easier to change gears. Van Raam developed its own 3D printed shifter. Read more about it in the article: "3D print bike gear level for special needs bikes Van Raam".
Single-handed lock
With the option of a single-handed lock, you can easily lock the bike with one hand. This option is specially designed for people who can use 1 arm or hand while cycling. In addition, this option is also convenient for people with balance problems. They can lock the bike with one hand and lean on something with the other hand.
Backpedal brake
It's possible to mount abackpedal brake on all the bicycles as referred to in this article. A backpedal brake has many advantages, it requires less strength and you keep your hands free to steer.  
Pedal support
Van Raam has its own electrical pedal support, called the Silent System.This system has three support modes, you can choose the quantity of support yourself. The display of the Silent Electrical system with only five buttons and is easy to operate with one arm or hand. The display has an starting aid/launch control button. When the starting aid is activated, you get support from the system withouth having to pedal along.
Cycle independently with one hand or arm
Van Raam offersvarious bicycles for people who want to ride a bicycle independently with one arm or hand. Read more about the benefits of these bicycles. 
Tricycles
All Van Raam tricycles provide extra stability and are easier to get on and off than bicycles. Tricycles withtwo wheels behind and one wheel in front have a short turning circle. Tricycles with two front-wheels and one rear wheel are specially developed for people who have difficulty estimating the width of a tricycle. All Van Raam tricycles have a parking brake which make getting on and off a bike saver.
Bicycles
If you still can ride a bicycle our Balance low step through bike is a good choice.With the Balance bike you can always place both your feet on the ground without getting off the saddle, which make it a pleasant bicycle for people with one arm or hand.
Cycling together on one bicycle
When you can't cycle independently it is possible tot cycle together with another person. Van Raam has various bicycles which you can ride together, for example tandems orside-by-side tandems.
Tandems
A tandem haveonly 1 driver who steers and brakes, the co-driver only cycles along. Van Raam has various types of tandems, with two or three wheels. There are also tandems where a child and a carer are sitting behind each other. View all the Van Raam tandems on our Tandems Overview Page.
Fun2Go side-by-side tandem
The Fun2Go is a double rider cycle/ three-wheel tandem where the users sit beside each other. One person steers and brakes, both can pedal.The riders can get on without having to step through and the seats can easily be adjusted to the required distance with a lever. The Fun2Go side by side tandem is enormous manoeuvrable, with two wheels completely in the rear and one fore-wheel it can be rotated round its own axis. 
Configure your own bike
At Van Raam, you have the ability to self-assemble / put together your own bike.Here you can can quickly and easily put the bike together as you prefer for cycling with one hand or arm.
Cycling with a arm-prosthesis
Do you have a arm-prosthesis and wonder if you can ride a bike? Read in the article ''Cycling with a prosthesis'' more about cycling with a arm-prothesis.
Make a test ride
Do you want to try a Van Raam special needs bicycle to cycle with one arm or hand? At several Van Raam dealers it is possible to try out a Van Raam bicycle. Contact a dealer in your area for more information. You can search for a Van Raam dealer in your area via our dealerlocator.
Do you have any questions?
We are happy to assist you! Please check our contact page or contact us directly using the options below.