Customer experiences
Customer experience Balance low step ebike - Johan Grotenhuijs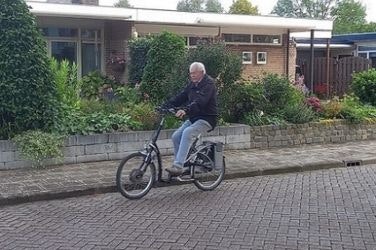 Due to an accident and knee surgery, Johan can no longer bend his leg enough to ride a normal bike. He absolutely wanted to keep cycling and stumbled upon the Balance low step through electric bike. Read his story here.
Introduction
"My name is Johan (Han) Grotenhuijs. I'm 75 years old, married and still living independently. I've been working for 45 years at a wholesaler in the two-wheelerbrance and my hobbies are Formula 1, motorcycle racing and cycling. Due to an accident and knee surgery, I can no longer bend my left leg enough to ride a 'normal' bike and because of my age and complications, getting on and off the bike was no longer easy for me. So I started looking for another way to still keep cycling."
Second hand low step through bike
"I bought the Balance low step ebike second-hand from Walraven in Sinderen, and I've had it since January 2021. Through our son, I ended up at Van Raam, he has the Van Raam Kivo tandem. I called and made an appointment. I came to Van Raam for a test ride and I was well informed, I'm very satisfied! I asked for tips for a second-hand bike and the advisor helped me and referred me to the company Walraven. Then I called Walraven, but at first my size was not in stock. A few weeks later I was called by Walraven that my size came in and I immediately made an appointment for a test ride. They helped me very well. I received sufficient explanation and the bike was delivered to my home."
What I find so positive is the low step through and low model that allows me to easily touch the ground with my feet.
Johan Grotenhuijs
My findings about the Balance
"It took some getting used tothe low step ebike, but I like the Balance very much now. What I find so positive is the low entry and the low model so I can easily touch the ground with my feet. And also the good sitting position. A minus for me is the wide tires, but all in all I give the bike an 8! I use the bike mainly for shopping and recreational use, about 50 km per week. In terms of special options, I have a mirror and a crank. I also use the Van Raam App. Mainly as an odometer. I like this one a lot!"

Johan Grotenhuijs - Hengelo, the Netherlands
Bike: Balance low step through electric bike