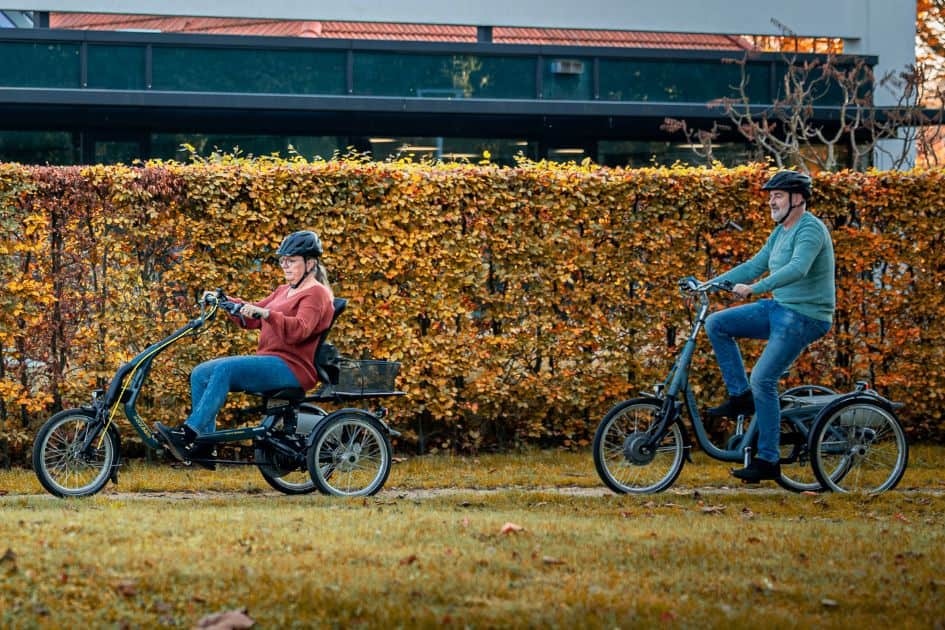 News
Cycling after a stroke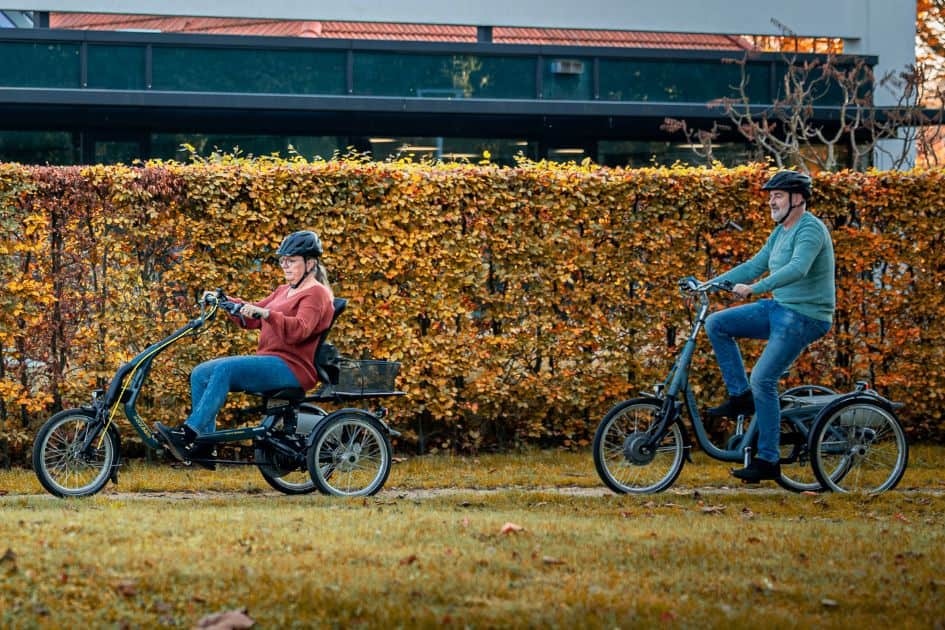 It is important to keep active after a stroke. This helps prevent new strokes and contributes to recovery. It may be that you have suffered (permanent) damage after a stroke. Van Raam's adapted bicycles can ensure that you remain mobile after a stroke.
Exercising after a stroke
For the best possible recovery after a stroke, it is important to keep exercising. You can think of walking, cycling, but also small household chores. Try to keep doing things yourself as much as possible. By regular exercise you also reduce the risk of a new stroke and you get less tired. (Source: Hersenstichting - Brain Foundation)
Riding an adapted bicycle after a stroke
The consequences after a stroke vary from person to person. Persons can suffer both physical and mental damage. Because of this, cycling on a regular bike may suddenly not be possible anymore. Van Raam's bicycles may offer a solution after a stroke.

Note: Whether it is possible for someone to cycle after a stroke varies from person to person! Consult with your doctor/physician about the possibilities.
Adapted bikes for stroke patients - 1 person
Van Raam has several types of bicycles in its range for people who want to continue riding their bike independently after a stroke. These are the:
Tricycles

Low step through bikes

Walking aid
Riding a tricycle after a stroke
Tricycles offer extra support and stability while cycling. Van Raam has various tricycles in its range:
Traditional tricycle:two wheels behind one wheel in front, high seating position.

Low step through tricycle: with both feet on the ground.

Tricycle with two wheels in front and one rear wheel.

Comfortable tricycle: met zitting, lage instap en lagere zitpositie.  

Electric scooter bike: can also be used without pedaling.
Read more about our tricycles in the article 'Tricycle for adults'.
Balance low step through bike
The Balance low step trough bike is a bike with two wheels. The unique frame gives you a low sitting position, allowing you to put both feet on the ground. This means that you do not have to get off the saddle and you can still cycle with your legs optimally stretched out. The center of gravity is lower on this bike, which makes cycling extra easy and comfortable. The Balance has a unique ergonomic seating position which relieves wrists, shoulders and the neck.
Walking aid after a stroke
The City walking aid can provide a solution for people who do not want a walker, but still need help with walking. The body weight is carried by the saddle, which relieves your back, hips, knees and ankles. Getting on is easy and safe because of the low step trough and the handbrake which fixes the walking aid when getting on.
Create your own bicycle
All bicycles are custom made at Van Raam. This makes it possible to assemble your ideal bike with options and accessories you need after a stroke. For example, you can choose to purchase a bike with pedal assistance, or with leg fixation. Configure your own bicycle in Van Raam's online configurator. For more information, please read the article 'Put together your Van Raam bike with the bike configurator'.
What is a stroke?
A stroke is a collective term for a TIA, cerebral infarction and cerebral hemorrhage. In a TIA, a blood vessel is closed off for a short time by a clot. In a cerebral infarction, the clot remains stuck in a blood vessel. In a cerebral hemorrhage, a blood vessel in the brain ruptures open.

Tip: Also read the article 'Cycling after a brain haemorrhage'.
 
After a stroke, people can suffer permanent damage to the brain. The consequences are different for each person. Possible consequences of a stroke are:
(Unilateral) paralysis in the body or face

(Unilateral) numbness or tingling

Problems speaking or finding words

Eye problems

Fatigue

Hypersensitivity to stimuli

Difficulty with planning

Anxiety and mood swings
 (Source: Hersenstichting - Brain Foundation)
Customer experiences
Are you curious how other people, who have had a stroke, experience a Van Raam bicycle? Read below some customer experiences.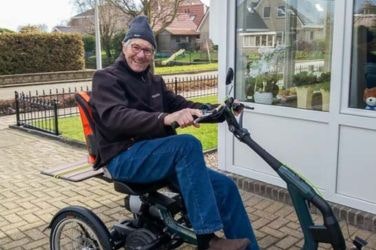 Customer experience Easy Rider tricycle bike - Jan Brouwer
Jan Brouwer is 73 and loves cycling on his Easy Rider three wheel tricycle. In this customer experience, he tells more about the reason for purchasing the tricycle bike and his experiences with the Easy Rider.
Read this customer experience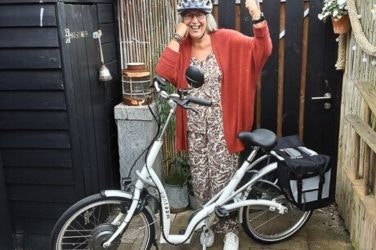 Customer experience Balance low step ebike - Joke Sonke
Joke Sonke had not been cycling for years due to her balance problems, superficial nerve pain and Polyarthrosis. She tried several bikes without success, but finally stumbled upon the Van Raam Balance low step ebike. After a trial period, she knew for sure: this will be my bike! Read her story here.
Read this customer experience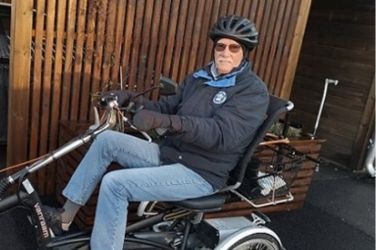 Customer experience Easy Rider 2 tricycle - Bjørn-Eddy Andersen
Bjørn-Eddy Andersen lives in Tolvsrød, Norway. Bjørn had a stroke in January 2019 and as a result his left arm and left leg were totally out of function. In this customer experience he tells more about his background and his experiences with the Easy Rider 2 tricycle.
Read this customer experience
;
Do you have any questions?
We are happy to assist you! Please check our contact page or contact us directly using the options below.