Customer experiences
Customer experience Easy Rider 2 tricycle - Bjørn-Eddy Andersen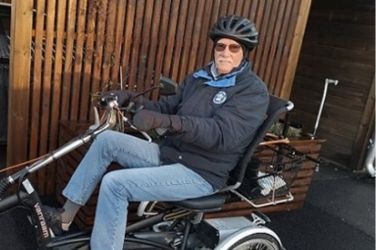 Bjørn-Eddy Andersen lives in Tolvsrød, Norway. Bjørn had a stroke in January 2019 and as a result his left arm and left leg were totally out of function. In this customer experience he tells more about his background and his experiences with the Easy Rider 2 tricycle.
My background
"I couldn't move my left side anymore. I was bound to my wheelchair for a couple of months, but thanks to intense training I am capable to walk with a tripod walking stick. I'm still in my rehabilitation process and I train almost every day with the help of my physiotherapist.
 
In January 2020 I got my Easy Rider 2 tricycle. I asked for this bike after a good advice from my physiotherapist. After some adjustments of the equipment, I have used the bike nearly every day from April 2020."

Did you know the Easy Rider tricycle has been completely renewed? Discover the Easy Rider here.
Experiences with the Easy Rider tricycle
"With my left leg defected, I have no problems getting on or off the bike due to the low saddle and low entry. I also can't use my left arm, but it's easy to steer and cycle because of all the important equipment on the right side. What I also like is that the back rest gives me support during the ride. I still would like to have a stick holder on my bike where I could take my tripod walking stick with me. For my trips I have to take the tripod walking stick, this is necessary to make my balance. But in general I'm very satisfied with my Easy Rider tricycle and my wife and I are able to make tours together again. Short and long distances."
 
Bjørn-Eddy Andersen – Tolvsrød (Norway)
Model: Easy Rider 2 tricycle