Van Raam offers two sizes of pedal extenders in its assortment: 2 and 4 cm. A pedal extender can be a solution in cases of adapted footwear or a deviant foot position. The pedal extenders attach to the crank, creating more space between your foot and the crank. With a pedal extender, the pedal extends 2 or 4 centimetres to the outside, making it easier to place your foot on the pedal.
Order your pedal extenders at a Van Raam dealer
The pedal extenders can be ordered as a set from Van Raam dealers. A set consists of two pedal extenders, the left and the right part. Find your nearest dealer on the Dealer page.
Read all pedal extenders customer experiences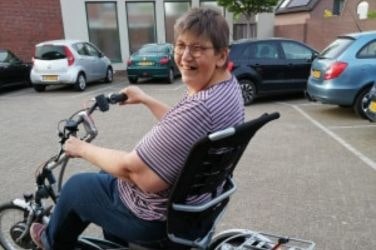 Customer experience Easy Rider tricycle – Marjo Lange
Marjo Lange is 52 years old, she lives with three others at Dichterbij (a healthcare institution) in Venray (in the Netherlands) and enjoys working at the NLW and making puzzles in her spare time. Marjo has an Easy Rider tricycle and she is very happy with her new bike. She hasn't cycled that much in a long time. Together with her sister Henriëtte Marjo tells more about her Easy Rider.
Read this customer experience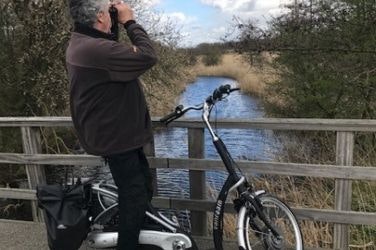 Customer experience Balance low entry bike - Huub Duivenvoorden
Huub has always enjoyed cycling, but he started losing his balance more frequently and found cycling increasingly difficult. He now has a Balance bike with a lowered entry point, and his children are super proud that he's riding his bike more often.
Read this customer experience
;
Specifications
| | |
| --- | --- |
| Article number | 201-014072/73/74/75 |
| Dimensions LxWxH (mm) | 32x22x22 / 51x22x22 |
| Added weight (g) | 50 / 92 |
| Material | RVS |
| Price | € 30 (excl. VAT and shipping) |