Tricycles for children
Mini tricycle
From, excl. VAT and shipping
Description Mini tricycle
The Mini tricycle is a modern tricycle designed for children. It is a smooth-running bike, which can be manufactured in beautiful colours. The Mini is available with various options, such as a handle bar, back and foot fixation and an electric engine for power assist. Read everything about electric pedal support (Pedelec) for this bike.  For safety reasons, the Mini is limited to a maximum of 15 km per hour. 

If you choose an optional electric pedal assist, it will be delivered as a smart e-bike. It allows you to view a lot of information about your battery and smart e-bike from a distance. For example, you can use the app to view your cycling routes and change your cycling settings. Read more about the Van Raam smart e-bike on our Van Raam app page.

For all the options available on this bike, see our configurator or the pricelist of the Mini.

For more information see also FAQ. 
If you want to try this bike or any other bike of us, you can make an appointment with us. We do not sell directly to individuals, sales and delivery is done by our dealers.
Standard equipment
Differential

Environmentally friendly paint

Parking brake

Steer limiter

Lock

Lighting

Five year warranty on frame
Benefits
Pedal support is possible

Agile and smooth running

Modern design

Trendy colours

Multiple options such as a pushrod or a backrest are possible

Fits through a normal door
Read all Mini customer experiences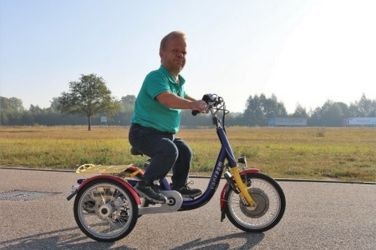 Customer experience Mini tricycle - Dirk Messchaert
Dirk Messchaert came to visit Van Raam to get advice on our special needs tricycles. He made a test ride on the Mini and the Easy Rider Small. Read more about his findings here.
Read this customer experience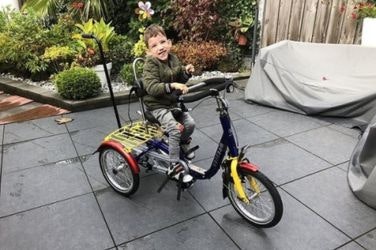 User experience tricyce for children Mini - Mother of Duncan
What do you wish for a cheerful and happy little boy who is in a wheelchair because of his disability? For Van Raam, the answer to this question is clear: a piece of contemporary mobility. At Van Raam, we believe that as long as people can stay mobile, they are happier. We are very happy with all the positive stories we hear from our end users. So it is good to hear that the cheerful and happy boy from the introduction can now enjoy cycling among his peers thanks to the children's tricycle Mini. Read in this article the user experience of the children's tricycle Mini told by the mother of Duncan.
Read this customer experience
;
Specifications
Drawing 1

Drawing 2

Drawing 3
| | |
| --- | --- |
| Item code | 344-0000 |
| Average range (default battery) | 61 km |
| Min-max range (default battery) | 50 - 71 km |
| Inside leg length | 47-59 cm |
| Standard frame height | 30 cm |
| Boarding height | 20 cm |
| Weight without electrical system | 21 kg |
| Weight with electrical system | 31.9 kg |
| Cycle length | 136 cm |
| Cycle width | 60 cm |
| Wheel size front | 16" |
| Wheel size back | 16" |
| Standard color | (RAL 6011) Reseda green |
| 2nd color (extra charge) | (RAL 5024) Pastel blue matt |
| 3rd color (extra charge) | (RAL 2000) Yellow orange |
| RAL color of choice | Yes |
| Maximum driver weight | 65 kg |
| Maximum luggage carrier weight | 20 kg |
| Possible separable frame | No |
Do you already have a Van Raam bike?
Downloads
Product information
Warranty