Customer experiences
Customer experience Easy Rider tricycle – Marjo Lange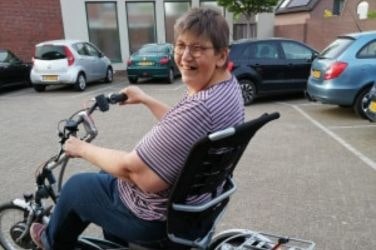 Marjo Lange is 52 years old, she lives with three others at Dichterbij (a healthcare institution) in Venray (in the Netherlands) and enjoys working at the NLW and making puzzles in her spare time. Marjo has an Easy Rider tricycle and she is very happy with her new bike. She hasn't cycled that much in a long time. Together with her sister Henriëtte Marjo tells more about her Easy Rider.
Purchasing a tricycle
"I came to Van Raam through my sister, she looked at the Van Raam website. This website is very complete and works fine. I haven't had a special needs bike before, so we went to Van Raam twice for a test ride. Both times Geo helped us very well and they listened to me very carefully. After the test ride I had a positive feeling.

We ordered the tricycle through Kersten and the contact with the dealer is through the physiotherapist of Dichterbij. I had to wait a month and a half for my bike. After adjusting, it turned out that the seat wasn't attached properly, but in the end this was solved properly. I bought the Easy Rider in a reinforced version and it has extended pedals on it.
This tricycle gives me a very safe feeling. I didn't dare to ride a normal bike with two wheels after I fell down. I feel more secure and like that I can't fall.
Marjo Lange
Feel safe and secure on the Easy Rider tricycle
I like the bike very much. I cycle with my Easy Rider tricycle mostly in and around the town on asphalted cycle paths. When I go back to work I also want to go there by bike.

This tricycle gives me a very safe feeling. I didn't dare to ride a normal bike with two wheels after I fell down. I feel more secure and I like that I can't fall, I also feel more free on the bike."

Henriëtte: "We as a family saw Marjo become very happy when the bike came in. Since then she cycles almost daily. We didn't expect that. Hopefully after the Corona crisis she will also go to work by bicycle".


Marjo Lange– Venray
Type: Easy Rider