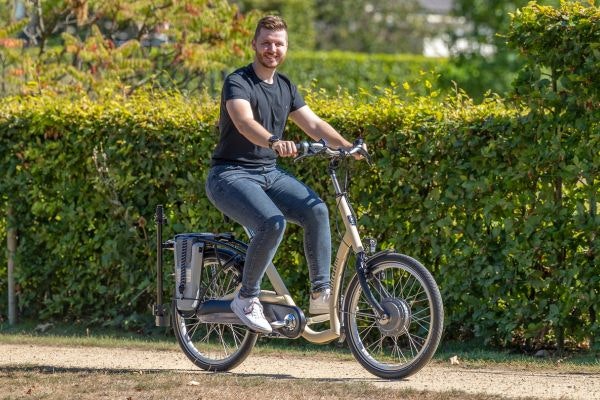 News
Low step through bike
Bikes

\ Low step through bikes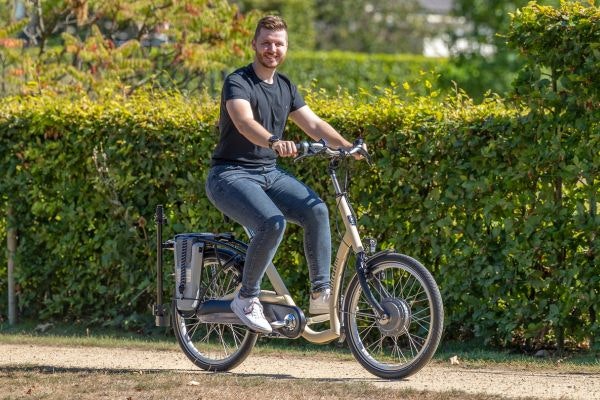 For people who are having difficulty getting on and off a bike or people with slight balancing problems, the Balance, a comfortable low step through bike, is the ideal solution. It is a very safe low entry bike with many advantages. If you have more trouble with your balance, the low entry bike with three wheels, the Maxi Comfort, can be a good solution. Furthermore these bicycles can be painted in almost any desired RAL-color. Read more about these low step through bikes here.
Balance: low step through bike
The Balance low step through bike by Van Raam is a comfort bike with a low step through and a uniquely designed frame. With the Balance bike you can always place both your feet on the ground without getting off the saddle and cycle with a comfortable movement of your legs. The great advantage of the Balance is the unique ergonomically designed seat. Wrists, shoulders and neck are hardly burdened while cycling. The more forward pedaling motion ensures that you use the power of your legs better than in case of conventional bikes. The lower center of gravity makes the cycling easier and more comfortable.

The Balance low entry bike has been a very comfortable and safe low entry bike for years. Read more about the Balance on the product page.
Video: Balance low step through bike
Maxi Comfort: low step bike with 3 wheels
The Maxi Comfort bike with low entry is a variation on the traditional tricycle. In addition to three wheels, the Maxi Comfort tricycle also has a low step through and a unique frame, allowing you to always have both feet on the ground and an ergonomic sitting position. With the Maxi Comfort, your wrists, neck and shoulders are hardly burdened.

You can easily get on and off, thanks to the low entry. When, due to balance problems or the fear of falling, you are no longer able and/or dare to ride a (standard) two-wheeler and/or need more support, stability and balance, a tricycle is a good choice.

You can read more about the Maxi Comfort on the product page.
Safe cycling
The low step through bike is notjust only a low entry bike. The bike is also really safe, because you can always put both feet on the ground and stay on your saddle at a stop, like at the traffic lights.

The bike is also very safe because it can be extended with various options. With this options and accessories you can make the bike personal and even safer. Van Raam's Balance low entry bike and Maxi Comfort tricycle are also very suitable for smaller or larger people. The frame is available in three different sizes, making the bike suitable for almost everyone. There are also other options available such as baskets, mirrors, speedometer, stick holder, special saddle, crank, direction indicator set and much more.

See all options on the options page.
Bicycle with pedal support
Van Raam's low step through bikes are also electrically available. The electric pedal support system, called Silent System, has been developed for and by Van Raam. This system is specially made for special needs bicycles. Van Raam's electric pedal support system makes it possible to cycle both forwards and backwards, has 3 positions and a starting aid. The support can be individually programmed, so that it adapts to your disability.

In addition, this system has even more advantages:
Very simple operation.

Virtually silent, but very powerful motor.

Modern and efficient electronics.

Extremely high quality and safe batteries.

A smartphone app with which the bike settings can be changed, an SOS message can be sent and current bike data can be viewed.
Read more about pedal support on the pedal support page.
Low step through bike in every color
The standard color of the Balance is gray-blue matt. Otheroptional colors are light ivory mat and signal red. Besides these, the cycle can be painted in almost any desired RAL color like royal orange.

Read more in the article: 'A Van Raam bike in a color of your choice'.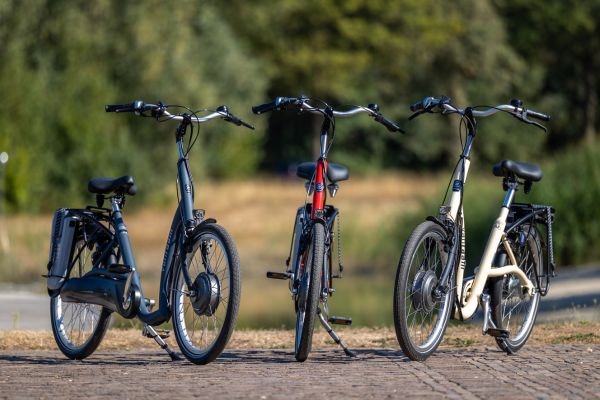 Would you like to try out a low step through bike yourself?
Have you become curious whether a bike with a low step through bike is also suitable for you? Come to the Van Raam showroom in Varsseveld (the Netherlands) for a free test ride! During a test ride, a technical advisor will be happy to give you advice and you can try out the bike on the test track! Is the showroom too far away or don't you have the opportunity to visit the showroom in Varsseveld? Then take a look at which Van Raam dealer is in your area and ask the dealer about the possibilities.
Customer experience low entry bikes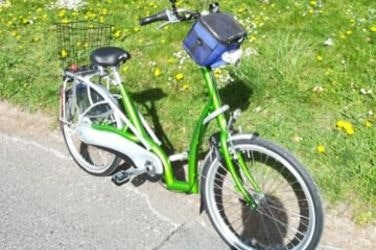 User experience Balance low step through bike - Eva Richards
My name is Eva Richards, I live in South Wales in the United Kingdom and I have a Van Raam Balance bike because of my osteoarthritis.
Read this customer experience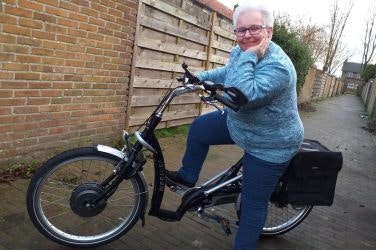 Customer experience Balance low step through bike - Paula Brommer
I am Paula Brommer (47) and I live in Heerenveen, the Netherlands. I'm a mother of 2 children and work as a volunteer at Humanitas Thuisadministratie. I'm not really tall, namely 4.7 feet and I have asthma and fibromyalgia (a condition which you suffer from chronic pain in your muscles and connective tissue). Despite that, I would like to be active and not be classified as 'disabled', because you can't do much about it. In my spare time I like to cycle on my Balance low step through bike and enjoy the surroundings.
Read this customer experience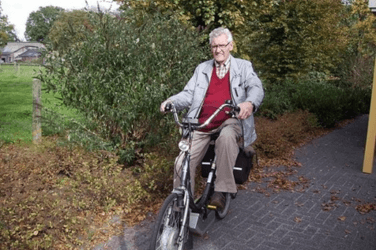 User experience low step through bike Tavara Balance - Albert Smit
Until 2006 Van Raam made the Tavara Balance, the forerunner of the current Balance low step through two-wheeler bike. The Tavara Balance is also a low step through bike where the rider can always stand with two feet on the ground. Meanwhile, the Tavara Balance is replaced by the Balance bike, but people are still cycling around on this safe and comfortable bike. Among these Tavara bicycle users is Albert Smit. Albert Smit is 78 years old and has been using his Balance Tavara for over a decade. Read more about his experiences below.
Read this customer experience
;
Do you have any questions?
We are happy to assist you! Please check our contact page or contact us directly using the options below.