Customer experiences
Customer experience Balance low step e-bike - Bernadette Evers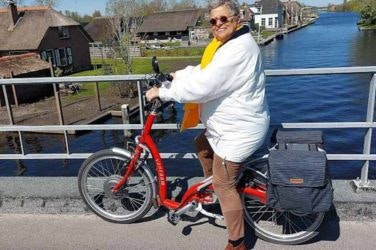 Bernadette was afraid of falling off her bike because she couldn't touch the ground with her feet. For this reason, and to stay in good shape, she purchased the low-step Balance e-bike.
Specifications
Balance low step through bike
Pedal assist, Extra battery pack Cube, Mirror
Configure your bike
Affraid of falling off the bike
"I I've been using the low step e-bike Balance since early 2022, which is now 15 months, and I'm very satisfied. The reason I bought the Balance has mainly to do with being afraid of falling off the bike because I couldn't reach the ground with my feet. With the Balance bike, you can always reach the ground with both feet without getting off the saddle. In addition, it is important for me to keep my body in good condition in order to undergo a kidney transplant."
Making cycling trips together
"I mainly use the Balance to make cycling trips together around IJsselmuiden. Fortunately, we now live in a very beautiful and flat area. Elburg, Giethoorn, Vollenhove, Hattem, Staphorst, Zwolle, the Weerribben, the Noordoostpolder (tulip route), and Flevoland (tulip route). All destinations are easily accessible directly from home. We usually cycle around 50 kilometers or so."
After 10,000 kilometres on the e-bike, the tires don't need to be replaced yet.
Bernadette Evers
Balance e-bike with double battery pack
"We immediately chose a double battery pack when we purchased the bike. I almost never need it, but I don't have to worry about the battery running out in strong winds. Since we only don't cycle in the rain, it's the right choice. The range of the battery is also less in low temperatures. When it's near freezing, we use our wonderfully heated gloves from the ANWB store."
 
Bernadette Evers – IJsselmuiden
Bike: Balance low step e-bike