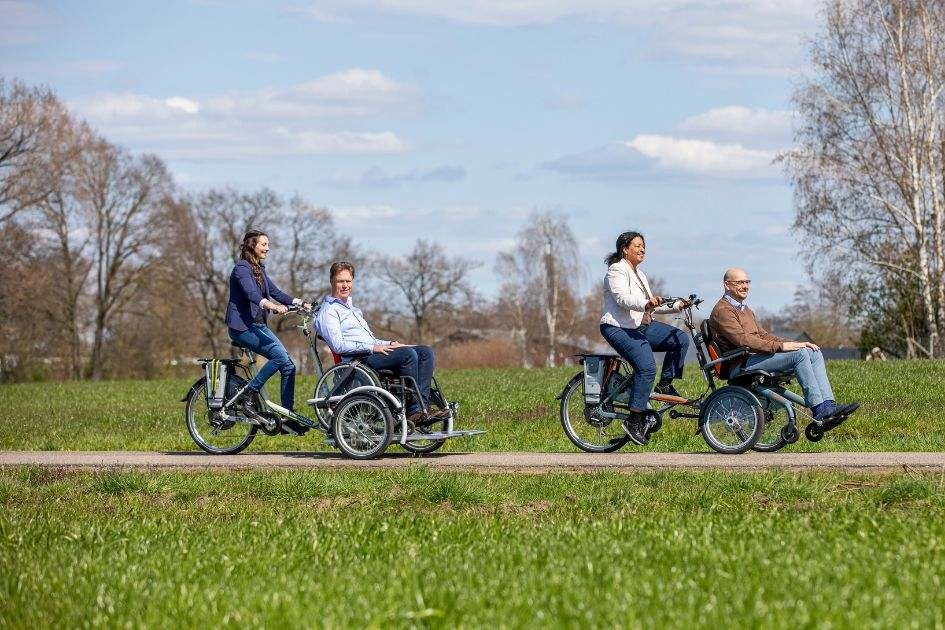 News
Front tricycle for adults by Van Raam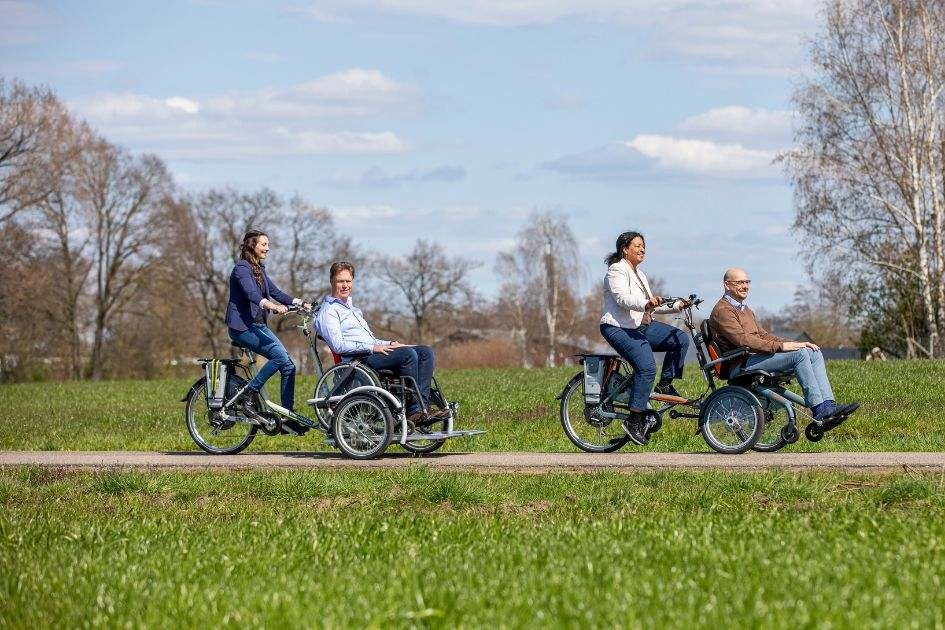 Do you have difficulties to estimate the width of a tricycle? Then read on here and find out with which special tricycle it is easy to estimate the width!  There is a tricycle with double tires at the front and one wheel at the back. Read more about the Van Raam front tricycles for adults here.
Tricycle with two wheels in front
A front tricycle is a tricycle (for adults) which has 2 wheels in the front and one in the back. With a front tricycle from Van Raam you can always assess the width of the bicycle and see if it can go through or along any part. This type of bicycle is often called a T-bike or trike. Van Raam has two front tricycles for adults in its assortment:

On these tricycles you sit directly above the pedal bracket so you pedal straight down and sit relatively high on the bike. With the double tires in front it steers completely different than with one wheel in front, so it takes some getting used to.
Viktoria front tricycle
The Viktoria tricycle is for teenagers and small adults who have balance problems and find it difficult to estimate the width. The easily manageable construction with double tires in the front of the Viktoria tricycle has a very deep and spacious entrance. The Van Raam Viktoria front tricycle can also be equipped with various options such as an electric motor and a comfortable pedal support that makes riding this modern tricycle even more enjoyable.
Viktor front tricycle
For adults who have balance problems and find it difficult to estimate the width, the Viktor front adult tricycle is ideal. The Viktor tricycle is the larger version of the Viktoria. It has a very deep and spacious entrance. The Viktor is also available with different options and an electric motor with the comfortable pedal assistance is also possible. 
Advantages tricycle for adults with 2 wheels in front
A tricycle with two wheels in front has many advantages:
You can easily estimate the width

It can be a good alternative if you have difficulty getting on and off your current bike.

On a tricycle it is not absolutely necessary to get off when you are (almost) standing still; you can safely cross the road while sitting on the saddle.

Have you come to a stop? Then a tricycle does not tip over as is the case with a bicycle.
Front tricycle for adults with electric support
It is possible to order all bicycles with two wheels in front as front tricycle e bike with the unique Van Raam pedal support. You don't need much power to pedal and the three different pedal support modes are individually adjustable so that you always get the right support. The special thing about the electric system is that you have the possibility to ride backwards. The article "Riding backwards with pedal assistance on a custom bike" explains everything about this function.

Would you like to read more about pedal assistance? Click on the button and go to the page about pedal support.
Do you have any questions?
Do you have any questions or would you like to know more about Van Raam's adult front tricycles, more about pedal assistance or what options are available? Ask your question to Van Raam. Would you like to try out the bicycle yourself? Come and take a test ride at Van Raam or contact your dealer and he will tell you the possibilities.
Do you have any questions?
We are happy to assist you! Please check our contact page or contact us directly using the options below.