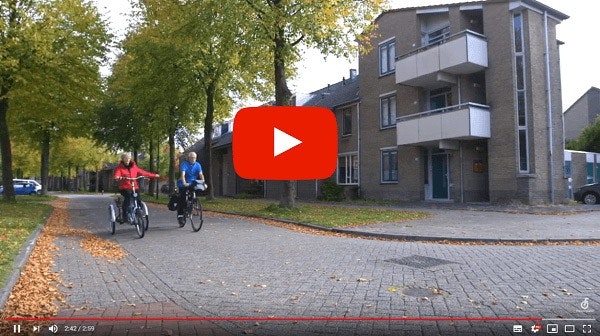 News
How to ride on a trike bike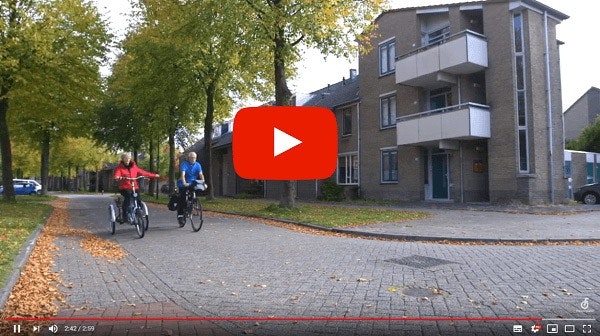 Do you have years of experience cycling on a two-wheel bike but can't do that anymore? Or are you unable to cycle on a two-wheel bike due to a certain limitation? Then the trike bike (or tricycle) is an excellent way to keep moving. But how do you ride a trike bike? In this article, we will show you the best way to learn to ride a tricycle.
From a two-wheel bike to a tricycle
It is important to know that riding a tricycle is very different from riding a two-wheel bike. For most people, switching from a two-wheeler to a tricycle takes some time to get used to. To explain how to drive a tricycle, the Fietsersbond (Dutch Cyclists' Union) has made a video with 18 steps in which they show you how to ride a trike bike. In the video, you'll find tips on how to drive a tricycle safely and securely.

In the video, you see how you can easily get on a trike bike, whereby you always put the parking brake on the bike. An English summary is mentioned below the video. A very important tip for riding a trike bike is to always keep your feet on the pedals, sit up straight and look ahead. We already have collected tips for cycling on a tricycle on our website.

Did you know that Van Raam is featured in the KBO-PCOB magazine, a magazine for seniors? Read more about cycling on a trike bike in the article 'Van Raam adapted bikes in magazine for elderly people'.
Summary 'how to ride a trike bike' video
Step 1 to step 4
Make sure the parking brake is on the trike bike before you get on the bike. This will prevent the trike bike from leaving its place. Also, check if the bike is properly adjusted: does the seat have the right height/distance for your height? If so, place your feet on both sides of the frame and put the pedals in a good position so you can get on the tricycle safely.
Step 5 to 8
Sit down on your bike and make sure you take a relaxed sitting position. Sit with a straight back and keep your shoulders and hands relaxed. Think for yourself if you have a nice sitting position. Do not look down but look forward. As soon you're all set, you're ready to ride a trike bike!
Always keep your feet on the pedals of a trike bike, even when you are standing still.
Step 9 to 13
First look in front, behind and next to you to see if it is safe to cycle away. Then, take off the parking brake, pedal half a turn en squeeze the brake. In this way, you know what happens to the bike during braking. Slowly drive in the lowest gear and leave the electrical support off.

Step 14 to 18
Make sure you brake regularly in the beginning and keep your feet on the pedals. In this way, you get to know the bike. Also, think about your posture and keep sitting straight. Don't hang along with your body in the bends, but steer only with the handlebars of the tricycle and keep your knees together. Take a short break after 10 minutes of cycling. Your body needs to get used to this new way of cycling.
Different models of tricycles for adults
In the video above, you can see the Maxi tricycle of Van Raam. This is what we call a traditional tricycle for adults. In addition to this trike, we also have tricycles for adults with alow entry, seat tricycles and recumbent tricycles in our tricycle product range.
 
Take a look at the different models of Van Raam trike bikes for adults below. These are all available with various options and accessories such as pedal support, stick holder, foot trays, mirrors, etc.
Do you have any questions?
We are happy to assist you! Please check our contact page or contact us directly using the options below.