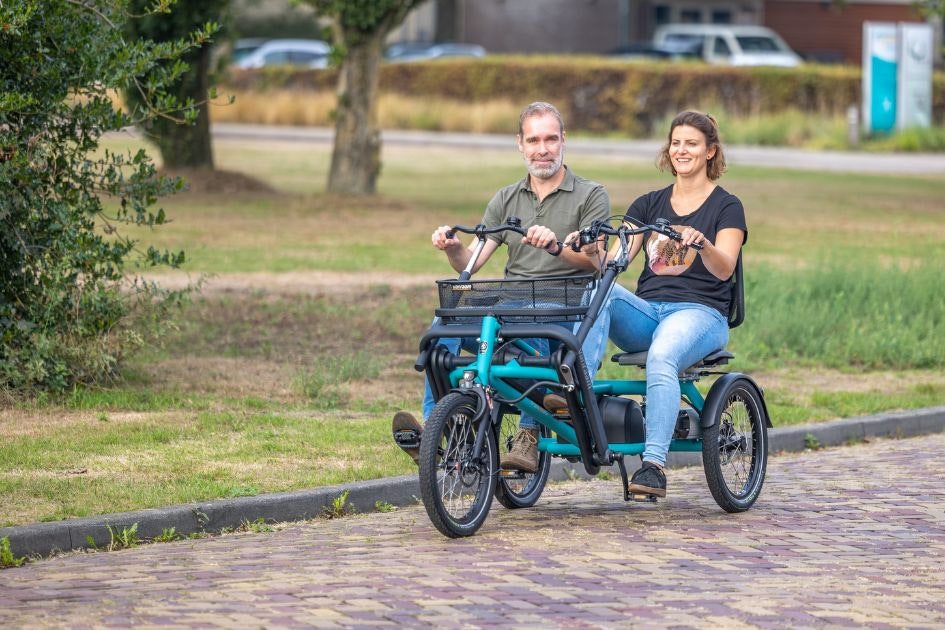 News
Bike with 2 seats by Van Raam
Bikes

\ Side by side tandem bikes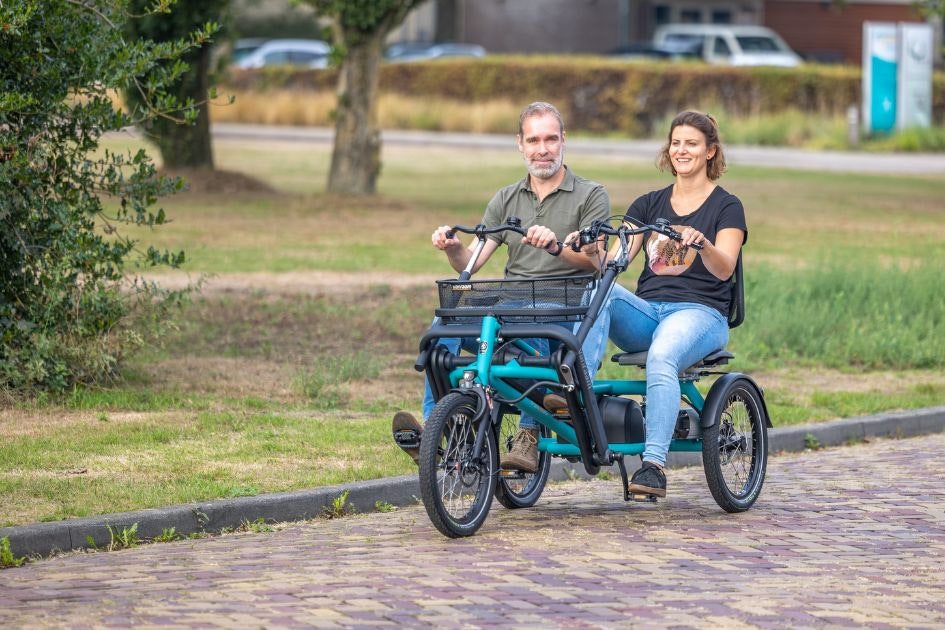 Van Raam makes unique special needs bikes for people with disabilities. These are individual and multi-person bicycles for people who can no longer cycle on a regular bicycle. This also includes bikes with 2 seats. Read more about the bike with 2 seats Fun2Go and other 2 seater pedal bikes here.
Bike with 2 seats Fun2Go
The bike with 2 seats Fun2Go is a bike for two people where both seats are placed next to each other. One person steers, both can pedal. The driver has full control over the bike, making this bike very suitable for cycling with people who can not (or no longer) independently participate in traffic. A passenger can already take part if he/she can sit down and cycling along is not compulsory.

From both seats, you have a good view on the road and of each other. You can also communicate well with each other, because the seats are next to each other.

The manoeuvrability of the bike with 2 seats Fun2Go bike is very high, this bike can turn around its own axis. It is easy to get on and off, because the bike has no entry. With a lever, the seat can be adjusted to the right seating distance.
Video: 2 seater pedal bike Fun2Go
In the video you can see the Fun2Go and the highlights of this bike with 2 seats.
Benefits 2 seater bike for adults Fun2Go
Besides the previously mentioned features, the Fun2Go also has the following benefits:
Many drive systems possible for both the driver and the passenger

Perfect sight and attention on the passenger
On the product page of the Fun2Go you can read and watch more of this 2 seater bike for adults.
Electric bike with 2 seats
A bike with 2 seats by Van Raam, like the Fun2Go, is also available as an electric 2 seater pedal bike. With Van Raam's unique 'Silent System' pedal support system, you get support while cycling. The Silent System was developed by and for Van Raam, especially for special needs bikes. This system is characterized by its very simple operation.

There are 3 individually programmable pedal support modes, as well as a starting aid. You can also cycle backwards with the pedal support, which is very convenient when 'parking' backwards. In addition, there are the following advantages of a Van Raam electric 2 seater pedal bike:
Virtually noiseless motor

Very powerful electric motors

High quality and safe batteries

Free use of the E-Bike App
Read and view more information on the pedal support page.
2 seater pedal bike with different options
Besides pedal support, other options and accessories are available on a 2 seater bike for adults. With options such as a mirror, footrests, arm restsor a rotatable chair you can tailor the bicycle entirely to your own wishes. See the 10 most sold options for the bike with 2 seats Fun2Go in the article 'Top 10 most sold options Van Raam Fun2Go side-by-side tandem'.

The price list of the Van Raam bicycles shows the costs of the options which are available for the particular bicycle. You can find the price list on the product pages.
Configure your own bike with 2 seats online
Van Raam's online configurator makes it possible to put together a bike of your own choice. Configuring your bicycle is done in a few easy steps. All options you choose are immediately visible in the overview on the page, and you can see the price of the bicycle with the chosen options.
Tandem bike with 2 seats
A tandem is also a 2 seater bike. Van Raam has various tandems in its range for adults and children. These tandems have both two and three wheels. You can view the tandems below:
A transport bike as a 2 seater bike for adults
Besides the Fun2Go and the tandems, Van Raam has a number of bikes with 2 seats in its assortment. These are bikes where the main driver takes one or two passengers with him who cannot cycle along themselves. Van Raam has the following transport bikes:
Do you have any questions?
We are happy to assist you! Please check our contact page or contact us directly using the options below.