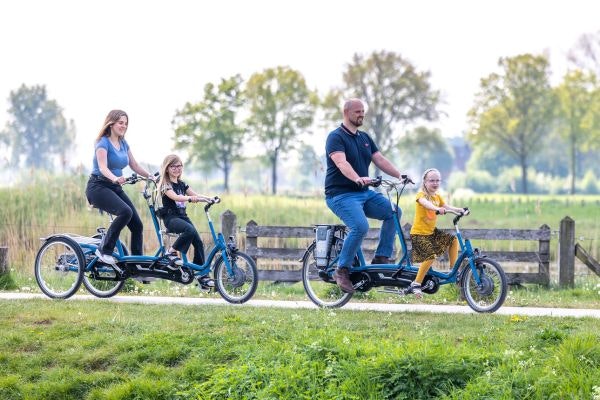 News
A therapeutic tandem from Van Raam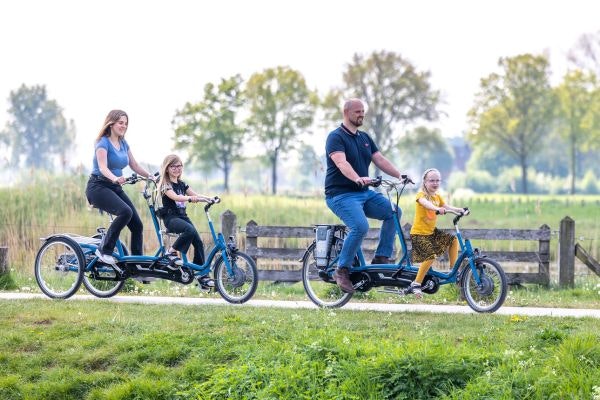 Therapeutic tandems from Van Raam help you enjoy cycling together (again). Van Raam has more than just a therapeutic tandem in its range. Learn more about these tandems, who they are for and what makes them unique.
Van Raam's therapeutic tandem bikes
People can experience a lot of freedom of movement (again) thanks to therapeutic tandems! Van Raam manufactures special needs therapeutic tandems for you, so that you can become mobile again and stay that way. Through this you can train your muscles and coordination skills and experience positive emotional effects.
Due to the low entry height or the complete absence of an entry and the various options, the tandems are often used with people who can no longer ride a bicycle independently. Van Raam offers different types of tandems, which you can read more about below:
Tandem for two adults with two and three wheels.

Side by side tandem where you sit next to each other

Tandem for children with two and three wheels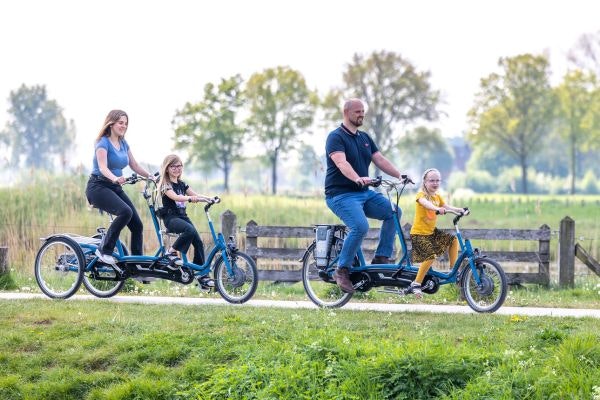 Therapeutic tandems for adults
The Twinny is a two-wheeled therapeutic tandem for two adults. With this bike, you sit behind each other during the ride. You have more space between the two seats than on a traditional tandem. One person steers and brakes while both can pedal. The main rider can optionally adjust the pedalling capabilities of the passenger.

The big advantage of this tandem is the low step-in. The Twinny has a high seating position that gives both riders a good overview.
 
Based on the Twinny is the Twinny Plus, a tandem with three wheels for two adults. The great thing about this tricycle tandem with two wheels on the back is the stability and easy mounting and dismounting. The tandem's have a sturdy and stable frame that provides good riding characteristics.

Check out the Twinny Tandem and the Twinny Plus on the respective product page.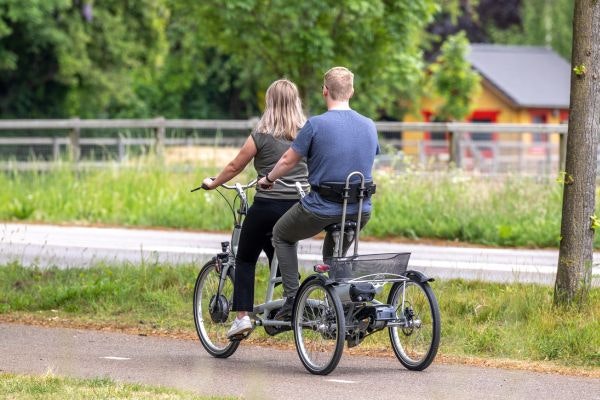 Side by side tandem Van Raam
With the Fun2Go side by side tandem from Van Raam, two people can cycle next to each other. One person steers while both people can pedal. The Fun2Go has no entrance, so the user can easily sit down. Both cyclists have a good view of the road and can easily communicate with each other. Social contact and control are optimal on this bike.

Cycling together with a child? That is also possible with the Fun2Go. Read the article 'Cycling with a child on the Fun2Go duo bike with child seat' about the possibility of a special child seat on the Fun2Go.

You can find out more about the Fun2Go on the product page.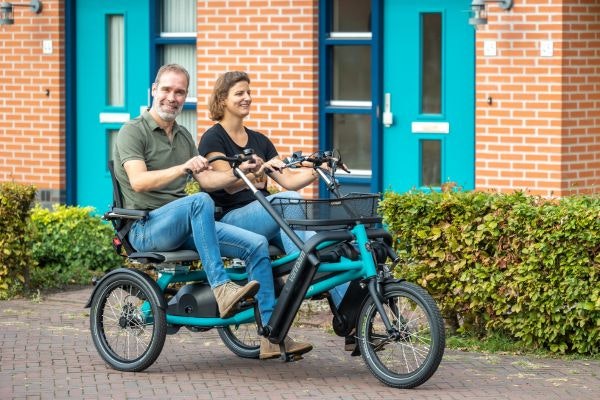 Therapeutic tandems for children
Not only the Fun2Go bike will allow you to cycle with a child. The Kivo is a two-wheeled tandem for a parent or an accompanying person who wants to cycle with a child. The child sits at the front of the tandem. It has a good view of the surroundings during the ride

The parent sits in the back and can thus keep an overview of the child and the traffic. The Kivo has 8 gears and a shiftable freewheel so that parents can decide whether the child should pedal or not.

The Kivo Plus is a three-wheeled tandem based on the Kivo. It provides more stability when cycling. The two rear wheels make it even easier to get on and off the tandem. You can also read more about our therapeutic bikes for children in our article 'Van Raam therapeutic bike for children'.

Take a look at the Kivo Tandem and the  Kivo Plus on their respective product pages.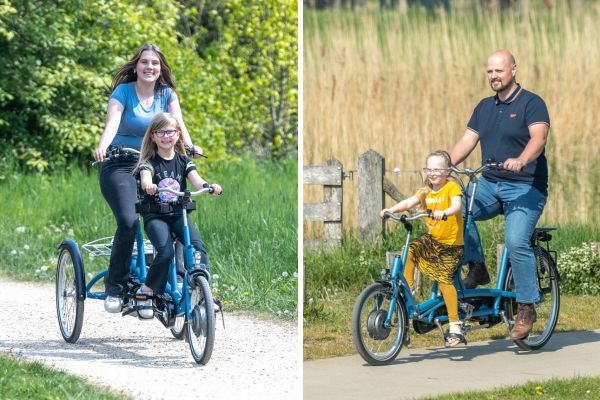 So people can participate in traffic even with their limitation.
Why a therapeutic tandem from Van Raam?
Besides the fact that riding a tandem is very healthy, there are other advantages of Van Raam tandems! Take a look at them in summary below.
Good overview due to the high seating position

Lower or eliminated entrance

Available in various versions with different options
As these tandems not only provide healthy exercise, but also intensive interpersonal contact, they are also used as therapy bikes. The therapeutic tandems are thus also often used by institutions and homes, as they can be used relatively easily for many different people with limited mobility. 

The combination of exercise and social contact has various positive effects on the well-being of the passenger. These tandems are used for a wide range of limitations, such as visual, physical or mental handicaps. In this way, people can participate in traffic even with their limitations. Let's all cycle!
Tandem experiences from Van Raam customers
Read below some customer experiences from customers who own a therapeutic tandem.
;
Find out for yourself with a test ride
Curious about which therapeutic tandem is ideal for you? Contact your local dealer via the dealer overview or click the button below to arrange a free test ride with one of our advisors. They will be happy to help you decide which bike is right for you.
Do you have any questions?
We are happy to assist you! Please check our contact page or contact us directly using the options below.