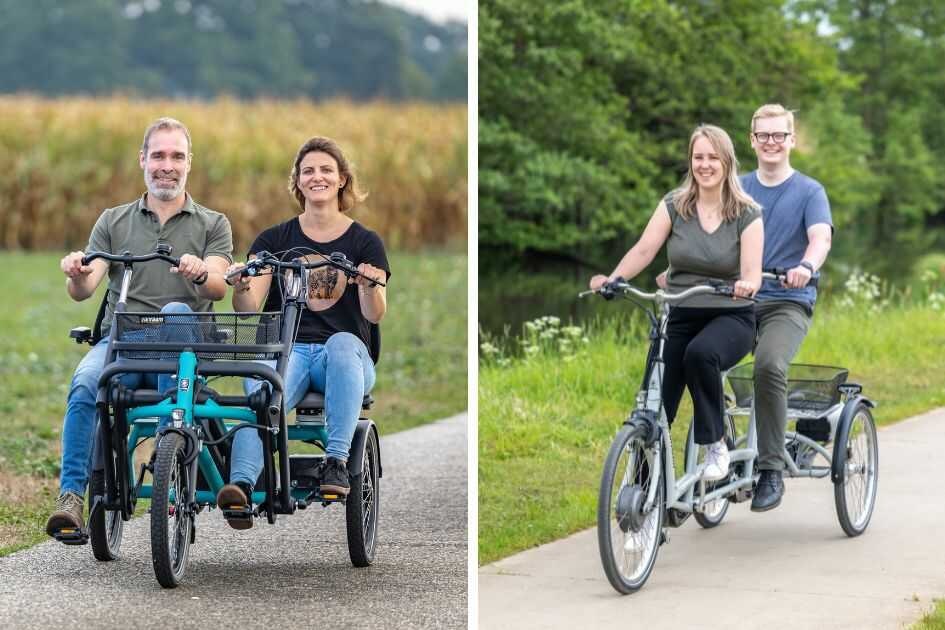 News
2 person tricycle from Van Raam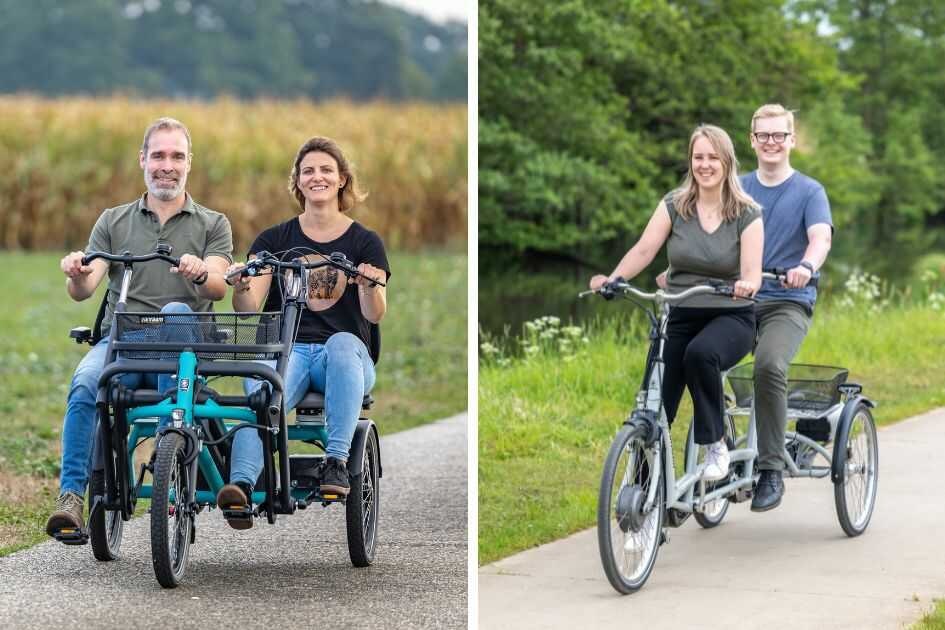 Are you looking for a 2-person tricycle?Then you've come to the right place. Van Raam has various types of tricycles for two people in its range. Read more about them here.
Why a two person tricycle?
A two person tricycle offers many advantages for you and your passenger.Besides the fact that cycling together is fun and improves social contact, Van Raam's 2 person tricycles also have the following advantages:
Be mobile again and have the freedom back

The bike is fully adapted to you

Unique pedal support is possible

Unique riding characteristics

Many different bike models (there is something for everyone)

Environmentally friendly powder coating

No need to balance yourself

Provides stability and safety while cycling

The parking brake keeps the bike in position and allows you to get on and off safely
Van Raam has six different types of tricycles for two people from different categories. Discover more about them below.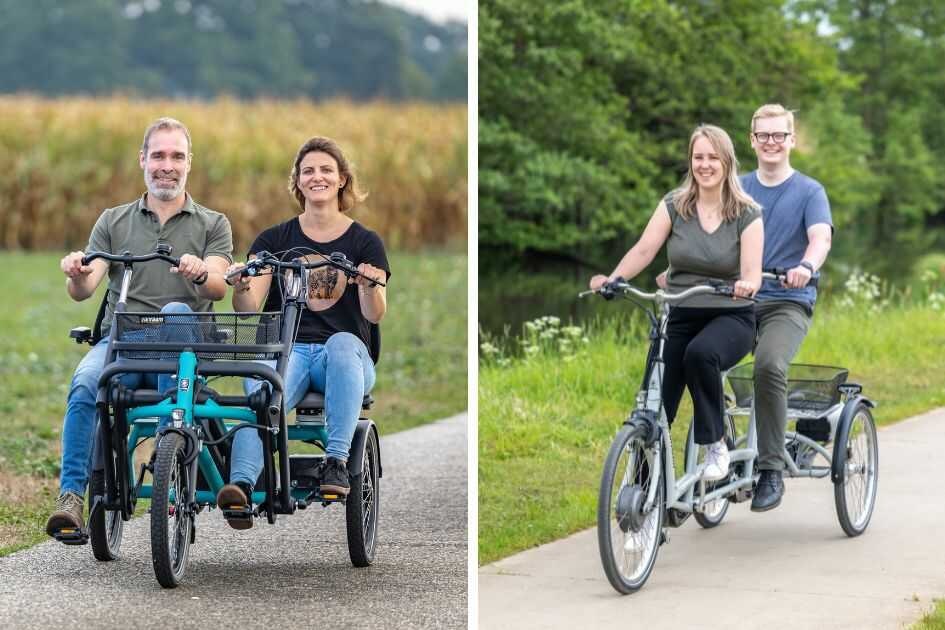 2 person tricycle tandem
A tricycle tandem is a tandem for 2 person with 3 wheels. Van Raam has three tricycle tandems for two people.
Fun2Go tricycle two-seater tandem

Twinny Plus 2 person 3 wheel bike tandem

Kivo Plus tricycle tandem for two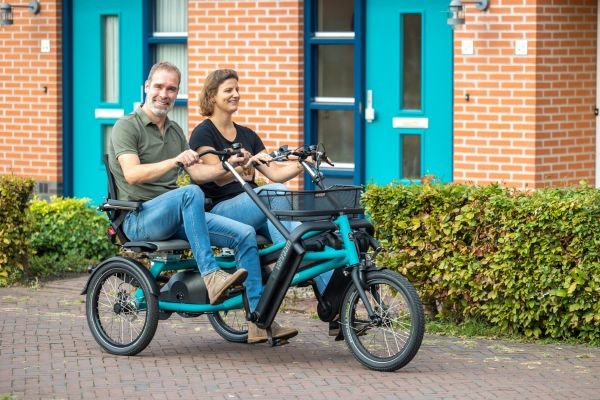 Fun2Go tricycle two-seater tandem
The Fun2Go is a tricycle bike for 2 people who want to cycle side by side. The three-wheeler two-seater offers you many possibilities and stability, and you don't have to get on and can sit down directly.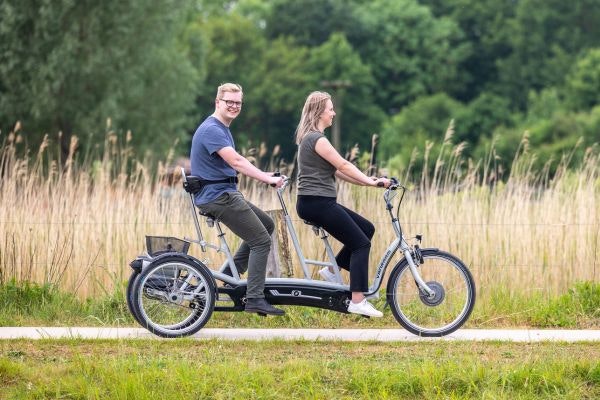 Twinny Plus tricycle tandem for 2 person
On the Twinny Plus tricycle tandem for 2 persons you cycle with two adults behind each other. The tricycle for 2 people has a low entrance which makes it easy to get on and off.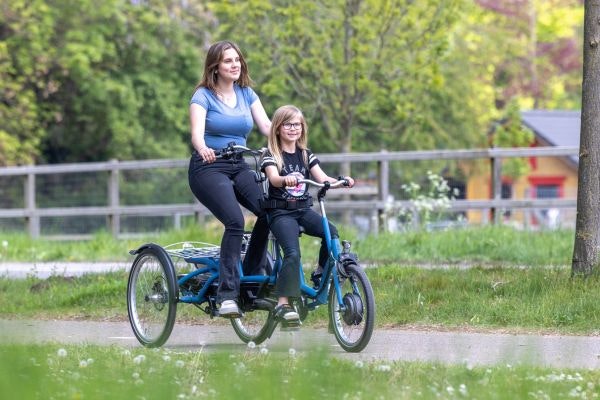 Kivo Plus tricycle tandem for 2
On the Kivo Plus tricycle tandem for two, one adult can sit in the back and one child in the front. Here you also have a low entrance which makes getting on and off much easier for you and the child.
Double bike and tandem what are the differences?
More bicycles for 2 people and with 3 wheels
Besides tricycle tandems for two, Van Raam also has other bicycles with three wheels for 2 persons. These come from the categories wheelchair bikes and rickshaw bikes. Find out more about them below.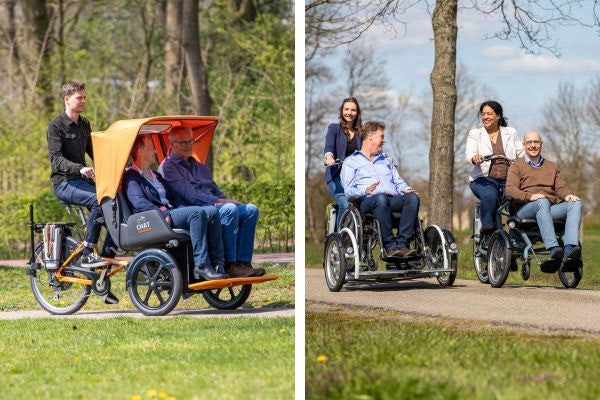 Wheelchair bike for 2 persons
Van Raam has two wheelchair bicycles with three wheels for 2 persons. Therefore it can be described as a tricycle. These tricycles for two are the OPair wheelchair bike and the VeloPlus wheelchair transport bike. The wheelchair bicycles are suitable for getting around even if one person can no longer pedal independently. The OPair has an adjustable seat for the passenger and the VeloPlus allows someone to be transported in their own wheelchair.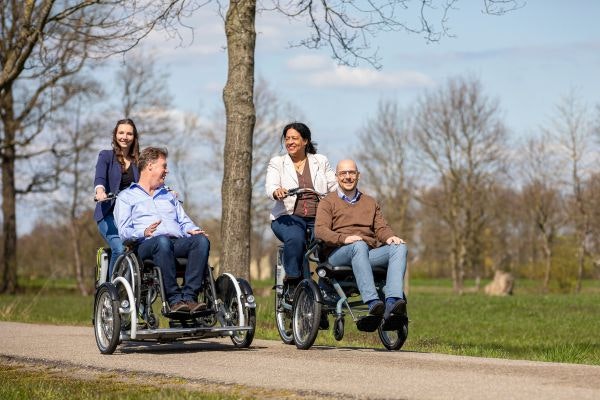 Chat Rickshaw Tricycle
The Chat Rickshaw tricycle for 2 persons is designed to be ridden together with one or two persons who are no longer able to participate in traffic independently. An accompanying person rides with one or two people on this cargo bike. The passengers sit next to each other at the front in a specially designed cockpit. The rider sits behind this cockpit and thus has an overview of the road and the cargo bike, but also of the passengers. 
Electric tricycle for 2 persons
All these tricycles for 2 persons can be equipped with Van Raam's unique pedal assistance, the Silent System. This gives you an electric (e-bike) tricycle for 2 people. An e-bike tricycle from Van Raam offers you the complete advantages:
Winner ExtraEnergy test

Safe batteries and motors

Motor: powerful, quiet and individually adjustable

Smart e-bike + free Van Raam e-bike app

You can also reverse with the tricycles

Centrally controlled lighting

Individual programming by recipe / bike programme setting

The charger is equipped with a self-seeking magnetic connector, which makes it easy to connect it to the battery with one hand.  
Tricycle for 2 people custom made
For all Van Raam bike, many customisations are possible and a lot of accessories are available to make the tricycle for 2 persons suitable for each of them. Visit our configurator to customise your tricycle.
Try out a tricycle tandem for 2 people for yourself
Are you curious about how the tricycle tandems for 2 people ride? You can try out these bikes for free during a test ride at Van Raam. During an appointment at the Van Raam showroom in Varsseveld or Treuchtlingen, you will be advised by a technical advisor and you will have the opportunity to try out various models on the bicycle test track.

Afterwards, you will receive a free quote to take home, which you can use to order the bike or tandem from a Van Raam dealer. A test ride is also possible at some dealers, please contact your local dealer.
Do you have any questions?
We are happy to assist you! Please check our contact page or contact us directly using the options below.