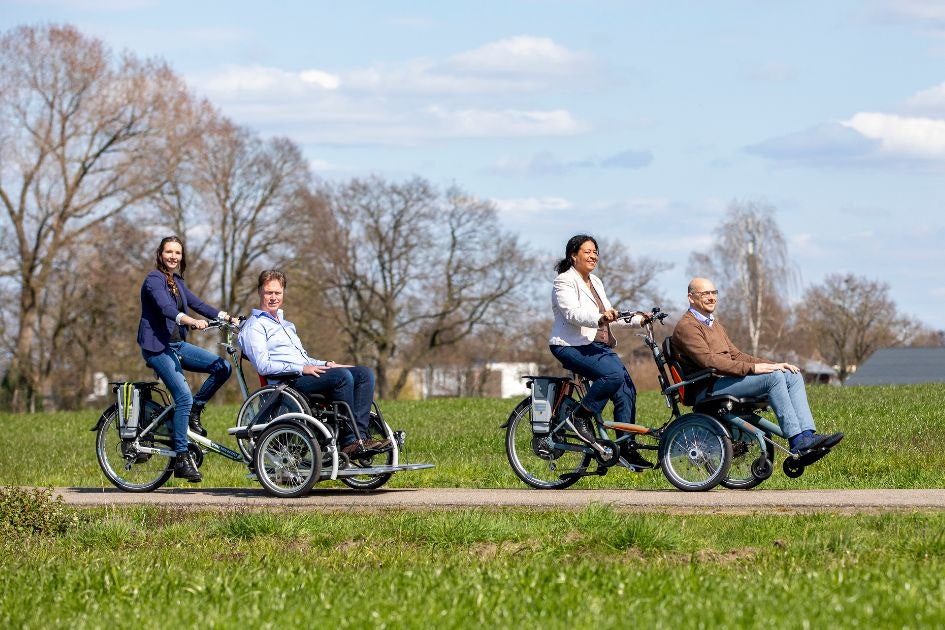 News
7 interesting facts about the cargo tricycle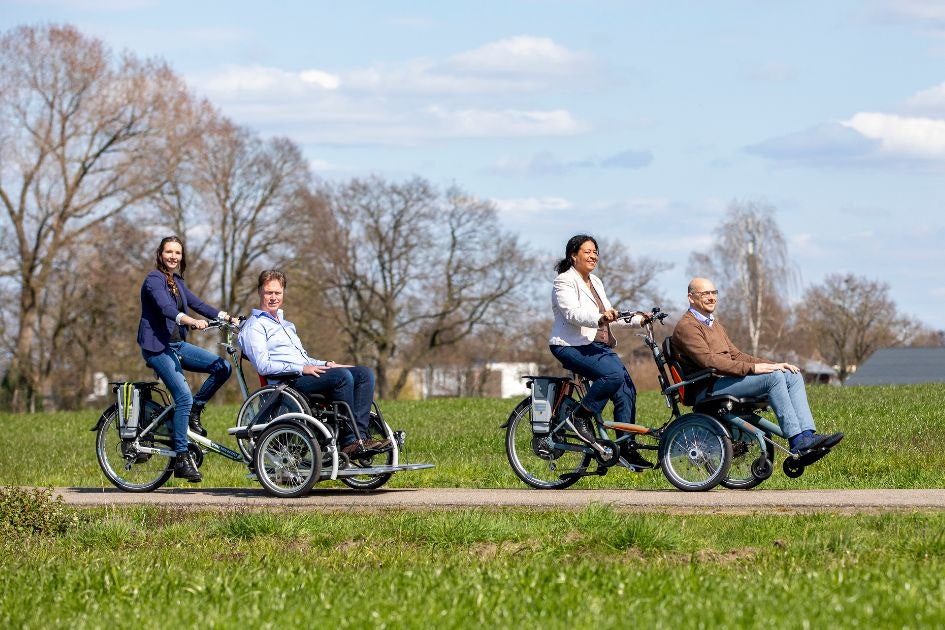 A cargo tricycle is a transport bike with 3 wheels. Van Raam has 3 cargo tricycles in its range. Here are 7 interesting facts about Van Raam's tricycle cargo bikes.
1. Transporting people
A Van Raam cargo tricycle is used to transport people. The passenger or passengers take place on the bicycle and can be cycled to the final destination. With the VeloPlus, the person can even remain seated in his/her own wheelchair during transport.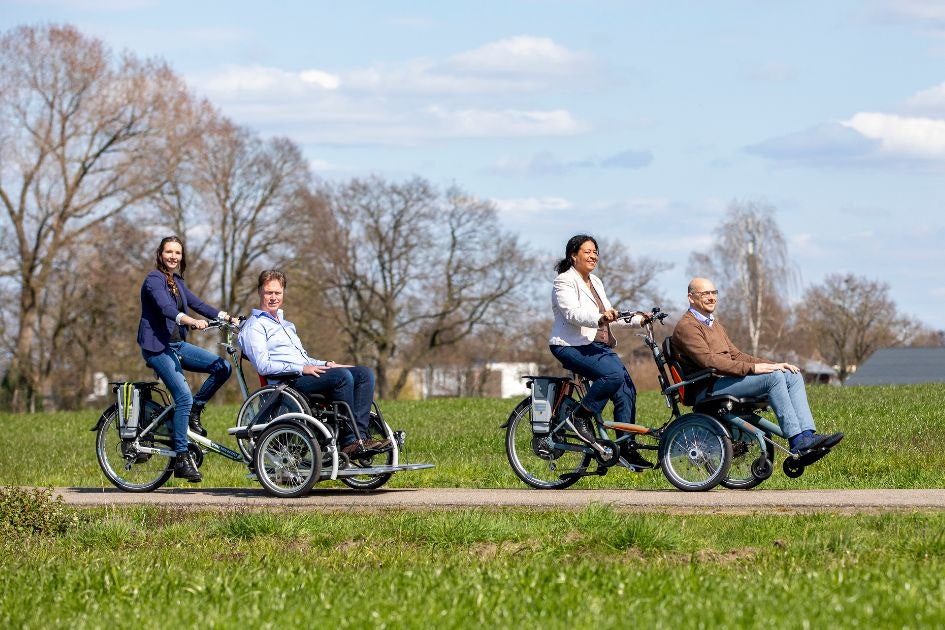 2. Different types available
There are different types of cargo tricycles available. Van Raam has 3 types of tricycle cargo bikes in its range: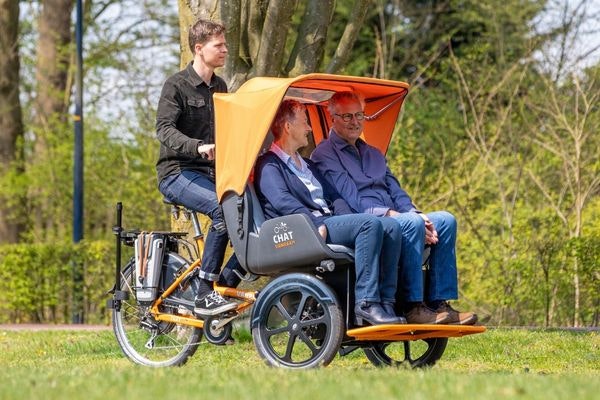 Rickshaw bike Chat
The Chat is a rickshaw bike. With this type of cargo tricycle, 1 or 2 people take a seat in the cockpit at the front of the tricycle. The attendant steers the bike and has a good overview of the road and the passengers. Optionally, the Chat can be expanded with a canopy to protect the passengers from sun and rain. 
Chat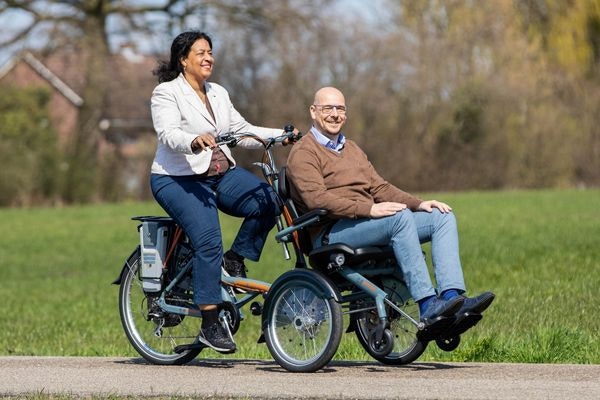 Wheelchair bike OPair
The OPair is a wheelchair bike. The passenger, who uses a wheelchair, sits in the adjustable seat at the front of the cargo tricycle. The main driver controls the bike. In the divisible model, the seat in front is easily detachable from the bike section, so that it can be used as a wheelchair on location.
OPair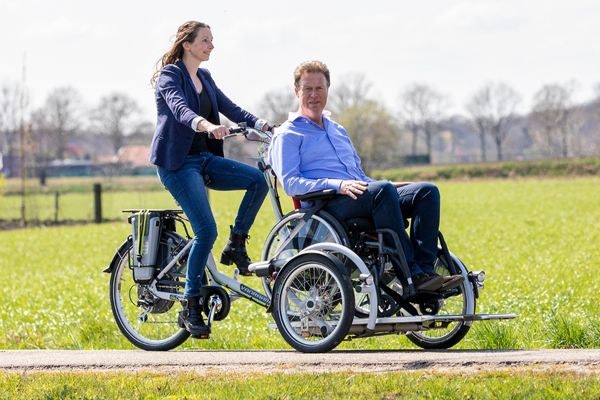 Wheelchair transport bike VeloPlus
The VeloPlus is a wheelchair transport bike. On this cargo tricycle, a person can be transported in his/her own wheelchair. Without much effort, the wheelchair can be driven and fixed on the tricycle. The main driver controls the bike.
VeloPlus
3. Cycling together
Van Raam's 3 wheel cargo bikeallow you to cycle together, even if this was not (or no longer) possible before. The passenger feels the wind through their hair and experiences cycling without actually having to pedal.

The 3 wheel cargo bikes are social bikes. The main driver can always easily keep in touch with the passenger(s) and the passengers on the Chat also with each other.
4. Advantages compared to a car
A car is often chosen for transporting people. With a tricycle cargo bike, however, you have quite a few advantages over a car:
A bicycle is much more environmentally friendly

No fuel costs

You don't need a driver's licence to cycle with a cargo tricycle

You can often get closer to your final destination

You can park a bike almost anywhere, also you have no parking costs

No traffic jams!
5. E-bike
Taking a passenger on a cargo tricycle often takes more power for the driver than cycling on a regular two-wheeler. An electric bike is a good solution for this. At Van Raam, you can turn the cargo tricycles OPair and VeloPlus into an electric cargo tricyclethanks to pedal assistance.

Van Raam's unique pedal assistance system is characterised by simple operation, powerful motors, starting aid and individually programmable support. In addition, you can use the e-bike app for free.

The Chat is an electric tricycle cargo bike by default and thus has electric pedal assistance.
6. Cycling backwards
If you choose a 3 wheel electric cargo bikewith pedal assistance, you can cycle backwards. This function is very handy when you want to park somewhere or turn around.

As soon as the pedal assistance is switched on, you can use this function. Read more about this in the article 'Riding backwards with pedal support on a custom bike'.
7. Options
Besides pedal assistance, there are more options and accessories available for the cargo tricycle. These include belts, SmartGuard tyres, an extra battery pack and various frame modifications.

The possible options can be viewed on the price list of the respective bike. The price list can be found on the product page of the Chat, OPair and VeloPlus.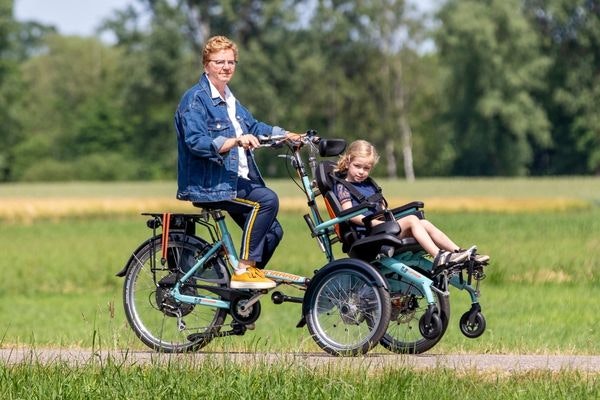 Configure your own cargo tricycle?
Did you know that you can use the online configurator to put together your own cargo tricycle with options? In a few easy steps, you put together your cargo tricycle with the options you want on your bike. You immediately see the price of the configuration and you can have the configuration mailed to you. Read more about the online configurator in the article: 'Put together your Van Raam bike with the bike configurator'.
Customer experiences with a tricycle cargo bike
Read in the customer experiences below how the different cargo tricycles are experienced.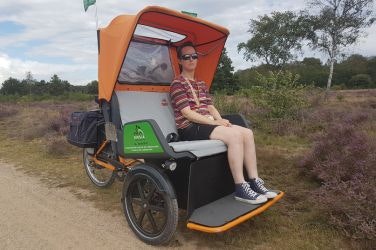 Customer experience Chat Rikshaw Bike – Riksja Harderwijk
Jan-Willem is a volunteer at Riksja Harderwijk in the Netherlands, where he cycles around with people who cannot cycle independently (anymore). Riksja Harderwijk now owns a Chat Rickshaw Bike of Van Raam and Jan-Willem likes to go out for a ride with passengers. Read all about the Chat and Jan-Willem's experiences in this customer experience.
Read this customer experience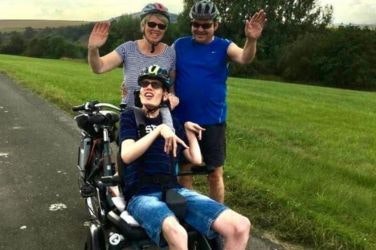 Customer experience OPair wheelchair bicycle - Family Brandt
Unfortunately Niklas cannot ride a bike on his own, but with the OPair wheelchair bike he can once again go on bike tours with the whole family. Read more about this experience and watch the pictures around videos of the family.
Read this customer experience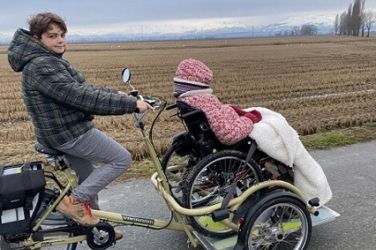 Customer experience VeloPlus electric wheelchair bike - Angelica Malinverni
My name is Angelica Malinverni (49), I come from Italy and I'm the mom of Caterina (24) who has a disability since she was born. We recently purchased the VeloPlus electric wheelchair bike and it has changed our lives! Read more about our experiences here and watch the video of Caterina and the VeloPlus.
Read this customer experience
;
Any questions?
Do you have any questions about Van Raam's cargo tricycles? Or would you like more information? Please contact us. We will gladly help you.
Do you have any questions?
We are happy to assist you! Please check our contact page or contact us directly using the options below.