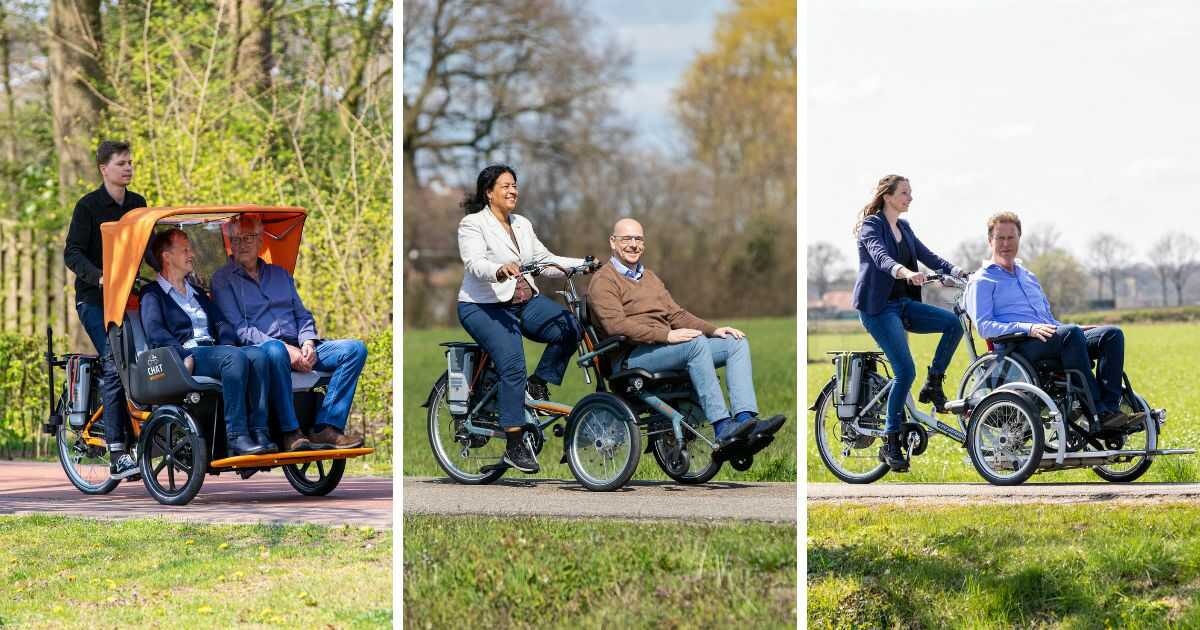 News
Cycling with a Van Raam cargo bike transport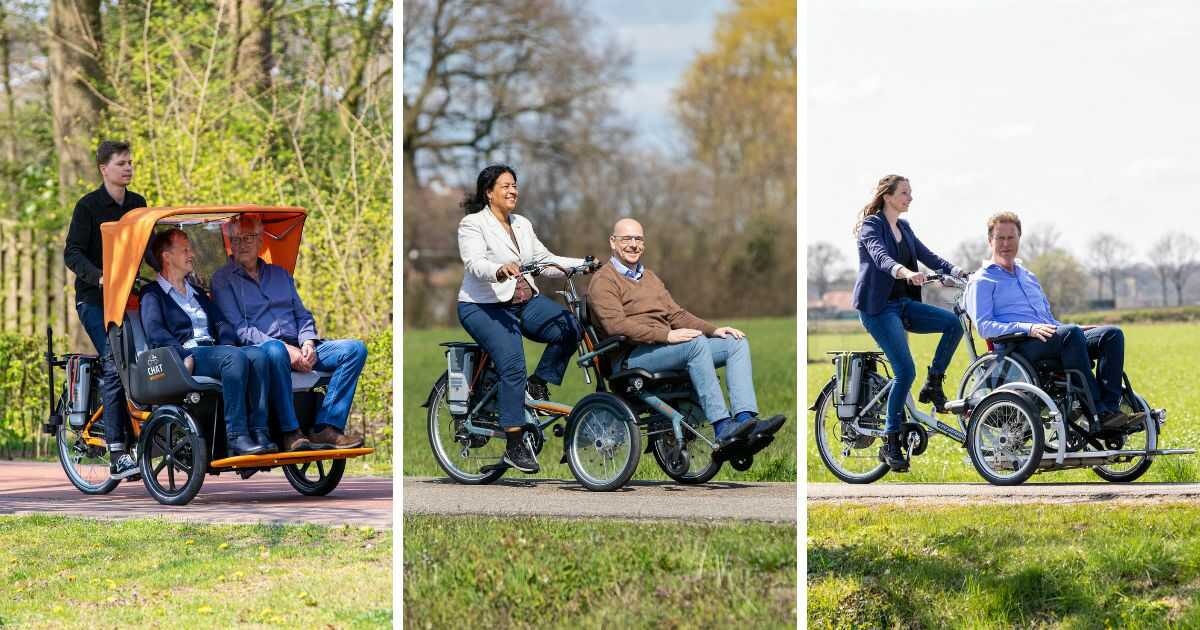 Van Raam has several cargo bikes for transport in its range. These cargo bikes are suitable for transporting people to enjoy a bike ride together. Read more about the different types of cargo transport bikes here.
Cargo bike transport by Van Raam
A cargo bike is often used to transport goods, animals or people. Such bicycles have been around for a very long time and before the invention of the car, they were already being used a lot.

At Van Raam we have several types of cargo bikes in our assortment. These cargo bikes are suitable for cycling together with someone who can't or won't cycle independently anymore. Check out the different cargo bikes tranpsort below and find out what they are used for.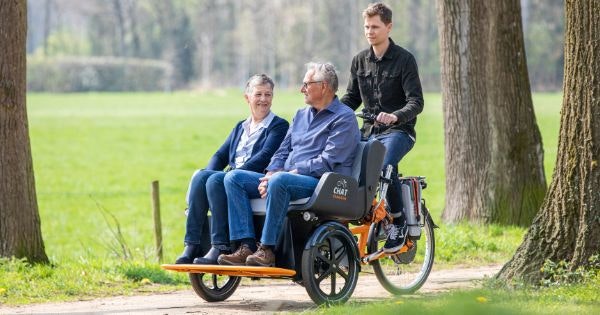 Rickshaw bike Chat
The Chat is used to transport people or to cycle together with adults and / or children who can no longer participate in traffic on their own. One supervisor cycles with one or two persons who sit next to each other in a specially designed seat. The driver of the cargo bike sits behind the seat and has an overview of the road and the passengers.
View the Chat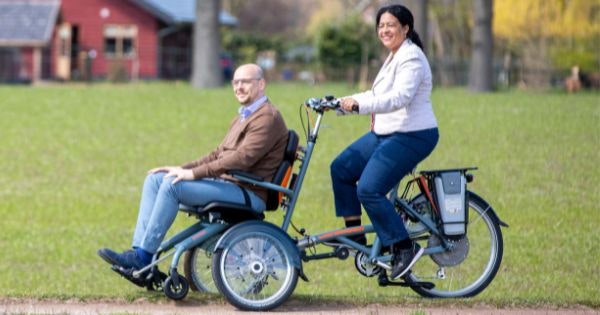 Wheelchair bike OPair
The OPair transport cargo bike is used to cycle with a person who sits is a wheelchair. These are children or adults who can no longer cycle independently and for whom a transfer is easy. At the front of the bike, a seat has been mounted for the passenger. From the rear, the driver has a good overview of the road and can monitor the passenger.
View the OPair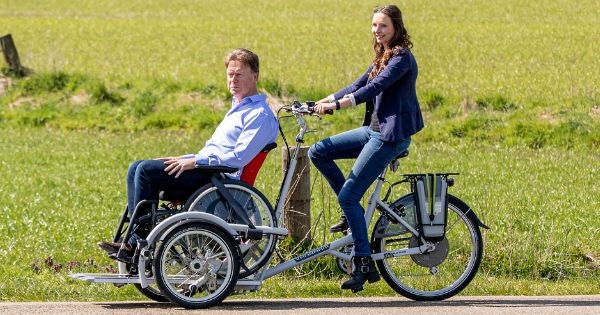 Wheelchair transport bike VeloPlus
The VeloPlus cargo bike transport is used for transporting a person who can continue to sit in his/her own manual wheelchair. No transfer is required between the wheelchair and the bike. Without any lifting aid or exertion, the passenger in the wheelchair is pushed onto the tiltable platform of the bike and then secured with the wheelchair lock and belt.
View the VeloPlus
5 advantages of a cargo bike transport
A Van Raam cargo bike for transport has the following advantages:
The cargo bikes are social bikes; the driver and passenger can easily interact with each other.

With a cargo bike you can often get closer to your final destination than with a car.

With a cargo bike transpport you hardly burden the environment.

You do not need a driving licence to drive a cargo bike.

The bicycle is a healthy means of transport. Read more about this in the article: '10 reasons why cycling is healthy'.
Electric cargo bike
Van Raam also has cargo bikes with pedal support, making cycling a lot easier. The Chat is equipped with Van Raam's unique and powerful pedal support system. With the OPair and VeloPlus, you can choose for optional pedal support.
Van Raam's Silent pedal support System is known for its simple operation, powerful electric motors and the ability to cycle forwards and backwards with the pedal support switched on.
Experiences with a cargo bike transport
Below you will find some customer experiences with the Van Raam cargo bikes.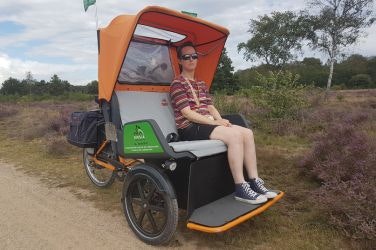 Customer experience Chat Rikshaw Bike – Riksja Harderwijk
Jan-Willem is a volunteer at Riksja Harderwijk in the Netherlands, where he cycles around with people who cannot cycle independently (anymore). Riksja Harderwijk now owns a Chat Rickshaw Bike of Van Raam and Jan-Willem likes to go out for a ride with passengers. Read all about the Chat and Jan-Willem's experiences in this customer experience.
Read this customer experience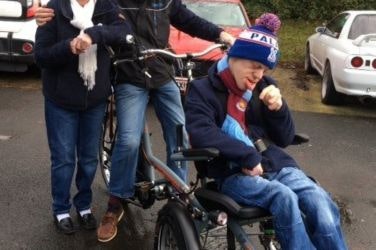 User experience OPair Wheelchair Trike – Adam Pyle
Adam Pyle is 25 years old and has profound Physical and Learning Disabilities. Together with his mum Kate and his dad Graham, he lives in England. In January 2020 they received the OPair Wheelchair Trike. Kate tells us more about Adam and why they bought the OPair Trike.
Read this customer experience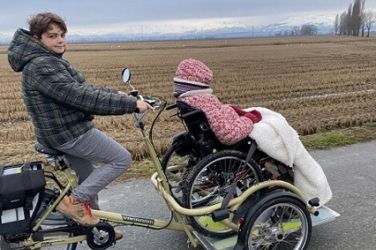 Customer experience VeloPlus electric wheelchair bike - Angelica Malinverni
My name is Angelica Malinverni (49), I come from Italy and I'm the mom of Caterina (24) who has a disability since she was born. We recently purchased the VeloPlus electric wheelchair bike and it has changed our lives! Read more about our experiences here and watch the video of Caterina and the VeloPlus.
Read this customer experience
;
Making a test ride with a Van Raam cargo bike transport
Would you like to try out a transport bike? This is possible during a free test ride at Van Raam in Varsseveld. During the appointment you will be assisted by a technical advisor and you will have the opportunity to test the bicycle on the bicycle test track. At some Van Raam dealers it is also possible to make a test ride, please contact your local dealer. 
Do you have any questions?
We are happy to assist you! Please check our contact page or contact us directly using the options below.